This Is the Only Kind of Woman It's Okay to Be in Trump's America
Are you an Ivanka, a Sarah, a Melania, a Kellyanne? Or maybe you're the kind of woman the President is terrified of.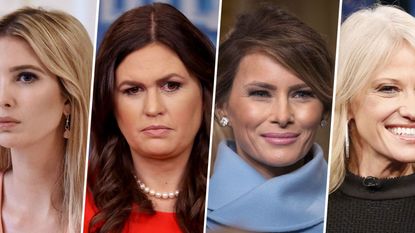 (Image credit: Archives)
Marie Claire Newsletter
Celebrity news, beauty, fashion advice, and fascinating features, delivered straight to your inbox!
Thank you for signing up to Marie Claire. You will receive a verification email shortly.
There was a problem. Please refresh the page and try again.
Over the weekend, new White House Communications Director Anthony Scaramucci took some heat after suggesting that Sarah Huckabee Sanders should "continue to use the hair and makeup person" she did several days before, when the new Press Secretary led a briefing markedly more made-up than usual. It was a good reminder for Americans about how the Trump administration likes its women: hair done, makeup piled on, and lying through their teeth.
While the president doesn't exactly have the best history with women—multiple sexual assault allegations, bragging about grabbing them without consent, calling them pigs and dogs—that hasn't stopped a handful of women from supporting Trump and his agenda with unparalleled zeal.
While the ladies in Trump's orbit seem to have their blind support and coiffed hair in common, there are small differences here are there. And since it seems that it's Trump's country and we're just living in it (for now at least), perhaps American women should ask themselves: Which kind of Trump Woman are you?
[pullquote align='C']It was a good reminder for Americans about how the Trump administration likes its women: hair done, makeup piled on, and lying through their teeth.[/pullquote]
Are you the kind of Trump Woman who will cover for a bigoted narcissist at the expense of your reputation and against your better judgement? Kellyanne Alternative Facts Conway reportedly said, "Blech, I need to take a shower" after defending Trump on MSNBC before he won the election. She has repeatedly lied on television, saying anything and spinning everything for a man whose dishonesty knows no end. Conway, who doesn't identify with feminism because she thinks it's "anti-male," is more than happy to stand by her man 'til the bitter (very bitter) end.
MORE FROM JESSICA VALENTI
Or maybe you're the kind of Trump Woman who does call herself a feminist, yet still supports a man who is actively dismantling women's rights across the board. Ivanka Trump touts herself as an all-American female entrepreneur...while wearing clothes made in China by workers paid just 62 dollars a week. (Perhaps they just need some Women Who Work advice on how to ask their boss for a raise?) If you're the Ivanka kind of Trump Woman, you really check all the boxes: blonde, thin, polished, and ready to explain why a man whose disdain for women borders on the psychotic is actually a feminist.
If you're a Carly Fiorina-style Trump Woman, you're a little different: You defend the man who mocked your appearance by later claiming that Trump "obviously has extremely, highly qualified women in his Cabinet...and so this appears to me, to be a man who recognizes talent, no matter what shape or size it comes in." (Trump has seven women in his cabinet—if you count Ivanka—out of a possible 34.)
If you'd rather be more explicit in your desire to shun your own gender and their needs, don't despair, you can be a Trump Woman in the image of Education Secretary Betsy DeVos, who chose to meet with accused rapists and organizations that deny that rape is a problem on college campuses. I'm sure Trump approves.
And of course there's no Trump Woman like Melania. Who else can lend an elegant sheen to Trump's nastiness—supporting his racist birther campaign, for one—better than Mrs. Trump herself? Melania is the kind of Trump Woman who reaps the rewards of being the First Lady while simultaneously being seen as the victim (remember all those Free Melania memes?).
You don't need to be famous or working for Trump to be a Trump Woman, though. Look no further than the 53 percent of white women who voted for this president, a person who only values women on a scale of 1 to 10.
I'm betting, however, if you're like the majority of women in this country, you're actually the kind of woman that Donald Trump is terrified of: A woman who fights back. A woman who refuses to accept that the man leading our country can be defended with any ethical seriousness, a woman who is ready to resist the administration and its destructive goals every day until the job is done.
Women have been leading the charge against the Trump administration since his first day in office when more than half a million protestors in the Women's March showed up on his doorstep. And now, women make up a whopping 86 percent of the calls to Congressional representatives against the Trump administration's goals. It's not just the future that's female, it's the resistance as well.
So while Trump continues to surround himself with women who won't challenge his worldview but will repeat his talking points and provide him with much-needed cover for his misogyny, the rest of us will make sure that the world knows that there's only one kind of Trump Woman: A fool.
Jessica Valenti is a contributing editor to MarieClaire.com—read her weekly column here.
Celebrity news, beauty, fashion advice, and fascinating features, delivered straight to your inbox!
Jessica Valenti is a columnist and author of five books on feminism, politics, and culture. Her latest book, Sex Object: A Memoir, was a New York Times bestseller. Valenti is also editor of the ground-breaking anthology Yes Means Yes: Visions of Female Sexual Power and a World Without Rape and the founder of Feministing.com, which Columbia Journalism Review called "head and shoulders above almost any writing on women's issues in mainstream media." She has a Master's degree in Women's and Gender Studies and lives in Brooklyn with her husband and daughter.