Angela Merkel Is Not Your Feminist Icon
Germany's first female chancellor is up for re-election on September 24th—but that's not necessarily a good thing for women.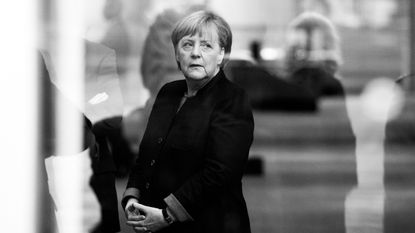 (Image credit: Archives)
Angela Merkel has been the object of a lot of sisterly praise over the last year. Hillary Clinton named the German chancellor one of her favorite world leaders. Prominent women's rights activists in the U.S. have lauded Merkel for her open-door refugee policy and remarked on her ability to remain cool when Donald Trump refused her handshake. "Angela #Merkel, more and more the feminist icon," tweeted journalist Lauren Wolfe in July after an image of Merkel at the G20 appeared to show her rolling her eyes at Vladimir Putin. On the heels of Clinton's defeat, the desire American women have to look to Merkel as their new beacon of girl power is understandable.
Never mind that Merkel herself is reluctant to use the F word.
At home in Germany, women are conflicted about their chancellor. "I like her," says Nicole, a 42-year-old security policy analyst in Berlin, "but I won't vote for her party."
That's a sentiment many women echo. Germans tend to be issue voters, voting along party lines and basing their votes on policy stances rather than personalities. And that's why women are reluctant to tick the box for Merkel: She just hasn't done much for them.
Merkel has been in power for 12 years, and her party—the Christian Democratic Union—has been criticized for being behind the times. Ulrike Helwerth, communications director of the National Council of German Women's Organizations, summed up a common attitude among women ahead of the 2009 election, "Why on earth should 'we' vote for Merkel?," noting that her government had little to offer besides reforms that were long overdue and had been put in motion by former governments already.
That criticism hasn't changed much during Merkel's tenure, nor have the problems women want addressed, including, for example, a loophole that enables employers to avoid holding jobs for women on maternity leave. Though Angela Merkel may have shattered a glass ceiling in 2005 by becoming Germany's first female chancellor, the life of the average German woman hasn't progressed along with it.
RELATED STORY
"The typical German woman's career is still this: Get educated for a low-paid job in the social, medical, or educational sector, take time off for children, return to work part-time (doing more hours than you're actually paid for, but getting less recognition than your full-time male colleagues), take time off to tend to elderly parents, return to your job part-time and then, when you're retired, take care of ill husband and stressed-out children's children, all while dwelling on a mediocre pension," writes German journalist Anne Sauerbrey in The New York Times.
Sound familiar?
"For women in Germany as a whole, things have not gotten better," says Julia Schramm, a member of the Left party and author of the book Fifty Shades of Merkel. "To be a woman or to be recognized as a woman still has real disadvantages in society, and that begins with the fact that one is repeatedly sexualized. Just because there is a woman in a position of power doesn't mean things are better."
Even after Merkel reluctantly came out in favor of a quota requiring 30 percent of board members on publicly traded companies be women, it hasn't made much of a difference. None of Germany's top 30 companies has a female CEO. In the 160 largest firms, women hold just 7 percent of executive positions.
So much for a woman in charge leading to a sea change.
And Germany's gender problems aren't just at the C-level. In a recent open letter to the Chancellor, the National Council of German Women's Organizations noted several factors standing in the way of the everywoman's progress: There is the question of taxation, which Helwerth cites as one of the main factors for the yawning gender wage gap (the average woman earns just $37,000 to a man's $55,000). Known colloquially as the "housewife tax," the lower-income partner in a marriage is taxed at a higher rate, fostering the economic dependence of wives and effectively keeping them out of the labor market or in part-time, low-income jobs.
"This is a very high barrier on the path to gender equality. Thanks to the resistance of Chancellor Merkel's party, the issue was not on the agenda," Helwerth says.
Still, German women possess rights and advantages that American women continue to have to fight for—the cuts to abortion services and reductions in access to reproductive health that are putting U.S. lives at risk are unthinkable in current German politics. Abortion has gotten little political attention in the country since the law was revised in the 1990s to ensure that abortion is legal. Health insurance is mandatory and government-subsidized, meaning gynecological services—though not birth control—are available to all.
RELATED STORY
And for women in Merkel's inner circle, at least, having a female at the top has been advantageous. The chancellor seems to be a believer in shine theory, repeatedly appointing women to her Cabinet, even in non-traditional roles. Ursula von der Leyen, for example, has led not only the Family Ministry but is now the Defense Minister. Currently, women hold the top position in six of the 15 ministries, including the Economics Minister and the Construction and Environment Minister.
Female politicians have poured through that broken glass ceiling: Since her election, there's been something of a "Merkel effect," with more women than ever running for local offices. Three of the six major parties have put forth female candidates for the chancellorship in 2017. It's estimated that once this weekend's elections are over, 32 percent of the representatives to German Parliament will be women (by comparison the U.S. Congress is just 20 percent female).
Electing Angela Merkel back in 2005 may not have been the feminist coup that a Hillary Clinton presidency might have been—especially in terms of policy—but her mere presence at the top makes her a role model nevertheless. For women wanting to hold their own in a room full of male egos, her stoicism in the face of sexism is admirable. And the youngest generation of Germans have only known life with a woman in charge. "There are now children who ask if a man can be Chancellor," says Schramm.
On the other hand, the top seems to be the only place where the lives of German women have changed for the better. Says feminist writer Anne Wizorek of the continued double standard: "We are told, 'You can become chancellor—what more do you want?'"
Follow Marie Claire on Facebook for the latest celeb news, beauty tips, fascinating reads, livestream video, and more.
Marie Claire email subscribers get intel on fashion and beauty trends, hot-off-the-press celebrity news, and more. Sign up here.