Hope Is Roe's Last Chance
Inside the clinic at the center of next month's Supreme Court abortion showdown.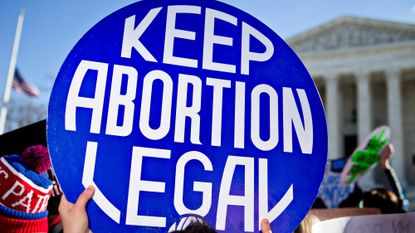 (Image credit: ANDREW HARRER)
Marie Claire Newsletter
Celebrity news, beauty, fashion advice, and fascinating features, delivered straight to your inbox!
Thank you for signing up to Marie Claire. You will receive a verification email shortly.
There was a problem. Please refresh the page and try again.
In her nondescript, windowless office off a narrow hallway, Kathaleen Pittman, the administrator of the Hope Medical Group for Women abortion clinic, watches patients come and go, coordinates her staff, and represses occasional waves of paranoia. "If I get too involved in the what-ifs, it's almost paralyzing," she says. "Our focus has to be on taking care of the women. It is hard to do when a lot of patients are asking, 'What's going to happen?' and there are no assurances that we can give them." That's because this small independent clinic in Shreveport, Louisiana, is the new epicenter of America's abortion wars, and worse times are looming.
On March 4, Hope will appear before the U.S. Supreme Court in a case that could both gut abortion access in Louisiana—and the nation—and mark the beginning of the end of Roe v. Wade. The case stems from a 2014 Louisiana law that would force abortion doctors to have admitting privileges at nearby hospitals. The law is identical to one struck down in Texas in 2016's landmark Whole Woman's Health v. Hellerstedt Supreme Court decision, but Louisiana's version was nevertheless upheld in 2018 by the Fifth Circuit Court of Appeals, one of the most conservative appellate courts in the nation. The decision outraged abortion-rights groups, which described it as "brazen" and "rogue." In October, the Supreme Court agreed to hear Hope's appeal. The decision is expected in June.
Louisiana's Act 620 is a classic example of what pro-choice groups call TRAP, or targeted regulation of abortion provider, laws. Admitting privileges, which give abortion providers the ability to admit and treat their patients at nearby hospitals, have been a key part of such laws. But in 2016, the Supreme Court found that admitting privileges provide no demonstrable health benefit, principally because abortions have very low complication rates, making hospitalizations extremely rare, and by law hospitals must treat emergency patients regardless of whether the doctor has an agreement with them.
Such laws have forced clinics to close because doctors have a difficult, often impossible, time gaining admitting privileges at hospitals in stridently antiabortion states. In Texas, the law shuttered half of that state's roughly 40 clinics before the Supreme Court struck it down, and many never reopened because they had lost their lease, their staff, and doctors had found jobs elsewhere, or they had sold equipment. If Louisiana's version of the law takes effect, the last three abortion clinics in the state, including Hope, would likely shut down.
National nonpartisan groups have supported Hope's case. In briefs filed with the Supreme Court, the American Medical Association called the law unnecessary, in part because abortions are exceedingly safe. The American Bar Association, in its first amicus brief to the court in an abortion case, warned that allowing the law to stand would be perilous to the court's integrity; what good is Supreme Court precedent if just three years later it can be undone?
But two things have changed since the Texas decision in 2016, and their names are justices Brett Kavanaugh and Neil Gorsuch. Louisiana's law will be the first abortion case argued before a newly archconservative Supreme Court remade by President Donald Trump. At the very least, some expect the court to use cases like Louisiana's to slowly dismantle Roe, diminishing its strength until it's essentially impotent. Upholding Louisiana's law will signal that the court is hostile to Roe, as many fear.
---
Hope sits at an unremarkable intersection in Shreveport, a small city in a quiet corner of Louisiana so close to neighboring states, it's dubbed "Ark-LA-Tex." You enter a plain, single-story brick building through a heavy green door, then pass by a second security door and into a brightly lit waiting room often filled with pensive faces. On one visit, I met a woman in her 20s from Texas there to undergo an abortion as part of a plan to leave an abusive partner. A couple from Lake Charles, Louisiana, who already had three kids with special needs told me they couldn't care for a fourth, who they feared would have a similarly acute condition.
Even a majority of Democrats in this part of the country are pro-life. In 2016 alone, the legislature passed seven antiabortion measures. Last year, the state's Democratic governor, John Bel Edwards, signed a "heartbeat" abortion ban. When Pittman joined the clinic in 1992, it was one of 17 in the state. She has watched Louisiana steadily slice away at abortion rights since.
Pittman grew up in a tiny town named Dubberly in northwest Louisiana, about half an hour away. She's the 14th of 16 children from a devout Baptist home, and her first encounter with abortion was when she tried to help her friend get one in the early aftermath of the Roe decision. Today, Pittman is a presence in every sense: imposingly tall with wide-set shoulders, slightly wild hair, and a broad smile; she's also intimidatingly frank yet gracious.
Being raised in a large family taught her how to stay calm amid drama, she notes, and thus makes her a good fit for her job. She mother-hens her staff of 23 (many of whom are part-time) and treats the day-to-day stresses with aplomb while reserving her steely Southern spine for what she calls the "pro-birth" movement.
Facing a Supreme Court case after working at the clinic for nearly three decades is "surreal," Pittman says. "To be fighting more and more battles than we were back then, it's amazing." Staffers at the clinic practice a kind of extreme compartmentalization. "If we did not, then we would absolutely go crazy," she says.
Katie Caldwell, a clinic counselor and advocate, has worked at the clinic for most of the last 10 years. "It's gotten more difficult to do this job, but that's been the case for a while," says Caldwell. "If you fall into despair about it, then what good are you doing?" Pittman always keeps her cool. "I think she feels the weight, but she carries it gracefully," Caldwell says. "If she's sweating it, she's not showing it, because she knows that's what you do as a leader."
Another counselor, A.J. Haynes, describes it as "survival mode." She says the clinic has seen an uptick in greeting cards with kind messages and offers of support, a sign the public understands the threat. "We've already been at this level of awareness of what's at stake, and we're just waiting on everyone else to wake up," says Haynes.
The clinic handles about a third of the 8,000 to 10,000 abortions performed in the state each year while complying with the state's roughly 1,000 abortion regulations, managing clinic protesters and patient escorts, and fielding countless media requests. Hope has also long had the legal support of the Center for Reproductive Rights (CRR), the leading pro-choice legal nonprofit in the country. The center has filed 27 lawsuits in Louisiana since 1992 (when CRR was founded), and Hope has been working with lawyers from the center for Pittman's entire career. "Thank God for them," Pittman says. "If it weren't for the attorneys, there wouldn't be a single clinic still open in Louisiana."
CRR's senior litigation director, Julie Rikelman, who will argue the case before the Supreme Court, says the lawsuit is "critical." Not only is Louisiana arguing its law should take effect, it's also asking the court to rethink whether clinics should even be allowed to file lawsuits on behalf of their patients' Constitutional right to abortion. It's hard to overstate the ramifications of the case. For decades, clinics have been the ones suing governments to protect reproductive rights, and the Supreme Court has regularly found in their favor. It has accepted that anyone pregnant trying to get an abortion is in an ill-suited position to file and fight a lawsuit that could drag on for years. By the time any final judgment was rendered, it would be too late for the plaintiff to have an abortion. "They want to make it harder for people to challenge abortion restrictions," Rikelman says. "It's just another one of the strategies to try and push abortion out of reach."
But the argument underlines another crucial element of the final defense for abortion rights. The battle is largely being fought by small clinics such as Hope, which are often all that remain in the most fiercely antiabortion states. All of Louisiana's remaining clinics are independently owned, and the same is true for Alabama's last three, Wyoming's remaining two, and the lone clinics left in Kentucky, Mississippi, North Dakota, and West Virginia, according to a 2019 report from the Abortion Care Network. "It's 'little old us,' " says Pittman, versus the antiabortion movement, which is arguably at its zenith. "We're up against this wall, and we have no choice. We can't back down, we have to press forward, so we'll just keep going and, fingers crossed, hope for the best."
Correction: A previous version of this story misspelled Julie Rikelman's name. We regret the error.
This story appears in the March 2020 issue of Marie Claire
Related Stories
Celebrity news, beauty, fashion advice, and fascinating features, delivered straight to your inbox!