Sorry, Melania: It Takes More Than Fashion to Emulate Jackie Kennedy
The Trump administration continues to push the comparisons between Jackie O and FLOTUS, but iconic first ladies are more than their outfits.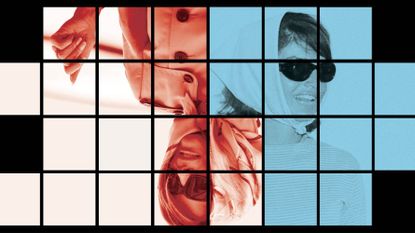 (Image credit: Getty/Hanna Varady)
The Trump administration's most lasting legacy may be its consistent promotion of false, sometimes dangerous, and often inaccurate information and theories. One incorrect narrative the White House is puzzlingly insistent and adamant about? That First Lady Melania Trump is the second-coming of the legendary Jacqueline Kennedy Onassis; that she embodies the same elegance and importance as a presidential buttress that Jackie-O did in the '60s.

It's not a totally out-of-left-field comparison. Long before Melania entered the White House, she expressed a desire to be compared to Jackie. During a 1999 interview with the Times, when Melania was just dating Donald Trump, the then-model revealed her First Lady aspirations: "I would be very traditional. Like Betty Ford or Jackie Kennedy." She's tried (and succeeded) several times to emulate them, fashion-wise at least.
For her husband's inauguration day, the current FLOTUS donned a powder blue cashmere Ralph Lauren dress and long gloves. Media and fashion critics compared the look to the Cassini beige coat dress and long white gloves Jackie wore when John F. Kennedy was inaugurated in 1961. And last summer, on her husband's birthday, Melania was spotted exiting Air Force One wearing a baby blue Hermes scarf and oversized sunglasses that could've been taken straight out of Jackie's style playbook—a playbook that was filled with statement-defining pieces that propelled her to fashion royalty.
But what Melania, Donald Trump, and his administration fail to recognize is that Jackie was far more than her iconic style. Her clothes were an extension of her character. Jackie Kennedy's artistic roots—she studied history, literature, art, and French at Vassar College and spent time studying abroad in Paris—infused her fashion with meaning. She even had firsthand experience presenting visual stories to audiences: from 1951 to 1953, Jackie worked as a camera girl for the Washington Times Herald.
Consider the most defining outfit—and moment—of Jackie Kennedy's life: the pink Chanel suit she wore on the day her husband was shot in 1963. It remains an artifact not simply because it was fashionable, but because of the story surrounding it. Jackie refused to change out of the suit, which was splattered with her husband's blood, before facing the people and press. Instead, she used the outfit as a canvas to illustrate the monstrosity of the moment. It was a loud yet vulnerable symbol that allowed her to show her grief, literally on her sleeve, while still embodying grace and strength in the face of the unimaginable. "Let them see what they've done," she said at the time.
Melania, on the other hand, wore a Zara jacket that read "I really don't care, do you?" on her way to visit migrant children separated from their families at the US-Mexico border. Her sartorial choice in the politically divisive moment was the antithesis of what Jackie did while serving as First Lady. At a time when Melania could've used fashion to subtly convey empathy, she appeared to be completely devoid of any emotion. Her jacket proclaimed that message loudly.
Despite Melania's attempt to channel Jackie's looks, she has yet to capture her character. Melania's messaging has been long been subtly aggressive, from making birtherism claims against Obama to remaining quiet while her husband bullied teenage climate change activist Greta Thunberg. In contrast, when Jackie faced a civil rights reckoning during her tenure, she created a kindergarten that was racially inclusive. When visiting Mexico in 1962, Jackie delivered—in Spanish—a speech entitled "We Welcome as Good Neighbors".
And while renovations to the White House are common for first ladies, there are tremendous differences in the approach Melania and Jackie employed. In a 1962 interview, Jackie discussed her carefully curated choices, often inspired by international visits. "It seemed such a shame when we came here to find hardly anything of the past in the house," Jackie said. "I know when we went to Columbia, the presidential palace there has all the history of that country in it. Every piece of furniture has some link to the past. I thought the White House should be like that."
It's unclear the motivation behind Melania's choices. Her deep red monotone Christmas decor has been mercilessly compared to a horror film. Melania changed the color palette of Air Force One to feature a deeper, more corporate shade of blue, swapping out the welcoming light turquoise shade previously chosen by Jackie Kennedy. And, more recently, Melania became the first FLOTUS to make alterations to Jackie's carefully thought-out rose garden. The current First Lady ordered Jackie's crabapple trees to be moved elsewhere on the property, replacing them with limestone pavement. She also swapped the pre-existing colorful floral bushes for muted whites and pastel flowers, drastically stripping the outdoor area of vibrancy. Twitter blew up in frustration and confusion over the changes, noting that garden was emblematic of Jackie and her impact. (Reports surfaced that the garden is in need of repair due to the renovations just three weeks after its reveal.)
In a time where the world needs a Jackie, Melania, despite all her efforts, continues to show she will never become the First Lady she aspired to be. Jackie's best attribute wasn't her outward style. It was her character. And no amount of dress up can mold Melania's legacy into that of Jackie's. The work needs to come from within her if she wants to be anything more than a passing trend.
RELATED STORIES
Celebrity news, beauty, fashion advice, and fascinating features, delivered straight to your inbox!
Jennifer Stavros is a journalist based in Los Angeles with a passion for history, art, politics, social advocacy, death, fashion, and pop culture. You can find her in cemeteries and buried in history books (researching for her upcoming book) as well as on the pages of Playboy, The Independent, Cosmopolitan, Bitch, Business Insider, and more.