Who Is Kristen Welker, Moderator of the Third Presidential Debate?
Yes, there's still one more of those.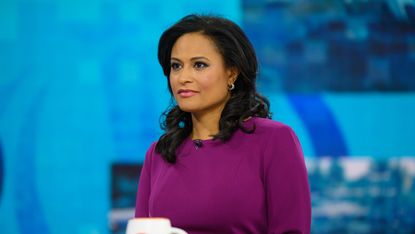 (Image credit: NBC)
After the chaos of the first two presidential debates—including the absence (opens in new tab) of an actual second debate—the Biden-Trump face-off series (opens in new tab) will finally conclude on Thursday, Oct. 22, at Nashville's Belmont University at 9 p.m. ET. The third debate (or, if we're being literal, the second) will see Joe Biden and Donald Trump step up to their lecterns one last time to outline their plans to help the American people and shout nonsense over their opponent, respectively.
Navigating the two candidates through what promises to be yet another incredibly exhausting (opens in new tab) 90-minute spectacle will be Kristen Welker, one of NBC News' White House correspondents. With years of experience under her belt grilling politicians for answers and moderating crowded roundtables on shows like Weekend Today and Meet the Press, Welker may finally be the key to keeping a presidential debate civil and productive. Here's what you need to know about Welker before she joins the candidates onstage at Belmont University's Curb Event Center.
Where has Kristen Welker worked?
Her resumé is pretty stacked: She's been a broadcast journalist since graduating from Harvard University with a history degree in 1998. Prior to joining NBC News, Welker was a reporter and anchor at ABC affiliate stations in Redding, California, and Providence, Rhode Island. She spent about five years at the NBC affiliate in her hometown of Philadelphia before joining NBC News in 2010 and becoming one of the network's White House correspondents in 2011.
In her current role, Welker traveled extensively with members of the Obama administration and was a primary member of the women-led team (opens in new tab) at the forefront of NBC News' 2016 election coverage, reporting primarily from Hillary Clinton's campaign trail. While covering the 2016 election as a whole for NBC News, Welker was responsible for breaking several key pieces of news on the campaign trail, including Biden's decision not to run for president that year.
She has also appeared on many NBC and MSNBC news programs, including NBC Nightly News and Meet the Press, and was named co-anchor of Weekend Today earlier this year. In a serendipitous twist, her appointment as co-host of Weekend Today alongside fellow White House correspondent Peter Alexander came more than 20 years after she spent time as a Today intern and Weekend Today researcher in 1997.
Welker is known for being unafraid to ask the tough questions and rarely lets politicians wriggle out of answering them. In one particularly noteworthy case in 2018, per her official NBC bio (opens in new tab), Welker grilled Kirstjen Nielsen, then secretary of the Department of Homeland Security, about the young girls being held at border detention facilities, sparking the #WhereAreTheGirls movement. And in July of this year, she made headlines (opens in new tab) for pressing White House Press Secretary Kayleigh McEnany for clarity on Donald Trump's constant flip-flopping between disparaging face masks and praising them as necessary protection from COVID-19.
Has she won any awards for her work?
Yes! Just last month, Welker was named (opens in new tab) 2020's Outstanding Broadcast Journalist at the Washington Women in Journalism Awards. She also won a National Emmy Award for her contributions to NBC News' coverage of the Malaysia Airlines Flight 17 crash, and was nominated for another in her first year at the network for her work in covering the 2010 midterm elections.
During her virtual acceptance speech for the Outstanding Broadcast Journalist award in September, Welker attributed much of her success to the guidance and support she's received from mentors like NBC News' Andrea Mitchell and PBS' Gwen Ifill.
"I am so grateful for them, and I feel very strongly that it is all of our responsibility to pay it forward and to help the next generation of women journalists to reach their full potential," Welker said. "We all know the value and importance of building each other up, of competing against each other but supporting one another at the same time, of finding mentors and being a mentor and the importance of just checking in on one another—especially during these times of being distanced from those we love."
Does Welker have experience moderating presidential debates?
Yes, again! She co-anchored (opens in new tab) the Democratic debate in Nov. 2019 with Rachel Maddow, Andrea Mitchell, and Ashley Parker. During that crowded debate, Welker asked candidates including Biden, Kamala Harris, Bernie Sanders, and Elizabeth Warren incisive questions (opens in new tab) about universal healthcare, affordable housing, and white supremacy.
Additionally, her selection as moderator of the final 2020 debate makes her the first Black woman to moderate a presidential debate since 1992, when Carole Simpson led a town hall-style discussion among candidates George H.W. Bush, Bill Clinton, and Ross Perot.
What topics has she chosen for Biden and Trump to discuss?
In the presidential and vice presidential debates, the moderators are in charge of researching and selecting the topics the candidates will discuss, and Welker released her picks on Oct. 16. Barring any major news breaks between then and the debate on Oct. 22, per the Commission on Presidential Debates, here are the broad topics (opens in new tab) Welker plans to ask each presidential hopeful to address:
Fighting COVID-19
American families
Race in America
Climate change
National Security
Leadership


In terms of format, the final debate will look a lot like the first, with 15 minutes devoted to each topic and Biden and Trump given two minutes apiece to initially address each topic before rebutting the other's response. However, this debate will hopefully differ from its predecessor in terms of decorum. After the unhinged first debate, when a certain interruption-prone candidate repeatedly steamrolled right through his opponent's allotted speaking time, the CPD promised to update the rules of the debate. They delivered (opens in new tab) just a few days before Trump and Biden's final meet-up, announcing late Oct. 19 that the candidates' microphones will be muted during each other's initial two-minute reply to Welker's questions, then unmuted for the remaining time.
What was the reaction to Welker's selection as moderator?
Though Biden's campaign has not remarked on Welker's role in the final debate, you can bet Team Trump has. The weekend before the debate, after a story surfaced detailing Welker's parents' extensive contributions to Democratic candidates (which, of course, has no relation at all to Welker's ability to conduct a fair debate), Trump tweeted (opens in new tab), "She's always been terrible & unfair, just like most of the Fake News reporters, but I'll still play the game."
A few days later, he appeared (opens in new tab) on Fox & Friends to reiterate his attacks on Welker, saying she "cannot be neutral at all" and calling her "totally partisan" in reference to her parents' political contributions, which, again, are not her contributions. For the record, there is no record (opens in new tab) of Welker ever contributing to Democratic or any other political campaigns.
As is often the case, the president's words directly contradict his and his administration's previous statements about Welker. In January of this year, when she was named co-anchor of Weekend Today, he made a point of congratulating her (opens in new tab) on her new gig at a press conference, adding, "They made a very wise decision." Furthermore, in an Oct. 9 interview (opens in new tab) with Fox News' Martha MacCallum, Trump senior adviser Jason Miller said, "I have a very high opinion of Kristen Welker. I think she's going to do an excellent job as the moderator for the third debate. I think she's a journalist who's very fair in her approach. And I think that she'll be a very good choice for this third debate."
Any other fun facts about Welker?
She's married to John Hughes—but not that John Hughes. Welker's John Hughes is a Merck marketing executive, not the creative genius behind masterpieces like Ferris Bueller's Day Off and The Breakfast Club. The more you know!
Andrea Park is a Chicago-based writer and reporter with a near-encyclopedic knowledge of the extended Kardashian-Jenner kingdom, early 2000s rom-coms and celebrity book club selections. She graduated from the Columbia School of Journalism in 2017 and has also written for W, Brides, Glamour, Women's Health, People and more.