My Crazy Year with Trump
The presidential hopeful has insulted reporter Katy Tur on national TV, called her names during interviews, and made his campaign seemingly impossible to cover. Here, her no-holds-barred account of trailing the most unlikely candidate in GOP history.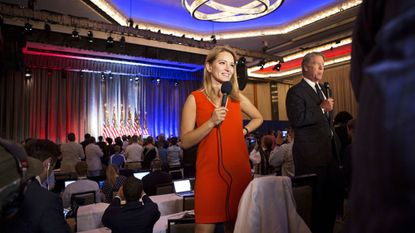 (Image credit: Getty Images)
In a speech carried live from Mount Pleasant, South Carolina, on at least three TV networks last December, soon-to-be Republican presidential nominee Donald J. Trump was telling the world he wanted to ban Muslims from entering the United States. "It's temporary," he later tried to soften. And then I heard my name.
"She's back there. Little Katy. She's back there."
I was six months into covering the Trump campaign for MSNBC and NBC News, and there I was, in the belly of a World War II battleship, in a press pen made out of bicycle racks, surrounded by thousands of whipped-up Trump supporters.
A few days earlier, at another Trump rally in Raleigh, North Carolina, I'd tweeted live as wave after wave of protestors stood up during his speech. "Now 10," I wrote from the scene, counting the interruptions. "Trump ends speech abruptly and leaves stage."
Trump thought my tweets were "disgraceful" and "not nice!" according to a chastising note from his 26-year-old press secretary, Hope Hicks. In the hours that followed, Trump took his complaints public, trashing me and CBS News reporter Sopan Deb for the coverage.
"@KatyTurNBC & @DebSopan [sic] should be fired for dishonest reporting," he tweeted. "@KatyTurNBC, 3rd rate reporter & @SopanDeb @CBS lied."
He demanded I apologize.
I didn't, so Trump decided to go further in Mount Pleasant, pointing his finger squarely at me and launching a personal attack as millions of Americans watched at home.
"What a lie it was," Trump said, referring to the claim that he had left the stage abruptly. "What a lie. Katy Tur. What a lie it was. Third. Rate. Reporter. Remember that." The crowd's boos ricocheted off the iron hull of the USS Yorktown.
By Election Day, I'll have lived out of a suitcase for a year and a half, swearing by the lifesaving powers of dry shampoo and the magic ability of scarves to make the same coat look new. Following Trump to city after city, I've made more than 3,800 live television appearances and visited more than 40 states. I've also endured a gazillion loops of Elton John's "Tiny Dancer," a staple of Trump's rallies.
Trump, meanwhile, has made history. He won more primary votes than any other GOP hopeful, ever, and he's the first major party nominee in six decades who was not first a senator, governor, or member of the House.
But to understand how truly unexpected this campaign season has been—for the country and for my own life—you have to understand something about presidential elections in general. The politicians devise strategies and court donors years in advance. At the same time, newspapers and networks carefully decide which reporter they'll match with which candidate.
Trump wasn't part of anyone's plan. For that matter, neither was I.
In fact, when the ginger-haired billionaire announced his bid for the White House on June 16, 2015, I honestly don't remember hearing about it. I was living in London, working as a foreign correspondent, which meant my focus was everything but America.
The expat life was a good one: There was my French boyfriend. My bright two-bedroom flat in Islington. My wine at lunch. I had a "go bag" packed with loose linens and mosquito repellent—I was ready to be flung to the outer edges of the world at a moment's notice. It was all intrigue and adventure.
Then came a Make-A-Wish Foundation request from Aaron, a severely ill teen from Pennsylvania. He wanted a tour of NBC's headquarters at 30 Rock and the chance to shadow me for a day.
I booked a ticket to New York. I left clothes in the dryer and milk in the fridge. I told my French boyfriend I'd meet him on vacation in Sicily in two weeks. (As it turned out, I wouldn't really return to Europe for 10 months.)
I took Aaron and his family to the Stonewall Inn, the birthplace of the LGBT rights movement. The Supreme Court had just handed down its decision to legalize gay marriage, and thousands of happy people gathered to celebrate. I marveled at how open this country had become. Love had won. I was ready to go home.
But then Trump announced his run for the GOP nomination, descending a golden escalator in Manhattan's Trump Tower. Paid actors cheered. (Trump's camp denied they were actors.) But the bigger story became his labeling of Mexican immigrants as "rapists" and "criminals."
Because I happened to be around—literally just standing around the newsroom—I got the assignment for NBC Nightly News and the Today show. A couple of days later, when the Trump story wasn't slowing down, my cell phone rang. NBC's head of news coverage had a proposal.
"How'd you like to spend the summer in New York?" he asked. "We want you on Trump's campaign. It will be six weeks, tops. But hey, if he wins, you'll go to the White House."
My first Trump "rally" was that very night in June. Trump was at a New Hampshire home, pitching himself to a couple hundred overdressed people around a backyard pool.
"I get more standing ovations than anyone," he bragged.
Trump must have recognized me from my days at NBC's local New York station; he called me out by name to pay attention.
"You're looking at your phone!" "I'm tweeting what you're saying!" I said. He nodded and continued talking. Afterward, I asked Hicks for an exclusive interview with Mr. Trump. A week later, Trump agreed. I panicked. I was known as a dogged, unflappable live reporter, the kind who runs barefoot to the camera, high heels in one hand, notebook in the other. Most recently, I'd spent months covering airline disasters in Asia and Europe, from the downing of MH17 to the disappearance of MH370 and the murder-suicide of Germanwings.
But I was not a political reporter, and I didn't know much about Trump. With one night to prepare, I read until my eyes crossed and took notes until my fingers cramped. I also bought a pair of Jimmy Choos to feel powerful.
Bright and early the next morning, Trump and I sat down for a talk inside Trump Tower. The result was a combative 29-minute interview that MSNBC aired three times in eight hours.
Trump called me naïve. He told me I didn't know what I was talking about. He shamed me when I stumbled on a question. And when the cameras shut off, he was furious. He didn't like my questions, which were direct, or my tone, which was conversational.
"You couldn't do this," he said, searching for a put-down. "You stumbled three times."
"It doesn't matter if I stumble," I said. "I'm not running for president."
That's when he landed what he saw as the harshest insult of all.
"You'll never be president," he said. I laughed. What else was I supposed to do?
Let me clarify a few things about TV news, on the national level at NBC and MSNBC. We write our own stories. There is no teleprompter for reporters. No traveling makeup artists or stylists. And there is very little sleep.
The trick is to never let people see you sweat. I learned that from my parents, the reporters who shot the beating of Reginald Denny during the 1992 L.A. riots and O.J. Simpson's 1994 Bronco chase. My father flew the helicopter. My mother handled the camera, dangling out over the skids.
It wasn't scary, she says now, so long as she was looking through the viewfinder. For me, the key is to stare at the pinhole deep in the lens.
Headlines pile up. Trump says Hillary Clinton was "schlonged" by Obama. Trump says John McCain isn't really a war hero. Then Trump reacts to the political reactions, and the whole cycle starts again. It's like covering a hurricane that makes landfall on a daily basis.
A traditional presidential campaign has a media bus with the candidate's name on it and an itinerary days in advance. Trump has a plane with his name on it (that we aren't invited on) and an itinerary that often mutates daily, along with his talking points.
As a result, my work often starts before sunrise, usually in a drab hotel room in a mid-list town. I dry my hair upside down while scrolling through Trump stories. Then there are conference calls and the morning's live shots. Each one involves me, a camera, and two or three minutes of dead air on an NBC or MSNBC live TV show that I fill with my own reporting. Later, there will be afternoon, then evening live shots.
Most days, I subsist on hard-boiled eggs, packets of Justin's peanut butter, and handfuls of Cheez-Its, my face never far from my ever-vibrating iPhone. Most afternoons and evenings, Trump holds at least one major rally. Imagine a cross between a circus performance, a religious revival, and a rock concert. Thousands of people attend, gathering before dawn with lawn chairs and tents, waiting for the sunrise and then the candidate.
Five hours before Trump arrives, the Secret Service lets us bring in our cameras and equipment, then kicks us out and completes a sweep for bombs. No one gets in without being screened.
The complexion of the crowd reflects Trump's base, which, according to polls, is white and male. They dress in all-camouflage, or all red, white, and blue, or—because they are meeting a billionaire–all suits, gowns, and formalwear. There are moms, cute kids, and roaming packs of young people. The pregame parking lot can feel like a state fair without the Ferris wheel.
Trump is a room-reader. He'll slow down a line, rephrase a point, work in a pause, and ride the energy of his audience wherever it takes him. For 45, 60, even 90 minutes, he'll run through classic riffs, like bomb the hell out of ISIS, build a wall, make America great again. But he'll also experiment, as when he launched an ethnically tinged attack on a Mexican- American judge deciding the civil fraud case against Trump University.
Then another plane ride or long drive. My producer, Anthony Terrell, and I travel like pros, with gold-member this and platinum-elite that. Still, by the end of the day, it's hard not to feel punched.
I've lost a diamond earring, a gold ring, a glove, two hats, a blazer, and one boyfriend (au revoir, Benoit), who said of my schedule: "This is not what we do in France." Friends and family have married, divorced, given birth, and died during this campaign, and I've missed it all.
But there are also the memories I'll never lose with people I'll never forget. The group of reporters following Trump will be friends for life. We often help one another, putting aside corporate rivalries or the day-to-day of who's scooping whom. If you miss a line of Trump's speech, someone will fill you in. If you're missing a charger or even the occasional contact, someone is always there with the assist. We depend on one another's public reporting, using it to spur new lines of inquiry and fresh reporting of our own.
We've all had birthdays on the road (the most popular gift: anti-puff eye cream). Lots of meals at gas station mini-marts. And the occasional taste of the country's best food. (Here's looking at you, Fig in Charleston, South Carolina.)
Some of the surprises of the road are good ones. In Birch Run, Michigan, last August, I walked headfirst into one of my best friends, Sara Murray, a new reporter for CNN. "What are you doing here?" I practically squealed. "No, the question is what are YOU doing here?" she hit back. Turns out I wasn't the only one suddenly assigned to Trump.
Other surprises are, ahem, not surprises at all. We're a bit like a traveling dormitory, coed and giddy because every day is like finals day and the last day of school rolled into one.
So, yes, things happen. And it's obvious. The not-so-stolen glances. The not-so-subtle arm touches. The loud laughs at jokes that aren't particularly funny. I mean, it's pretty glaring when a Marriott Rewards loyalist suddenly shows up at a Hilton. I know at least one couple with plans to marry post-election.
Timothy Crouse got a lot right in The Boys on the Bus, arguably the most famous book about the campaign trail. (Crouse was a Rolling Stone reporter covering the 1972 U.S. presidential election.) The trail combines "the incestuous-ness of a New England hamlet with the giddiness of a mid-ocean gala and the physical rigors of the Long March." It's a little "womb-like," as Crouse puts it, and as a result, we risk stories that are too "inside the Beltway." In her essay about the 1988 U.S. presidential election, "Insider Baseball," Joan Didion was even more pointed about these perils, describing a political press that had forgotten its audience.
But a lot more has changed. For one thing, the boys on the bus are now the girls on the plane. Fellow NBC reporters Andrea Mitchell, Kasie Hunt, Hallie Jackson, Kristen Welker, and I are the first women-led politics team in the history of network news—just one remarkable shift in a campaign season where the only rule seems to be that there are no rules.
On June 6, during a spot on Fox & Friends, Trump described me as "not a very good reporter." A few weeks later, at his golf course in southwest Scotland, he introduced me to some investors as a "great reporter." He caught himself and added "sometimes."
It's unlikely, however, that any of Trump's future attacks will be as scary as what happened in Mount Pleasant, where the crowd, feeding off Trump, seemed to turn on me like a large animal, angry and unchained.
It wasn't until hours later, when Secret Service took the extraordinary step of walking me to my car, that the incident sank in.
The wave of insults, harassment, and threats, via various social-media feeds, hasn't stopped since. Many of the attacks are unprintable.
"MAYBE A FEW JOURNALISTS DO NEED TO BE WHACKED," tweeted someone with the handle GuyScott33, two weeks after Trump lashed out. "MAYBE THEN THEYD STOP BEI[N]G BIASED HACKS. KILL EM ALL STARTING W/ KATY TUR."
But I'm still ready with a wave. And whether or not Trump wins the White House, I'll still run for those live shots. What else am I supposed to do?
Epilogue
Since my original story went to press, Trump did it again: He called me out on national TV.
The number of people, places, and things he's insulted on Twitter alone recently passed 250, according to a list compiled by theNew York Times. That puts me in the strange company of Saudi Arabian Prince Alwaleed bin Talal (Trump called him "dopey"), the state of New Jersey ("deeply troubled"), and a podium in the Oval Office ("not good").
I'm not sure how the prince or the Garden State feel about those put-downs, but the podium is still standing and I am, too. In fact, I'm still running for those live shots. Trump, meanwhile, is still calling me out by name.
Except this time, Trump was officially the Republican presidential nominee. He was fresh off a rocky convention that saw the #nevertrump movement try to stop his nomination, his wife Melania plagiarize part of her speech from Michelle Obama's 2008 address, and his former rival Ted Cruz snub him by refusing to endorse him onstage.
Later, House Speaker Paul Ryan would say he hoped those four days in Cleveland would be a turning point for Trump. He did stay on prompter for his acceptance speech. But it didn't last.
In a matter of days Trump was back to being Trump. In one day alone he made 15 eyebrow-raising statements, extinguishing one controversy with the next.
By the time Trump took the podium to face follow-up questions from the press in Miami, it was day three of the Democratic National Convention, itself in turmoil over leaked emails that seemed to show the DNC's bias toward Hillary Clinton over then-opponent Bernie Sanders. Trump hoped to exploit that, scheduling a press conference at his Doral golf course.
It started off as a standard political speech. Trump accused Clinton of rigging the system and playing by her own rules. His big case-in-point was the private email server she had used as Secretary of State—a server missing 33,000 deleted emails, according to officials. Trump looked into the cameras and made a strange plea:
"Russia," he said, as cameras clicked and whirred, "if you're listening I hope you're able to find the 33,000 missing emails. You'll probably be rewarded mightily by our press."
A feeling of disbelief filled the room. Here was a presidential hopeful appearing to ask a foreign government to illegally pry into the email server of a private citizen.
I raised my hand and yelled out a question.
"Mr. Trump, do you have any qualms about asking a foreign government—Russia, China, anybody—to interfere, to hack into the system of anybody's in this country?"
He didn't answer.
So I tried again.
And again.
And again.
And then it happened: the shushing.
"If they have them, they have them" he was saying. "You know what gives me more pause? That a person in our government, crooked Hillary Clinton—be quiet, I know you want to, you know, save her."
My phone jumped with Twitter notifications.
"Did he just tell @katyturnbc to 'be quiet'?"
"Trump tells @katyturnbc to 'be quiet'."
"A day after a 105 year old woman casts nominating vote for HRC, Trump tells a female reporter to 'be quiet.'"
Honestly, I didn't even notice. Besides, I'm in good company. Trump has called ABC's Tom Llamas "a sleaze" and CNN's Jim Acosta "a real beauty." He even impersonated my friend Sara Murray on stage.
So, where does that leave us? Well, in about three months, America will go to the polls and I can't tell you if Trump is going to win or lose. The only safe prediction is that this most bizarre campaign will get even more bizarre before the ballots are popped.
Trump finally did answer my question, by the way.
"If Russia or China or any other country has those e-mails, I mean, to be honest with you, I'd love to see them," he said.
Then he thanked me as he walked out of the room.
This article appears in the September issue of Marie Claire, on newsstands August 16. Main image by Rebecca Greenfield.
Celebrity news, beauty, fashion advice, and fascinating features, delivered straight to your inbox!