Married to the Google Billionaire
Anne Wojcicki, wife of Google cofounder Sergey Brin, is on a mission to get your spit — and give you lifesaving genetic information.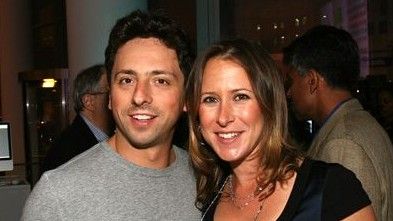 (Image credit: Donald Bowers/Stringer)
Nobody notices Anne Wojcicki as she pulls into the parking lot of Zucca Ristorante, a casual Mediterranean restaurant in the hills of Mountain View, California. Dressed in jeans rolled at the cuffs, a gray T-shirt, and Nikes, with a backpack dangling off her shoulder, the 36-year-old looks like any of the computer geeks who frequent the popular lunch spot, a short drive from the high-tech firms that populate this Bay Area boomtown. She's running late, as usual, so after she sits down, Wojcicki (pronounced "Wo-jit-skee") breaks the ice with a risqué crack about a favorite South Park episode. "Did you see the one where Kanye West mixes up fish sticks and fish dicks?" she deadpans, eliciting chuckles from her lunch companions. Not that any of them would gripe about waiting for her. Wojcicki is, after all, half of one of the world's wealthiest couples — her husband, Google cofounder Sergey Brin, is worth an estimated $17.5 billion, making him the ninth richest man in America.
As she waits for her salmon, Wojcicki sets her BlackBerry near her plate, where it flickers with new message alerts throughout the meal. Wojcicki juggles motherhood — her son is 18 months old — and a hectic career running a startup called 23andMe, located a few blocks from the Google campus. (The name refers to the 23 pairs of chromosomes that comprise a strand of human DNA.) For $399 and a sample of your spit, 23andMe will analyze your DNA to determine whether you're genetically predisposed to anything from breast cancer to psoriasis. Though sales have been sluggish — a recent New York Times article noted that many of the company's 35,000 customers received the service for free — 23andMe isn't one of those vanity projects undertaken by well-meaning but bored trophy wives. Wojcicki sees her company as a medical establishment game-changer. The goal: Let patients — not just doctors and insurers — assess their own chances of contracting diseases, then modify their lifestyles accordingly. "The paternalism of the medical industry is insane," Wojcicki says. "But scientific advances are changing all that. It's not their world anymore. We're taking it back."
But no sooner had she launched the company — the idea was hatched at a Palo Alto coffee shop in 2006 — than she started receiving letters from regulatory authorities in California and New York for providing lab services without a license. "We have so many lawyers," moans Wojcicki, stabbing at her lettuce with a fork. "Why should I need a prescription to spit into a vial and get my DNA read? Why can't I get my own blood drawn without a doctor's permission? It's my blood."
Wojcicki, the youngest of three daughters, was raised in upper-middle-class Palo Alto, California. Her father is a Stanford particle-physics professor, her mother a journalism teacher. She grew up in university housing, surrounded by ambitious young students, an army of moguls in the making. Call it Mayberry 2.0. "All my friends lived within walking distance of my house. All the kids from my nursery school are still in touch. Everyone's still in Palo Alto, including me and my husband. I know only one couple who's gotten a divorce," she says. She studied biology at Yale, where classmates ribbed her about her nerdy tendencies. "She had this abysmal understanding of pop culture," says one schoolmate. "She'd be singing the words to songs wrong, and then ask, 'Who is this person?' She's really proud of herself now that she's getting better at it. Recently she was like, 'I heard a song, and I knew who was singing it!'"
After graduation, Wojcicki moved to New York to pursue a career in finance, landing a job helping to manage money for Sweden's illustrious Wallenberg family before joining a biotech-related hedge fund. The atmosphere on Wall Street was shocking to her. "I'd never been surrounded by such a money culture, people doing things solely for money. I found it tragic and sad," she says, tucking her lanky brown hair behind her ears. "I could pick up the phone and have the CEO of a major drug company on the line, just because I was working for a hedge fund. Ordinary people can't do that. I used to go around saying, 'Doesn't anybody feel bad we use all this information just to make millions?' Nobody cared."
Reared in a frugal household ("It was impossible to get [my parents] to spend any money"), Wojcicki shunned her colleagues' expense-account mentality and gave herself a $50-per-week allowance, brown-bagging her lunch and Rollerblading to work. (That ended after security asked her to stop skating in the lobby.) Her roommate scoffed at her Patagonia-inspired wardrobe. "I like to be warm, so I wore a lot of fleece when we went out to bars. Fashion was never my forte," Wojcicki laughs. She quit her job in 2000 and bought a ticket on the Trans-Siberian Railway, where she decompressed on a long, quiet ride to Siberia. "The first night, I asked my guide, 'What are we going to do?' He said, 'We will watch the fire.' So we did that. For, like, 10 days. It was a good antidote to New York," she says.
When Wojcicki returned, she moved back to California. One day in 1998, she was hanging out with her sister Susan, who had sublet her garage to a couple of wanna-be entrepreneurs named Sergey Brin and Larry Page, who were using it as an office. Susan introduced her kid sister to the future Google founders, and before long, Brin and Wojcicki became an item. Three years ago, they wed on Musha Cay, David Copperfield's private island in the Bahamas. Guests were flown in by private jet and ferried to a sandbar where the bride and groom tied the knot in his-and-hers swimsuits—he wore black, she wore white. Before Wojcicki gave birth to her son, in 2008, Page reportedly threw them a baby shower, inviting guests to come dressed as infants in diapers and pajamas.
"They definitely have that wacky side to them," says a friend, who, like many, requested anonymity — the couple are famously press-shy. "They're man and wife and love each other, but they also have that vibe, like, 'Oh, my God, I get to live with my best friend.' They're always off doing personal training, yoga, diving, kite-surfing." (Wojcicki says her own 23andMe tests reveal that she has two copies of the fast-twitch genetic marker, typically found in sprinters, much to the envy of her husband, who only has one.) Confidantes insist that her megafortune hasn't changed her a bit. "Are she and Sergey extravagant? No. I've been to many houses that are far bigger and fancier than theirs, but they aren't paupers," remarks one.
Still, Wojcicki isn't afraid to leverage her VIP Rolodex to promote her business. Her "spit parties" have drawn the likes of Ivanka Trump, Anderson Cooper, Rupert Murdoch, and Harvey Weinstein (the last two are investors). She coaxed media titan Barry Diller into trying to curl his tongue (a genetic trait) at the annual Allen & Co. moguls' powwow in Sun Valley, Idaho, two years ago. Diller couldn't do it. "But Anderson Cooper can do this crazy four-leaf clover," she adds excitedly. Wojcicki is decidedly unfazed by bold-facers. At a tech conference, she asked Murdoch if, after eating asparagus, he could smell it in his pee — also, it seems, a genetic trait. (Murdoch said he didn't think so.) "There's no big difference. People are people," she shrugs.
23andMe's staff consists of a small army of scientists, statisticians, and Web designers. (Larry Tesler, mastermind of the cut-and-paste function on your computer, was a former employee.) The office decor reflects Wojcicki's playful, anything-goes ethos—Segway scooters lining the walls, Fatboy beanbags littering the floors, chewed-up candy tacked to the walls ("I think Anne licked it and stuck it there," her publicist says). There's even a fart machine.
The jokey atmosphere belies Wojcicki's intensely personal commitment to the business. In 2008, her husband disclosed that he carries the genetic marker for Parkinson's Disease. (His mother, Eugenia, suffers from it.) While that doesn't automatically mean he'll get the disease, some studies put his chances at about 50/50. Wojcicki's son, she confides, has already had his DNA tested through a special 23andMe kit for infants, although she will not reveal the results. Just before the baby's birth, she noted that he had a 50 percent chance of having the marker. Why put yourself through the torture of knowing your kid could come down with a fatal disease? "It's a personal choice, but the more I know about my child, the more I can do to help him," she says. Information is power in Wojcicki and her husband's world — but it's also a relentless reminder of how much we have to learn. "You always feel like you could be working harder, doing more," she adds. "There's no such thing as a complete answer. It makes sleep harder."
Leah McGrath Goodman has written for The Wall Street Journal, Forbes, and the Financial Times. Her book, The Asylum: The Truth About the Renegades Who Stole the World's Oil Market (HarperCollins), is due out next year.
Marie Claire email subscribers get intel on fashion and beauty trends, hot-off-the-press celebrity news, and more. Sign up here.