How Women Will End the War in Afghanistan
In search of peace in the war-torn nation, the Marine Corps has embedded one of the first all-female engagement teams.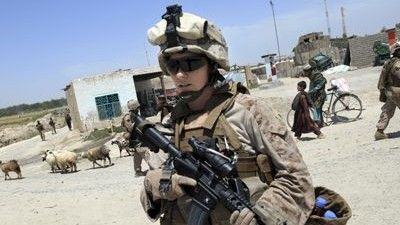 (Image credit: Kate Brooks)
It's 2 a.m. in the pitch dark of early morning on April 14, 2010, when four female Marines reach Patrol Base Jaker in the Nawa district of Helmand — a former Taliban stronghold in Afghanistan, now tenuously calm. After an exhausting five-day journey flying from California's Camp Pendleton, the women have finally reached their home for the next six months. They're the first group of women ever to be stationed in Nawa.
"We honestly thought we were going to live in two-man tents, so we were pretty stoked to see barracks," Corporal Christina Oliver tells me when I arrive at the base two weeks later. Oliver, an opera-loving rookie from Sacramento who joined the Marines in 2008, celebrated her 25th birthday on the flight over.
The 200-square-foot wooden cabin they call home reminds me of summer camp lodges, with sleeping bags on top of board-stiff cots covered with mosquito nets. Thin, floor-to-ceiling plywood sheets create a makeshift divider to give the four women privacy from the 10 or more male Marines they bunk with. The group's leader, 29-year-old New Mexico native Sergeant Guadalupe Rodriguez — who was rejected by the Marines in 2004 after failing the shooting range test but was admitted when she reapplied two years later — convinced her commander to buy them a green nylon rug from Nawa's local bazaar to add some color.
Outside, their barracks are concrete sinks and showers, but the clean water supply is limited, so they often rinse off using bottled water. Near the sinks are the only mirrors at the outpost, but makeup is pointless — it'll smear immediately in the punishing 104-degree heat. "I miss my eyeliner and mascara," says Lance Corporal Angela Pacheco, 31, a former cheerleader from Plumsteadville, Pennsylvania, who left her job at a jewelry store to join the Marine Corps when she turned 30. "We're the first females ever to do this. It's a challenge," Reservist Corporal Heather Sample tells me. Sample, 22, a Southern California native, enlisted at 17 but left active duty for a year in 2009, frustrated that she was spending more time at a desk than in a combat zone.
These four women are part of the Marine's first organized effort to send all-female units, known as female-engagement teams, into Afghanistan. Women account for only 6 percent of all 205,000 Marines, notoriously the most male-dominated branch of the armed services. In 2009, General Stanley McChrystal, then commander of U.S. and NATO forces in Afghanistan, green-lit an idea from his southern Afghanistan command to focus on Afghan women as a way to win the war. As a result, these Marines — along with 36 others — were stationed in small groups throughout the Helmand province with the explicit mission of communicating with Afghan women. By custom, Afghan men won't let their wives and daughters talk to men they aren't related to, so for the last nine years that the U.S. has been on the ground, Afghan women have been largely excluded from the peace process.
"We need female counterinsurgents if we're going to have a shot at building credibility with the female population," says Matt Pottinger, a former Marine officer involved with developing the first engagement team. The program recognizes that Afghan women, who may appear invisible to the outside world, are quiet influencers in the community and often hold intel about local bomb makers and terrorist training camps. "I came back to active duty specifically for this mission — I wanted to make a difference," Sample says.
And the expectations are high for the women to do just that. Their assignment: Gather information on women's health issues and get clearance from Afghan elders to build a center where women can meet without male chaperones. The hope is that an initial peace offering of medical care could translate into an alliance.
The team stops at each home, asking through an interpreter if the patriarch will allow them to speak to the women who live there. "We don't see many women on the streets," says Pacheco. "And when we do see one, she's escorted by her brother or father or husband." Unlike cities such as Kabul, where Afghan women have gained limited freedoms under a post-Taliban regime, in remote, conservative provinces like this one, women rarely leave the house. "Women in Kabul may go out, but here in Nawa — better women, better Muslims," an Afghan man says when they ask to speak with his wife.
Ironically, the female Marines have a similar problem: As an attachment unit, they can't leave the base for their engagement expeditions unless they are with at least six male Marines. "When we step off this base, we have no idea what we're walking into," says Pacheco. On foot patrols through the bazaar, they encounter another threat: Afghan men. Wearing traditional salwar kameez outfits and embroidered prayer caps, the men encircle the four American women one afternoon when I'm with them, aggressively asking questions like, "Are you married? Do your husbands know you're out?" The men freely grab at their bodies. "The double standard is annoying," says Sample. "In America, I'd defend myself, but here I can't act on how I feel. I didn't expect to be so soft on them."
Three weeks into their deployment, a male platoon leader arranges a meeting for Oliver and Sample with the wife and daughters of a local ally, Haji Gul Jan, who leases land to the Marines for an outpost. The hitch: Gul Jan's teenage son will be the translator instead of the male, Marine-issued Afghan interpreter. (The women are turned away from many homes because they are working with male translators.) "As long as we don't have a female interpreter, the son can steer the conversation however he wants," Oliver explains. "The women won't talk freely."
Leaving the male Marines at the door, Sample and Oliver enter Gul Jan's mud-walled compound lined with barbed wire. In a room decorated with gold brocade tapestries, they take off their flak jackets as the five women enter. Gul Jan's wife, shrouded in a black hijab, silences her cell phone after calls interrupt their introductions.
Sample kicks off the conversation by introducing herself in Pashto, "Zamanu Heather," and pulls out a typed list of questions about health care and the women's center. But the women aren't interested in any of that. What they really want to talk about is their safety. "When will Obama pull out the troops? If the Taliban make it into our compound, they'll slaughter us all," the son translates for his mother. The daughters say that militants terrorize homes at night.
After more than an hour spent talking about the war, Sample and Oliver get up to leave. While they haven't gotten any of the information they wanted on the women's medical needs, they have laid the groundwork for a relationship. But Oliver is irritated by the son's translations. "I could tell he was ad-libbing their answers," she says, once outside the compound. "But you get what you get. The fact that we get to go in and talk to anyone will pay off." Sample reports to the platoon leader that the women mentioned seeing Taliban in that area at night. It's a small nugget, but still a valuable piece of intel the officers can use.
In theory, reaching out to Afghan women makes sense; in practice, it's tougher to say. Rodriguez, Pacheco, Oliver, and Sample are the guinea pigs — proxies for the Marines and U.S. military to see if this program will work. They aren't disillusioned, simply realistic. "Half the women talk to us, if that," says Sample. "When we ask them questions, medical care is not their main focus. Staying alive is their main focus." One thing's for sure: The female-engagement teams are redefining war — transforming women into pivotal influencers on the front lines. "These women need our help," Pacheco points out. "And we aren't going to help them sitting behind a desk on some military base."
Elise Jordan was a speechwriter for Secretary of State Condoleezza Rice and worked for the National Security Council in Afghanistan in 2008.
Marie Claire email subscribers get intel on fashion and beauty trends, hot-off-the-press celebrity news, and more. Sign up here.