From One Tree Hill to Afghanistan
Actress Sophia Bush on how Marie Claire inspired her to help Afghan women imprisoned for so-called moral crimes.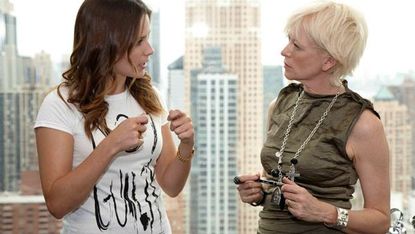 (Image credit: Archives)
Marie Claire Newsletter
Celebrity news, beauty, fashion advice, and fascinating features, delivered straight to your inbox!
Thank you for signing up to Marie Claire. You will receive a verification email shortly.
There was a problem. Please refresh the page and try again.
Faithful readers: A while back I blogged on my site about "moral crimes" in Afghanistan. I had just read a beautifully written but heartbreaking account of this barbaric custom by journalist Karen Day, published in Marie Claire. I remember shaking as I read about women jailed for so-called offenses such as fleeing an abusive husband, or "shaming" the family by leaving the house without permission. I was filled with rage as I imagined these women—and often young girls—being imprisoned, and sometimes stoned, buried alive, or even burned to death as punishment. I'm the kind of girl who forges her own path. Who brings home her own bacon. Who charges headfirst toward any challenge. I simply could not imagine living in a country where I wasn't allowed to have an opinion, let alone walk out of the house. So I decided to walk into their house. Literally.
I contacted my new journalistic hero, Karen Day, and we became fast friends. She is a kick-ass chick. She showed up to our first lunch meeting in New York rocking a stunning pair of nude patent-leather stilettos, along with marks on her arm from the massive round of shots she'd had prior to a trip to the South Sudan. As she regaled me with stories about the South Sudan, and about the last trip she'd taken to Afghanistan, we started planning. We scheduled a meeting with Joanna Coles, the editor-in-chief of Marie Claire, to talk about what we could do for women in third-world countries, starting with Afghanistan.
Joanna is my kind of gal. We entered her office in the midst of a photo shoot for the June issue. I swooned over the crepe Lanvin dress she was rocking with a pair of snakeskin Jimmy Choo Lagoon heels. Her wrists were stacked with Hermes cuffs. Her neck displayed a chain of charms that was at once sentimental and rock-n-roll. Her platinum pixie shag was both rock goddess and vintage Parisian. But we digress. Soon we got to talking about the plight of Afghan women, and Joanna listened intently as Karen and I outlined the mission of the Afghan Women's Justice Project, a group Karen formed to help Afghan women in prison. I wore my "NOT GUILTY" shirt (you can buy your own here, with proceeds going to Afghan women). And then we hatched a plan. Karen was going back to Afghanistan. And I was going with her. I would blog about my experience for Marie Claire.
Planning for Afghanistan was intense. Generally, packing a suitcase is festive: What's the climate? Do I need anything dressy? I like to pack as if I'm an editor for Conde Nast Traveler—getting everything down to the last detail, but with excitement that my best-laid plans could be abandoned at any moment for the spontaneity of something magical in a far-off land. This was not the case while packing a duffle bag for Afghanistan. We would be entering a war-torn region, where Westerners are not exactly welcomed with open arms. Where women who walk the streets alone, or who have the audacity to speak their minds, can be met with closed fists. Karen joked with me that our mutual insanity was a recipe for "somethin' fun." Just hopefully not disaster.
I knew we needed to make sure that not an inch of our skin was showing, so I pulled maxi dresses, harem pants, and oversized tunics from my closet. We would be wearing headscarves every day. Shoes would be combat boots. Practicality was key. Never have I ever wanted to blend in more. Our week in Afghanistan would consist of visiting women's prisons, meeting with artisans who would offer job training to prisoners, and having think-tank sessions with progressive ladies fighting for women's rights in the region. We would also be making a stop to see the boys and girls in uniform. As a fervent supporter of The USO, I had suggested to Karen that we set up a visit at one of the bases. Her reply? "Oh, I'll just call Petraeus." As in General David Petraeus. It turns out that prior to becoming a travel-anywhere-that-injustice-is-happening journalist, Karen once worked at the Pentagon. With guys like Petraeus. And she knew that he would love to have some ladies come and visit the base.
So I would need a dress and some killer stilettos for this trip, too. I remembered how, years ago, when talking to some soldiers who'd just arrived home, I was struck by what one had said he'd missed most while abroad: "the sound of high heels and the smell of perfume." The scent of a woman, or for this particular soldier, his woman, had been sorely missed. High heels, date nights, dinner and a movie. A hug from the woman you love. These are things that our troops long for. So yes, I would pack one dress, and one pair of high heels that would clickity-clack all the way down the corridors.
Let me just say here that regardless of anyone's personal feelings about war, I believe that we all have the duty to support our troops. These men and women are risking their lives every day to protect our freedoms. Our boys and girls in Afghanistan spend their days walking across bomb-laden fields in 118-degree heat, shouldering 35 pounds of body armor. They sweep the city, looking out for roadside bombs and attempting to keep eyes on Taliban militants, who have their hearts set on blowing up innocents all over town. These militants not only take their own lives, but force homeless and starving children to become suicide bombers.
This is the world that our troops, and the women of Afghanistan, live in. This is the world that we need to shed light on if we hope to bring about change. And this is the world that I wanted to see for myself.
However, as I packed my suitcase, something tremendous happened: American Navy Seals raided the compound of Osama bin Laden. The man responsible for America's presence in Afghanistan. The man whose sick mind hatched the 9/11 terror plot. I will never, ever forget the images of that fateful morning. The planes hitting the Twin Towers. The smoke. The bodies falling from broken windows. It was almost too intense, too traumatic, to believe. And here, 10 years later, we'd gotten him. A huge blow was dealt to the terrorists with bin Laden's death. And everyone began to wonder: What did this mean? Was retaliation imminent? What would come next?
I can tell you what came next for me. As threat levels in Afghanistan skyrocketed, my plans to travel there hit a wall. One military worker explained it to me this way, "A 20-something brunette girl whose last name is Bush probably shouldn't be heading into Kabul right now. If they think you're the former President's daughter, you'd make quite a target for them." Target. I heard that word a lot in the days after bin Laden's death. "You are too high-profile a target," I was told, time and again. The sentiment was unanimous: I should not travel into Afghanistan until the dust settles.
So. Karen and I hatched a new plan. She was still going—she had been there many times before and wouldn't raise any suspicions by going back. And her passport doesn't bear an unfortunate political surname, the way mine does. (For the record, my dad is from Canada, and I am in no way related to President Bush.) Karen and I would Skype. Every morning Los Angeles time (every evening Kabul time), we'd get on the phone, and she'd fill me in on the day's events. I would receive photos and updates as often as she could get an Internet connection. And given a few days grace period, for her safety and for the safety of the people she would be working with, I'd blog away, as planned. I'd just be doing it from the comfort of my office. So much for the combat boots.
Let the grace period begin. More to come, readers. If you don't already own a "NOT GUILTY" T-shirt, you can order one here and support Afghan women from the comfort of your offices, or couches, as well. Much Love.
Celebrity news, beauty, fashion advice, and fascinating features, delivered straight to your inbox!