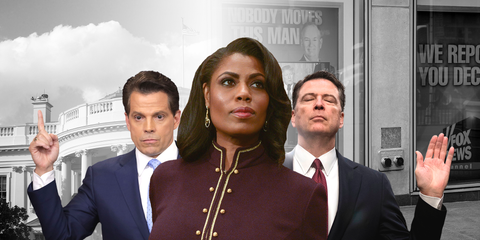 Photo illustration by Travis McHenry
In President Trump's short time serving, he's run through quite a list of advisors, communications staff, and other senior aides. Changes come so often that the West Wing has been described by all manner of instability-implying metaphor: It's a revolving door. It's a game of musical chairs. It's Survivor and staffers never know when they're going to be voted off the island.
But of course, the most appropriate reality-TV show reference is Trump's own, The Apprentice. The man who coined the catchphrase "You're fired!" has spent his first year putting those words to good use. What has become of those departed staffers? This:
White House position: acting attorney general
Date fired: January 30, 2017
What she's up to now: Yates was terminated just days into the Trump administration because she refused to uphold one of the president's first executive orders—the so-called "travel ban." She remains an outspoken Trump critic, teasing the Secret Service on Twitter over Christmas that they had better look out for the Christmas Carol ghosts, among other ribbings. She has also penned op-eds for national newspapers and spoken on college campuses.
White House position: national security advisor
Date fired: February 13, 2017
What he's up to now: Flynn remains at the center of the Russia investigation. Fired for lying to the president and vice president about his Russian connections, he has since plead guilty to one count of making false statements to the FBI. He faces a maximum of five years in prison.
White House position: U.S. attorney for the southern district of New York
Date fired: March 11, 2017
What he's up to now: Trump and Attorney General Jeff Sessions asked all Obama-appointed U.S. attorneys to resign, something Bharara refused to do. Just days after his firing, he was named a Distinguished Scholar in Residence at NYU's law school. In September, Bharara launched a politically-minded podcast, Stay Tuned with Preet.
White House position: FBI director
Date fired: May 9, 2017
What he's up to now: Trump readily admitted that he fired Comey because of his frustrations regarding the investigation into his campaign's relationship with Russian operatives; Comey went on to testify before the Senate Intelligence Committee in June about his knowledge of any supposed collusion. In the months since, Comey announced a deal for his first book, A Higher Loyalty: Truth, Lies, and Leadership. It's scheduled for release in May 2018.
White House position: communications director
Date resigned: May 18, 2017
What he's up to now: Dubke is one of the few staffers on this list to leave of his own accord, and some people suspect he did so because he didn't want to divest from his businesses, like the communications firm he co-founded, Black Rock Group. He's back there now, and is also working as a politics fellow at Georgetown University.
White House position: press secretary
Date resigned: July 21, 2017
What he's up to now: The man who Saturday Night Live turned into a walking punchline parlayed his caricature status into an appearance at the Emmys in September. From there, he's followed the Comey path: He sat for an interview with Robert Mueller's team in September and got a book deal in December.
White House position: chief of staff
Date fired: July 28, 2017
What he's up to now: Priebus lost his job during the same brutal week in July as Spicer and Anthony Scaramucci. He has since returned to the firm of Michael Best and Friedrich LLP, where he spent 13 years earlier in his career. He's now president and chief strategist. He also serves as chairman of the board of advisors for Michael Best Strategies LLC, the government-relations arm of the same firm.
White House position: communications director
Date fired: July 31, 2017
What he's up to now: Of all the brief tenures in the Trump administration, Scaramucci's was the briefest. He lasted a mere ten days running communications for the White House, following an obscenity-laden on-the-record call with The New Yorker. Capitalizing on his popularity as an instant meme-generator, he appeared on late-night talk shows and then launched his own media outlet, the Scaramucci Post, in October 2017. The site has run one new article so far.
White House position: chief strategist
Date fired: August 18, 2017
What he's up to now: Bannon's departure was one of the most dramatic personnel changes in Trump's already-dramatic year. After his exit, he returned to Breitbart News as executive chairman and began supporting the political campaigns of other ultra-conservative Republicans, including Roy Moore. But earlier this month, Bannon was fired from Breitbart after a passage from Michael Wolff's book Fire and Fury showed Bannon calling the infamous July 2016 campaign meeting with Russian operatives at Trump Tower "treasonous." Unclear if Bannon will be able to rebound in the fields of politics or media after this series of failures.
White House position: deputy assistant to the president
Date fired: August 25, 2017
What he's up to now: Just days after Steve Bannon was terminated, his comrade in nationalist ideology was forced out, too. He portrayed the move as his own decision—he was worried the Trump administration had lost its devotion to the original plan of Making America Great Again, he said—but the White House rejected that storyline. Gorka still proudly defends the president's actions on Twitter and often appears on Fox News to lend expertise on issues of national security.
White House position: secretary of health and human services
Date resigned: September 29, 2017
What he's up to now: Price left his position after the scandalous revelation that he was using a private jet for his routine work travel, paid for by taxpayers. He's been lying super low ever since, and his position remains open. Trump's nominee, Alex Azar, is expected to be easily confirmed this month.
White House position: director of communications for the White House Office of Public Liaison
Date fired: December 13, 2017
What she's up to now: So many of the people on this list had a dramatic exit from the White House, but Manigault Newman's was reportedly explosive; witnesses said she was dragged kicking and screaming from the building. Another rumor holds that she's now working on a book deal.