The Fight Against Sexual Violence on College Campuses: UNC Chapel Hill's Project Dinah
The White House established a task force to fight sexual assault on college campuses earlier this year. But many organizations have been fighting for this cause a lot longer. We're taking a look at a variety of groups that are working to educate survivors and students, fight outdated policies, and most of all, end end sexual violence on college campuses. Project Dinah focuses on empowering and educating students at University of North Carolina, Chapel Hill.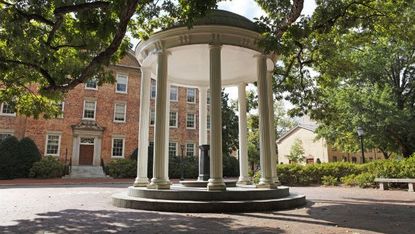 (Image credit: Getty Images)
While sexual assault and rape are problems that exist at campuses throughout the nation (opens in new tab), sometimes the first step towards eradicating this epidemic starts on a smaller scale. While national groups empower students from coast to coast, anti-sexual violence groups based at individual colleges and universities can connect with their peers on a personal level.
Project Dinah (opens in new tab), based at the University of North Carolina, Chapel Hill (UNC), is one of these groups. Project Dinah (pronounced dee-nah) is an anti-interpersonal violence—which encompasses all types of relationship violence including rape, sexual assault and stalking—organization with a centralized focus on their own campus, and a long history.
The organization was born over ten years ago out of a much larger one, Hillel, a group for Jewish students that exists on campuses throughout the nation. However, as Project Dinah grew in size and popularity, it became its own separate entity as a "safe and secure" organization, so all students, regardless of heritage or experiences, would feel welcome participating. "We've really tried to make it a safe space for survivors and allies alike," Madelyn Frumkin, Project Dinah co-chair, says. "We love to have them working together."
Their work has three major components: education, empowerment and advocacy. The group's members do some work with the university's administration as well, oftentimes through taskforces, but their focus is on the students. Project Dinah sponsors programming that not only educates students on interpersonal violence, but also encourages their peers to discuss healthy relationships, consent, and other issues. But Project Dinah is all about students connecting with students, as and such; they sometimes put a more lighthearted spin on the serious subjects with fun programming. Some of their most memorable events include a sex toy raffle and throwing condoms into the audience during talks on healthy relationships and safe sex.
Project Dinah also gets their message across online through their blog, Speak Out UNC. Students can send in their personal testimonials of their own assault (opens in new tab), or stories of loved ones, which are published anonymously. The blog's work is brought to life during the group's annual Speak Out event, where stories from the blog are read with student's permission. The emotional experience allows survivors to share their experiences on their terms. "People are so grateful to us for giving them a voice," Frumkin says.
For Frumkin, the most powerful experience is seeing victims who have stopped putting the blame on themselves, and take an empowering lens on their assault. Beyond just bringing joy to those who have overcome their experiences, it helps those still struggling, she says. "It gives you hope when you hear those stories."
The impact goes beyond survivors: in sharing these personal stories, Project Dinah members hope that students will see sexual assault as more than an abstract concept that will "never happen to them". "We want students to hear that this happens, to hear actual stories," Frumkin says. "We really think that putting the whole story with it gets people a better idea of the issue."
For many, college is the first place where sexual violence is openly discussed (and oftentimes, even in college, it is not discussed enough). Project Dinah gives UNC Chapel Hill students an opportunity to dive into fighting sexual violence at the university level. Frumkin says that for new members, the Speak Out event makes brings a realness to stories of sexual assault.
"We know it's an issue, and we know that it happens to people, but the details of it, how it exactly happened and the aftermath of it, it's really eye-opening," Frumkin says. "It was emotionally draining for me, but it just pushed me to continue doing the work, since there's clearly a need for it."
People both on and off campus have increasingly talked about sexual assault at colleges and univerisities, and perhaps nowhere more than UNC. Last year, when the U.S. Department of Education's Office of Civil Rights launched three investigations into the following a complaint filed against the school by a UNC sophomore for failure to properly report and handle sexual assault and rape on campus. These investigations were a catalyst for growing discussion of sexual violence on campus, Frumkin says. This discussion has not only led to a big jump in members for Project Dinah, but also a great awareness on campus of what the group is all about. In the future, they hope to continue this growth and reach new corners of campus that have been previously untapped.
"We want to reach groups on campus that aren't as receptive to what we're saying," Frumkin says. "Not that they won't be, but we just haven't exactly figured out how to reach them yet." Project Dinah will continue to reach new groups and spread their message around campus again this September.
Read more:

One Student Against Sexual Violence (opens in new tab)

End Rape on Campus

Only With Consent (opens in new tab)
I'm an Associate Editor at the Business of Fashion, where I edit and write stories about the fashion and beauty industries. Previously, I was the brand editor at Adweek, where I was the lead editor for Adweek's brand and retail coverage. Before my switch to business journalism, I was a writer/reporter at PEOPLE.com, where I wrote news posts, galleries and articles for PEOPLE magazine's website. My work has been published on TheAtlantic.com, ELLE.com, MarieClaire.com, PEOPLE.com, GoodHousekeeping.com and in Every Day with Rachael Ray. It has been syndicated by Cosmopolitan.com, TIME.com, TravelandLeisure.com and GoodHousekeeping.com, among other publications. Previously, I've worked at VOGUE.com, ELLE.com, and MarieClaire.com.