5 Myths About the Election — Busted
Think you've got the election all figured out? Brace yourself.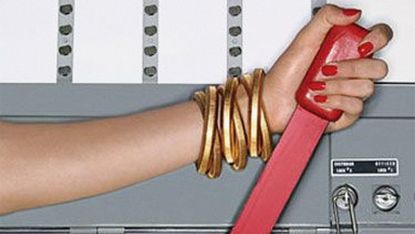 (Image credit: Plamen Petkov)
1. DEMOCRATS HAVE IT IN THE BAG.
Yes, President Bush's approval ratings are doing the limbo. How low can they go? Last November, for the first time in the history of the Gallup Poll, 50 percent of Americans said they "strongly disapprove" of the job the president is doing. But even people who are furious at Bush over Iraq say they won't necessarily vote for a Democrat. Many argue that it's not fair to blame the entire Republican Party — especially when Democrats, including Hillary Clinton, voted to authorize the war in Iraq as well. Which brings us to...
2. WOMEN VOTE FOR WOMEN, PERIOD.

Women across the political spectrum like the idea of a female president, but it doesn't mean they'll vote for the one in the race. Women from left to right continue to express skepticism about Clinton, even as she leads in the polls.
3. WE VOTE ON THE ISSUES THAT MATTER MOST TO US.
Suuure we do! To do otherwise would be irrational, yes? All the same, men and women often say their top issue is health care or the environment — then go on to explain why they voted against the candidate who agreed with them. Our choices are more emotional than we'd like to admit — often based on who seems more trustworthy or authentic.
4. WOMEN'S ISSUES ARE KEY TO WOMEN VOTERS.

What is a women's issue? Hard to say, when some of us put health care at the top of our list and others want a fence along the Mexican border. What we do know: White, married women have been trending Republican for years, while single women and women of color favor the Democrats.
5. CANDIDATES' SPOUSES DON'T MATTER.

Except that they do. A full third of women voters say it's not just the spouse that weighs on their choice of president, but the perceived happiness of the marriage as well.
Celebrity news, beauty, fashion advice, and fascinating features, delivered straight to your inbox!