Republicans Think The Gender Pay Gap Is "Okay"
Republicans Think The Gender Pay Gap Is "Okay"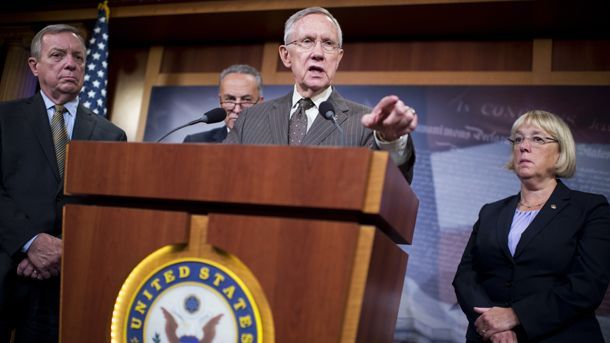 (Image credit: Archive)
According to Senate Majority Leader (D) Harry Reid, Republicans think the pay disparity between men and women is totally okay. As a matter of fact, today on the senate floor, before a vote on whether or not the Paycheck Fairness Act will advance, Reid commented that conservatives don't want to see the gap close. "A woman who does the same work as a man ought to be paid the same," he said. "Senate Republicans cannot accept that simple notion. They think it's fair that men get paid more than women." And Reid's got plenty of evidence to support this claim: A few months ago, Republicans in the Senate halted the progress of the Paycheck Fairness Act. Reid added that if Republicans won't acknowledge the necessity of a bill that mandates equal pay between the sexes, then Democrats will. To sum it up, he said: "American women deserve better." Agreed, Senator Reid, agreed.
Related:

How the Pay Gap Affects You: Best States





The States That Have the Biggest Pay Gap for Women






Why You Should Care About Equal Pay


Photo via Getty Images
Diana is a producer at ELLE.com. She previously wrote for MarieClaire.com. Diana is a Syracuse grad and a Chicago native, and therefore a pro at dealing with cold weather. She's also an Anglophile, which means she love all things British—especially Downton Abbey, London, and Will and Kate (and Prince George!)