How the Pay Gap Affects You: Best States
If you live here, you're better off than most.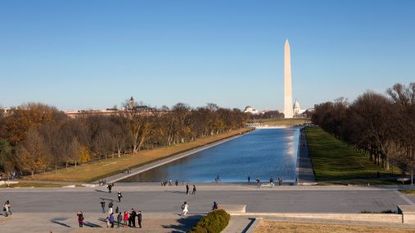 (Image credit: Archive)
In the race to close the nation's ever present gender pay gap (opens in new tab), these states are outshining the rest.
Minnesota

This month, Minnesota passed the Women's Economic Security Act (opens in new tab), a multi-faceted law that ensures fairness for women in the workplace. The law's nine parts include wage disclosure protection (opens in new tab), better protections and accommodations for pregnant women and new mothers, among other amendments.
Massachusetts

Last year, Boston's mayor, Thomas Menino, stated his goal to make the city the first in the U.S. to eliminate the pay gap (opens in new tab), making it the "premier city for working women." A big goal to be sure, but they're working to make it happen. The city is asking companies to sign the 100% Talent: The Boston Women's Compact (opens in new tab) to join in their efforts to understand the wage gap, close it, and gage how well they've done in doing so. The women of Massachusetts also has a big player on their side: Senator Elizabeth Warren, a strong supporter of equal pay (opens in new tab).
Michigan

Women may only make up less than 10 percent of Fortune 500 CEO's (opens in new tab), but in Michigan, General Motors named its first female CEO, Mary Barra, this past January. Did we mention that she's the first woman to hold the top job at a major car company—ever?
Washington, D.C.

Let's hope that our capital city is setting the tone for the pay gap throughout the nation. Washington, D.C. In the race to close the wage gap, the city is the winner by quite a bit. D.C. women make 90 percent of what a man makes—5 percent more than any other state, according to the American Association of Unviersity Women (opens in new tab). In second place is Maryland, and it can only be assumed that a significant number of workers living in Maryland work in D.C. as well. But that's not all of the District's accolades. According to a study done by WalletHub (opens in new tab), they also rank first in professional opportunities for women.
Alabama

This one may surprise you—WalletHub (opens in new tab) also says that Alabama—who ranks fifth from last in the measure of pay gap by state—ranks first for the highest female-to-male executive ratio (74.48 percent), meaning that they have the greatest gender balance in the boardroom of any state. Who came in second, however, will surprise no one—Washington, D.C.
Oregon

On a larger scale, the wage gap isn't just about equal pay, but fair and equal treatment as well (opens in new tab). And when talking about fair treatment of women in the workforce, the subject of rights for working moms (opens in new tab) is bound to come up. In that realm, it is the state of Oregon that takes top honors, according to WalletHub (opens in new tab).
Connecticut

Making laws isn't the only way to make a difference in ending the pay gap. At the end of last year, the office of the Governor of the state of Connecticut, Dannel P. Malloy, published a report (opens in new tab) on pay equity designed to encourage companies and employers to shrink the gap between men and women's pay.
Vermont

Also last year, Vermont passed a new package, An Act Relating to Equal Pay, that demands state contractors to determine pay using job-related reasons only. The act also assures that workers are able to request a more flexible schedule—a provision that will without a doubt benefit the state's working mothers.
California

California is home to the nation's best paid female executive, Safra Ada Catz, the CFO and President of tech giant Oracle, who brought home a cool $44.3 million in 2013, according to FindTheBest Companies (opens in new tab).
Related:
The States That Have the Biggest Pay Gap for Women (opens in new tab)

Why You Should Care About Equal Pay (opens in new tab)

Want to Find Out What Your Co-Worker's Make? (opens in new tab)

The Real Reason Why Companies Don't Want to Pay You Fairly (opens in new tab)
I'm an Associate Editor at the Business of Fashion, where I edit and write stories about the fashion and beauty industries. Previously, I was the brand editor at Adweek, where I was the lead editor for Adweek's brand and retail coverage. Before my switch to business journalism, I was a writer/reporter at PEOPLE.com, where I wrote news posts, galleries and articles for PEOPLE magazine's website. My work has been published on TheAtlantic.com, ELLE.com, MarieClaire.com, PEOPLE.com, GoodHousekeeping.com and in Every Day with Rachael Ray. It has been syndicated by Cosmopolitan.com, TIME.com, TravelandLeisure.com and GoodHousekeeping.com, among other publications. Previously, I've worked at VOGUE.com, ELLE.com, and MarieClaire.com.