Not-So-Magic Mike: My Search for the Nonexistent Male Strip Clubs of Tampa
My search for the nonexistent male strip clubs of Tampa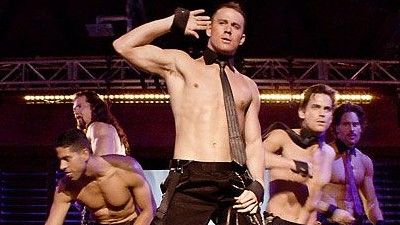 (Image credit: Marie Claire)
I had a brilliant idea, one I assumed every adventurous lady journo traveling to the RNC would have: I was going to make a pilgrimage to one of the male strip clubs so lovingly portrayed in Magic Mike.
Unfortunately, they don't exist. Channing Tatum lied to us.
A cursory Google search for "tampa male strip club" was the first sign. The only pages it yielded were a few sketchy Yellow Pages listings, one gay gogo bar, and a bevy of Magic Mike reviews. There were several male exotic dance companies, but they appeared to be Rent-a-Hunk status—a dispatch service for private events. I clicked on four, five, six pages of results. One marooned lady had turned to Yahoo! answers: "Why aren't there any female strip clubs in Tampa, FL?" Best answer: "It is a male chauvenist thing [sic]."
I figured I'd make some calls, anyway...just in case. When I asked after live action, Playhouse Adult Theatre only proffered adult movies, then shamed me: "You're about the millionth newspaper caller that's asked that question." The dude on the other line of Tampa Gentlemen told me he only did private parties, and wow he totally didn't know Magic Mike was set in Tampa!
The phones at Mega Men and Ybor Social Club just rang and rang.
My last-ditch effort was Florida Hardbodies, a male stripping service that provided entertainment in several dozen cities across the state. A very nice man named Anthony informed me that an enterprising bar in Hudson, FL (a full hour away from the conventions) had booked a few dancers for their Ladies' Night, and would I like to sign up for the 9 o'clock show? "Tempting," I told him, "but I can't miss Paul Ryan's speech." Anthony is a Republican (well, fiscal libertarian—"I don't care about the sex stuff, obviously"), and he thinks Paul Ryan is "a good-looking guy." I told him he should offer him a job.
With my strip club plans thwarted, I figured I should at least visit the Amphitheatre—the raucous club wherein Magic Mike and The Kid first bond—but my fellow ladies demurred. (The club was hosting something called the "Elephant Pre-Party; not the venue's typical soiree, anyway.) And on my way home to my condo in Ybor City, Tampa's gay neighborhood, I peeked into G Bar, hoping to spot some gogo dance moves, albeit targeted at a different audience. The club was shuttered and closed.
Celebrity news, beauty, fashion advice, and fascinating features, delivered straight to your inbox!
Nona Willis Aronowitz is an editor and writer who thinks a lot about love, sex and politics. She tweets at @nona.