Field of Panties: Immigrant Workers
Eradicating the sexual assault and harassment of female farm workers.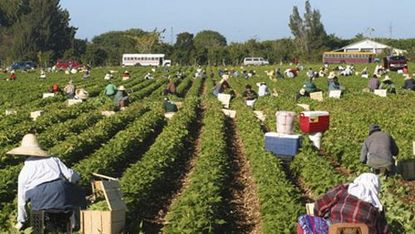 (Image credit: E. Kashi)
The next time you sit down to a fresh, healthy salad, consider this: The contents may have been picked by one of the 400,000 women toiling in U.S. fields, nurseries, and packing plants. Attracted to the U.S. by jobs that pay about $11,000 a year — three times what they can make in Mexico or Central America — these women are frequent victims of sexual harassment and rape. Though official stats are hard to come by, given that undocumented workers risk scrutiny and deportation if they report a rape, advocacy groups say the problem is systemic, affecting thousands of women (who are outnumbered by men 20 to 1 in the fields) each year. Workers in Salinas, CA, refer to one company's land as the field de calzón, or "field of panties," because so many supervisors rape women there; in Florida, some workers call the farm where they work "the Green Motel," because they are expected to lie down between rows of plantings. One worker from a group in Iowa, who settled a class-action suit against an employer, told her lawyer, "We thought it was normal in the U.S. that you had to have sex to keep your job."
Now, a 30-year-old lawyer named Mónica Ramírez is leading an effort to weed out the fear in the fields. She founded Esperanza, the country's first nonprofit dedicated to eradicating sexual assault and harassment of female farm workers, which has joined forces with the Southern Poverty Law Center to create a network of lawyers, law-enforcement officials, social workers, and religious leaders, serving women in 24 states. As a young girl in Florida, Ramírez, the granddaughter of Mexican immigrants, watched several men sexually assault a member of her family and threaten that if this person didn't do what they wanted, they'd come after Ramírez, too. Says Ramírez, "I want to see the day when I've worked myself out of a job." To learn more about Esperanza, visit splcenter.org.
Celebrity news, beauty, fashion advice, and fascinating features, delivered straight to your inbox!