Our Most Important Mission Ever: Stop Violence Against Women Now
Quotes on Violence Against Women - How to Prevent Domestic Violence - Quotes on Domestic Violence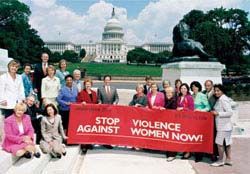 (Image credit: Michael Edwards)
Marie Claire newsletter
Celebrity news, beauty, fashion advice, and fascinating features, delivered straight to your inbox!
Thank you for signing up to . You will receive a verification email shortly.
There was a problem. Please refresh the page and try again.
In honor of our second annual "It's Time to Talk" campaign, nine U.S. senators and 14 representatives join Marie Claire and Liz Claiborne to end violence against women. These elected officials are introducing a reauthorization bill, with better laws and prevention programs, to replace it, to ensure that no man ever has a right to hurt you & and if he does, you have a right to fight back.
"I grew up with an extremely abusive father. As a mother, I wanted to protect my own children from exposure to violence. When I found out one of my daughters was in an abusive relationship, it broke my heart. Finally, she left him ‑- but only after his abuse started spreading to the children."

--Rep. Ginny Brown-Waite, Florida
"My niece was a sexual-assault victim. My sister is a survivor of domestic violence. We have more shelters for animals than for battered women. That's not the message we should be sending."

--Rep. Hilda Solis, California
"Violence against women is not random or anonymous. In West Virginia, 88 percent of sexual-assault victims already know their attacker. In my hometown, Alicia McCormick, an advocate for our domestic-violence shelter at the YWCA, was killed in her home by a man doing handiwork in her apartment complex. That one of my greatest advocates could fall victim to something she fought against her whole life was a tragedy that moved me to action."

--Rep. Shelley Moore Capito, West Virginia
"It's not enough for women to speak out on the issue ‑- for the message to be strong and consistent, women's voices must be backed up by men's."

--Rep. John Conyers, Jr., Michigan
"It's still hard for me to talk about the day I visited a shelter for children who were victims of a domestic-violence household. The kinds of abuse they had suffered, and what it had done to them physically and emotionally ‑- I don't have words for what I saw. This has to stop."

--Sen. Mike Crapo, Idaho
"The Violence Against Women Act protects the lives of tens of thousands of domestic violence victims. But the U.S. must also support gender equality around the world, and that means acknowledging that some nations we consider to be our friends are no friends to women. For example, domestic violence is not regarded as a crime in Saudi Arabia. The United States should not have 'normal' relations with nations that treat women as second-class citizens."

--Sen. Barbara Boxer, California
"In rural areas of America, there is a growing increase in poverty, homelessness and hunger. You cannot separate these factors from domestic violence ‑- a mother with three kids and no financial security is going to stiffen her lip and take the abuse, because not only does she have nowhere else to go, she has three children depending on her for survival."

--Sen. Blanche Lincoln, Arkansas
"It is difficult to get Latina and Asian women to speak out. We must make it clear it's not their problem, it's our problem. We need magazines like this one to keep talking about the issue. And know that we women in Congress are with you 100 percent."

--Rep. Juanita Millender-McDonald, California
"If the numbers we see in domestic violence were applied to terrorism or gang violence, the entire country would be up in arms, and it would be the lead story on the news every night."

--Rep. Mark Green, Wisconsin
"I represent an affluent district, but when I worked to form my county's first battered-women's shelter, some nights there were no beds left. Violence against women crosses all economic lines."

--Rep. Lynn Woolsey, California
"When you're in a broken family and your role model is a violent male, boys grow up believing that's the way they're supposed to act. And girls think that's an accepted way men will treat them."

--Rep. Jim Costa, California
"Soldiers who return from Iraq receive therapy for the violence they've seen. But we don't think about the consequences of witnessing violence in your home. For a child, it dwarfs the effects of violence in war."

--Rep. Patrick Kennedy, Rhode Island
"To help break the cycle of domestic violence, we must allow survivors to take time off from work without fear of losing their job, to go to court, to see a doctor or to find a safe place to live."

--Rep. Lucille Roybal-Allard, California
"Growing up in a small Alaska town, domestic violence was that dirty little secret nobody talked about. We must start talking about it. For too long, we have been providing protection to the wrong people."

--Sen. Lisa Murkowski, Alaska
"A friend of mine was married to an assistant church pastor who regularly beat her up. He was smart ‑- he'd do it in a way that the bruises didn't show. For the longest time, she dealt with it. Who would believe the minister was a wife beater?! Meanwhile, my friend ‑- an attorney! ‑- suffered in silence."

--Rep. Carolyn Maloney, New York
"When my kids were in preschool, I was part of a carpooling group. One mother sometimes showed up with bruises on her body. She always had an excuse. Then one morning, she didn't show up. Later, I learned she'd fled a violent marriage. I've always thought, If only I'd known, maybe I could have helped."

--Sen. Patty Murray, Washington
"The key thing is to ensure that we give the criminal-justice system the tools it needs, so that women's rights are turned into reality. It is not enough to say domestic violence is a crime ‑- in order for the laws to be successful, lawyers and courts must have the necessary means to prosecute it."

--Sen. Jon Kyl, Arizona
"After I became an attorney, the mother of two girls I'd known in high school came to see me. She'd endured years of heinous abuse from her husband that nearly destroyed her. I'd never suspected a thing."

--Sen. Harry Reid, Nevada
"Recently, I was in Africa monitoring elections when right on the street, this guy started beating a woman. I got out of my car, pulled her inside and drove her to the hospital. But after the doctors treated her, she was too afraid to press charges. I've seen this over and over in America, too."

--Rep. Barbara Lee, California
"Pregnant women are more likely to die from homicide by domestic violence than any other cause of death."

--Rep. Lois Capps, California
"Growing up, I thought my grandfather was dead. Later, I learned he was alive, but my family pretended he didn't exist because of the terrible way he'd abused my grandmother and my mother. He did things like shave my grandmother's head and lock her in a closet. With my mother's help, my grandmother finally left him."

--Rep. Deborah Pryce, Ohio
"In my state, two women who came to the U.S. as 'mail-order brides' were killed by abusive husbands. They had risked everything to come to this country, and it cost them their lives. We must let women know they have options."

--Sen. Maria Cantwell, Washington
"The biggest challenge is to convince a woman that it's not her fault. My daughter is 25; my stepdaughter is 22. As a mother, I want them to know that if a boyfriend is abusive, you cannot ignore it ‑- 'Oh, he's been drinking,' or 'He had a bad day.' There is no excuse for a man hitting a woman. Ever."

--Sen. Debbie Stabenow, Michigan