Elizabeth Warren Defends Planned Parenthood in an Awesomely Passionate Speech: "The Year Is 2015, Not 1955"
You need to watch this.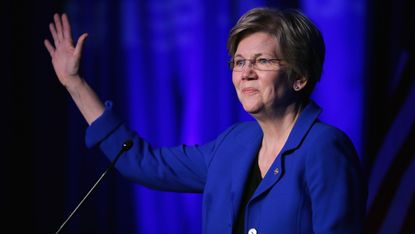 (Image credit: Getty Images)
Sen. Elizabeth Warren pulled no punches on the Senate floor Monday when she harangued Republican lawmakers for calling a vote to defund Planned Parenthood.
"Did you fall down, hit your head and think you woke up in the 1950s, or the 1890s?" said Warren, a Democrat from Massachusetts. "Should we call for a doctor? Because I simply cannot believe that in the year 2015, the United States Senate would be spending its time trying to defund women's health care centers."
Republican senators needed 60 votes to proceed to the Senator floor with a debate of a bill to defund Planned Parenthood, but they ultimately garnered 53 in support. That means Planned Parenthood is safe, for now.
Monday's vote came as Republicans have seized upon recent undercover videos that show Planned Parenthood executives discussing fetal tissue donations to medical research companies. The activist group that captured the films say they're evidence Planned Parenthood profits from selling the tissue, which is illegal. Planned Parenthood has emphatically denied that claim.
Warren addressed the video and the GOP response directly in her speech Monday.
"Let's be really clear about something," she said. "The Republican scheme to defund Planned Parenthood is not some sort of surprised response to a highly edited video. Nope. The Republican vote to defund Planned Parenthood is just one more piece of a deliberate, methodical, orchestrated right-wing attack on women's rights. And I'm sick and tired of it. Women everywhere are sick and tired of it. The American people are sick and tired of it."
"The year is 2015, not 1955 and not 1895," she added.
Celebrity news, beauty, fashion advice, and fascinating features, delivered straight to your inbox!