The Most Powerful Republican in Washington Is Taking a Stand Against Paid Maternity Leave
Speaker of the House Paul Ryan says it "doesn't make any sense."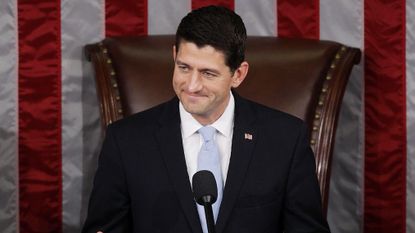 (Image credit: Archives)
Paul Ryan, a Republican from Wisconsin, was named Speaker of the House last week. That means he not only presides over the House of Representatives, but is also second in line to the presidency. Which makes his comments on Sunday about not supporting a paid family leave law that much more jarring.
It's also a surprise for another reason: Ryan spoke out before taking the Speaker job to say that he wouldn't sacrifice time with his family in order to do it. Many saw that as a promising sign that he'd support legislation allowing millions of normal Americans to do the same, but as he told CNN's Dana Bash on State of the Union yesterday, "I don't think that sticking up for being a person with balance in your life, for wanting to spend your weekends in your home with your family...I don't think that means signing up for some new unfunded mandate."
The United States is one of only a handful of countries where paid maternity and/or paternity leave isn't required by law. The other countries are Swaziland, Lesotho, and Papua New Guinea, according to Quartz. Eligible workers in the U.S. can take up to 12 weeks of unpaid leave for sickness or a new baby, which a) devalues parenthood as a priority and b) makes finances for new parents harder to manage.
Democratic presidential candidates have made the passage of paid family leave legislation a priority in this election cycle, but Ryan said it "doesn't make any sense" for him to support a paid-leave mandate.
"I don't think people asked me to be speaker so I can take more money from hardworking taxpayers to create some new federal entitlement," he said on Fox News Sunday, when asked whether he'd prioritized paid family leave. "But I think people want to have members of Congress that represent them, that are like them."
"So if you're asking me because I want to continue being the best dad and husband and speaker I can be—getting that work-life balance correct—means I should sign up for some new unfunded entitlement, that doesn't make any sense to me," he continued.
Ryan has supported a different federal law instead, one that would allow private-sector employees to use their overtime for paid leave, according to the Milwaukee Journal Sentinel. That would mean they'd have to give up time-and-a-half pay for the chance to stay at home.
Interestingly, Ryan's own staffers enjoy paid family leave. A spokesperson for the speaker told The Huffington Post that Ryan's office "does have a paid family leave policy in place," but did not elaborate.
Follow Marie Claire on Instagram for the latest celeb news, pretty pics, funny stuff, and an insider POV.
Celebrity news, beauty, fashion advice, and fascinating features, delivered straight to your inbox!