Gay Rights, Healthcare for the Poor, and Legalized Marijuana Were All Defeated at the Polls Yesterday
Based on Tuesday's turnout, American voters are largely rejecting liberal issues.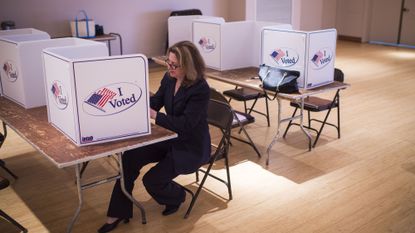 (Image credit: Archives)
Several cities and states in the U.S. held elections on Tuesday, and the results serve, for many, as a crystal ball for the 2016 presidential election. The resounding message? Liberal causes are going to take a bruising.
In Houston, the country's fourth-largest city, voters soundly defeated an ordinance that would have established nondiscrimination protection for gay and transgender people. (The vote was 61 percent against and 39 percent in favor.) The city's mayor, Annise Parker, who is gay, had championed the measure and told supporters on Tuesday night that the fight wasn't over.
"I guarantee that justice in Houston will prevail," she said. "This ordinance, you have not seen the last of. We're united. We will prevail."
Opponents said the ordinance would infringe on their religious beliefs, although in the run up to the election, they seized on a key talking point: If passed, the law would allegedly create a host of problems involving transgendered men and women using public restrooms.
In Kentucky, voters elected a Republican governor for only the second time in four decades, sweeping businessman and political newcomer Matt Bevin into office. The race was seen as a referendum on health care and gay marriage, because Bevin, who describes himself as a Christian conservative, defended Kim Davis, the county clerk who was jailed for refusing to give marriage licenses to same-sex couples, and opposed the state's expansion of Medicaid, the government health insurance program for lower-income people, which was made possible by President Barack Obama's healthcare overhaul.
In Ohio, voters rejected a law that would have legalized recreational and medicinal marijuana. This, too, was soundly defeated, with about 65 percent of voters opposed the measure. The sweeping law—legalizing marijuana across the state in one fell swoop— would have also created a monopoly of growers, including Nick Lachey, enriching a select group of people. Some opponents of the bill said they voted against monopolies, not marijuana.
In Portland, Maine, a measure to raise the minimum wage to $15 an hour—double that of the state of Maine—was met with resistance from small-business owners, who helped defeat the proposal. It marshaled just 42 percent of the vote, according to the Portland Press Herald. Despite the measure's defeat, Portland's minimum wage will increase to $10.10 an hour at the start of next year, business-news site Quartz points out.
Meanwhile, conservationists scored a victory in Washington state, where voters overwhelmingly okayed a measure to severely curtail animal poaching. The measure, for which 71 percent of Washington residents voted in favor, becomes the nation's most comprehensive anti-poaching law, making it illegal to "buy, sell, trade or give away—except through inheritance—most items made from elephant ivory or parts from dozens of other species, including tigers, sea turtles, cheetahs, spiny anteaters and rays," according to the Seattle Times.
With reporting from The Associated Press.
Follow Marie Claire on Instagram for the latest celeb news, pretty pics, funny stuff, and an insider POV.
Celebrity news, beauty, fashion advice, and fascinating features, delivered straight to your inbox!