Meet the Muslim-American Woman Who Dared to Stand Up at a Trump Rally—and Was Escorted Out the Door
Meet the Muslim-American Woman Who Dared to Stand Up at a Trump Rally—and Was Escorted Out the Door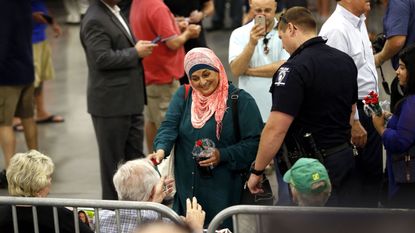 (Image credit: Getty Images)
At a rally at Winthrop University in South Carolina, then-candidate Donald Trump's speech turned, predictably, to the topic of Syrian refugees.
"We're not going to let in people from Syria that we never saw before. They could be ISIS and, by the way, it's turning out that they probably are ISIS," Trump said to the packed house of more than 6,000 people.
Rose Hamid was one of them. She was dressed in a white hijab, a teal T-shirt that read "I Come in Peace," and an eight-pointed yellow pin that said "Muslim"—and at that moment, she stood up, without saying a word. A group behind her began chanting "Trump! Trump! Trump!" and waving their posters.
As the chants got louder, everyone around Hamid stood, and she heard "boos" as the crowd turned to face her. That's when Trump stopped his speech.
A police officer approached Hamid and said, "Come with me." She asked, "What did I do wrong?" As she was escorted out toward the back door, someone in the crowd asked her, "Do you have a bomb?" Another man shouted, "Get out of here!" She looked him straight in the eye and said, "But you don't even know me."
Hamid, a 56-year-old Muslim-American who grew up in Cleveland, explains to MarieClaire.com that she went to the rally to make a stand against what she thinks is hateful and dangerous rhetoric against her religion and to show that she's not as scary as Trump would have his supporters believe.
"Because I'm a Muslim woman who is covered, I thought it would be good for me to go, because I think, for the most part, the majority of people who support Trump had never actually met a Muslim in person," she says. "I really believe that if you have the opportunity to meet people face to face, look them in the eye and see that they're people, I think you'll find that we're not that scary and that fear would subside and that hate would subside."
Trump, who is still the Republican presidential frontrunner, has proposed putting a temporary ban on Muslims entering the country, as well as doing surveillance on and shutting down mosques. Some believe the recent string of 36 attacks against Muslims in the U.S. to be the result of this kind of incendiary political rhetoric—which is why Hamid was compelled to defend herself and her religion in a quiet, peaceful way.
Hamid went to the rally with a group of friends of all different faiths, and though some Trump rallies have turned violent, with supporters threatening and even attacking protesters, Hamid says she wasn't afraid. Interestingly, she was more nervous that she wouldn't be let into the arena in the first place because of her traditional Muslim garb. But she was pleasantly surprised when the woman who took her ticket at the door gave her a kind smile, and when a couple waiting in line in front of her asked about the meaning of the word "Salam" on her shirt, which, she explained, means "I come in peace."
"A woman in front of me was very friendly. We made eye contact and she said, 'I'm so glad to see you here,'" Hamid recalls, adding with a laugh, "Someone else with her said I looked friendly. That was a nice exchange!"
When Hamid took her seat, which was located behind the podium Trump would be speaking from, a couple asked her to take their photo. In exchange, they offered to share their tub of popcorn with her.
And in fact, those interactions are more in-line with her day-to-day experience than Trump's stance would suggest. While there have been reports about Muslim Americans who feel that the political climate is worse for them now than after 9/11, Hamid says she's felt safe in Charlotte and during her job as a flight attendant for American Airlines, where she wears the traditional Muslim head covering. "I see literally hundreds of people every day and I have never had any person treat me badly or look at me with disdain," she says. "People might do a double take but nobody has ever, ever been ugly to me."
But when Trump began talking about the Syrian refugees a half hour into his speech, saying he believed it was likely that many are members of the terrorist group ISIS, Hamid and her friend, Marty Rosenbluth, a Jewish man, felt he'd crossed a line. Rosenbluth stood up in protest, and she joined him.
Before the rally, Rosenbluth had given Hamid the gold star, made by a different person, which she wore pinned on her chest. She explains: "It's an eight-pointed star, [the group that made them] don't want to disrespect the Jewish experience, but it's to remind people that this is a slippery slope we're going down when Trump starts talking about putting Muslims in a database and handing out special IDs for us." (Trump later denied a report that said he intended to create a database to keep track of Muslims in the US.)
Hamid expected her pin would "get more attention" and that there was a chance it would result in her getting kicked out of the event, but says she didn't expect the scene that ensued.
"I did not want to disrupt the people around me; I didn't want to be disrespectful to the people that were there. My idea was that if he said anything that needed to be stood up against, that I would stand up," Hamid says. "But my intention was never to cause a disruption. My intention was just to stand if he said anything I felt strongly about, and he did."
Major Steven Thompson of the Rock Hill Police Department told CNN that Hamid and her friends were forced to leave because he'd been told by Trump's campaign before the event that "anybody who made any kind of disturbance" should be escorted out.
When Trump, still on the stage, saw her being taken away, he sighed and said: "Hey look, it's a problem. We do have a real problem. There is such a level of hatred that you can't even believe it. There's a deep-seated hatred we have to find out where is it coming from and what can we do about it."
(Trump's campaign did not respond to our requests for comment.)
"I really believe that people are decent people and that's how God made us, as loving people," Hamid says. "And I kept hoping that's the side that would show up last night, and to a degree it was. That's the side I saw when I made one-on-one contact. But when you put someone on the mic, if they misuse their power to incite people to hatred, that snaps really quickly. It's an unfortunate reality of where humans can go to if led that way."
In the 24 hours following the rally, Hamid says she's seen an outpouring of love and support that gives her hope.
"My son showed me a text from his friend today, a friend who was a Trump supporter," she says. "It said, 'I saw what happened to your mom last night and I no longer support him.' That was really cool."
Follow Marie Claire on Instagram for the latest celeb news, pretty pics, funny stuff, and an insider POV.
Celebrity news, beauty, fashion advice, and fascinating features, delivered straight to your inbox!
Kate Storey is a contributing editor at Marie Claire and writer-at-large at Esquire magazine, where she covers culture and politics. Kate's writing has appeared in ELLE, Harper's BAZAAR, Town & Country, and Cosmopolitan, and her first book comes out in summer 2023.