Major Newspapers Put Bill, Not Hillary, on Their Front Pages Announcing Historic Nomination
Wait, is it 1992?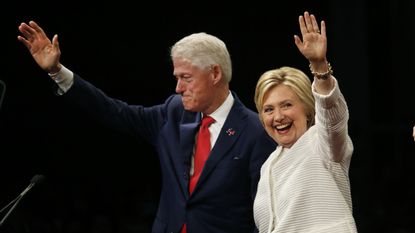 (Image credit: Getty Images)
Marie Claire Newsletter
Celebrity news, beauty, fashion advice, and fascinating features, delivered straight to your inbox!
Thank you for signing up to Marie Claire. You will receive a verification email shortly.
There was a problem. Please refresh the page and try again.
When the Democratic National Convention formally nominated Hillary Clinton for president on Tuesday, it was a monumental and historic moment for women humans across the country. As Hillary said herself, "we just put the biggest crack in that glass ceiling yet."
But, by Wednesday morning, countless newspapers and media outlets decided to cover the historic nomination with a picture of Bill on the front page. Interesting choice, indeed. Sure, he spoke on Tuesday and gave a moving speech on the epic Hill-Bill love story, but, uh, guys? This wasn't his moment—it was Hillary's. (Thankfully Twitter users were ready to set the record straight.)
The Wall Street Journal made the mistake in the first edition of Wednesday's print issue, featuring an image of Bill:
Hey @WSJ, you put the wrong Clinton on your cover. pic.twitter.com/ywwgKNwLhGJuly 27, 2016
See more
And although a later edition of Wednesday's paper did feature Hillary:
At some point overnight @WSJ decided "Hillary Clinton Wins Nomination" headline needed a picture of Hillary. #picks pic.twitter.com/uBiZiIIQteJuly 27, 2016
See more
At that point, the WSJ website still did not show the actual nominee. Still bad.
Front page of WSJ online edition as I see it: no Hillary to be seen. h/t @annehelen pic.twitter.com/eNtjeovSDTJuly 27, 2016
See more
The Chicago Tribune made the same mistake, with a picture of Bill on the front page and a headline so unclear it literally could have been from the 1992 DNC where Bill was nominated. Seriously, it doesn't even specify which Clinton won.
Wednesday's front page with coverage of Hillary Clinton's historic night at #DemConvention pic.twitter.com/PhAySTk5JUJuly 27, 2016
See more
The Washington Post at least mentioned Hillary, but still only included a photo of Bill.
I see the @WashingtonPost also got the wrong Clinton on the front page. #DoBetter pic.twitter.com/RgeOlzZeoJJuly 27, 2016
See more
Local newspapers made the same mistake. The Buffalo News used a Bill photo on their front page:
What's worse, using Bill, not Hillary, as the A-1 photo, or having Russ Brandon's mug anywhere on the front page? pic.twitter.com/nwolceO5EYJuly 27, 2016
See more
The San Diego Union-Tribune's website prominently featured Bill, even mentioning his "emotional boost" to his wife's nomination:
The San Diego Union Tribune website front page. Way to be emotional, Bill. #everydaysexism pic.twitter.com/YsWGE4WPr0July 27, 2016
See more
The Arkansas Democrat-Gazette also only showed Bill. It's his home state, yes, but still?
Today's #DemGaz front page. Read the day's top headlines at https://t.co/3gbuqR2uhR #ARnews #ArkDG pic.twitter.com/Q3Df3mEDIvJuly 27, 2016
See more
And finally, this zoomed in image of The Alaska Dispatch News front page shows an image from the crowd of just Bill.
Alaska Dispatch: Clinton rewrites history books pic.twitter.com/SxewJmAIHIJuly 27, 2016
See more
Of course Hillary is largely supported by her husband, and the former president/potential First Gentleman combo is historic for Bill as well. But, the decision to cover the wrong Clinton is just that—wrong. As usual, the Twittersphere said it best:
Follow Marie Claire on Facebook for the latest celeb news, beauty tips, fascinating reads, livestream video, and more.
Celebrity news, beauty, fashion advice, and fascinating features, delivered straight to your inbox!
Maggie Maloney is the associate editor at Town & Country and ELLE Decor, where she covers style, beauty, jewelry, and the many members of the royal family. She also manages social media and content strategy for both brands.