The Most Over-the-Top Outfits from the DNC
More sequins, please.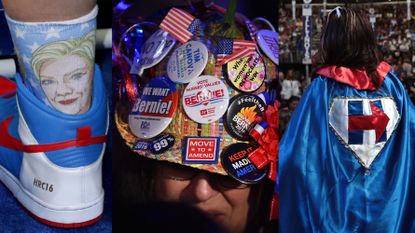 (Image credit: Getty Images)
At political conventions, delegates wear their patriotism on their sleeves—literally. One of the best parts of going is wandering the arena floor to see what they've come up with this time.
There are American flag cowboy boots, bejeweled vests, face paint, and hats stacked to the sky with as much red, white, and blue garb as they can find. And the more sequins, photos of Hillary or Bernie, and flashing lights they can pack into an outfit, the better. Most welcome the attention, and are proud to have their handmade costumes recognized.
Here are some of the best, most enthusiastic looks we saw last week:
Kelly Jacobs, delegate from Mississippi
Jacobs sewed a different ensemble for each day of the DNC, creating the dresses from fabric she designed online. She has seven dresses devoted to President Obama and six for Hillary Clinton. On the last day of the convention, when thunderstorms were forecasted, she packed an extra dress in her bag, which features Senator Elizabeth Warren, just in case. She says her dresses are her way of making a political statement without having to carry a sign. "Young women stop me on the street to compliment me all the time," Jacobs says, "I ask them if they're registered to vote."
Gladiis Evans, delegate from Florida
Evans has used free swag given throughout the convention to accentuate her outfit, including a necklace made of squishy, stress ball-esque donkeys she received just a few nights prior. She fastened it together using scotch tape and says she likes that it's very light-weight—quite the statement necklace, no?
Edgar Phillips, delegate from the U.S. Virgin Islands
Wearing wizard hats is Phillips' schtick as a disc jockey in the U.S. Virgin Islands. He gave his signature hat a special spin for the convention with photos of Hillary Clinton and the USVI flag.
Pat Vincent, delegate from Kentucky
This was Vincent's fifth convention, so she has the dress code down. This time around, she wore a sequined blue cowboy hat with a bumper sticker reading "Democratic women are the life of the party," and a vest, which she made for the 2008 DNC in Denver, covered in a smattering of buttons—just a handful of the several hundred buttons she has back home. "This is nothing," she says, of the 20 some odd ones on her vest. "You should see the rest of it."
Mike Saife, delegate from California
Saife worked with a tailor to get his hat just right. Wearing a flashing red light (like you'd use in an emergency, he says) atop his head is heavy, but worth it: "People see me and it brings a smile to their face," he says. "It's my walking charity—if I can't give money or help, at least I can make them smile."
Follow Marie Claire on Facebook for the latest celeb news, beauty tips, fascinating reads, livestream video, and more.
Marie Claire email subscribers get intel on fashion and beauty trends, hot-off-the-press celebrity news, and more. Sign up here.
Kayla Webley Adler is the Deputy Editor of ELLE magazine. She edits cover stories, profiles, and narrative features on politics, culture, crime, and social trends. Previously, she worked as the Features Director at Marie Claire magazine and as a Staff Writer at TIME magazine.