Beauty and the Bandit
After her boyfriend was convicted of fraud, she risked it all to help him flee.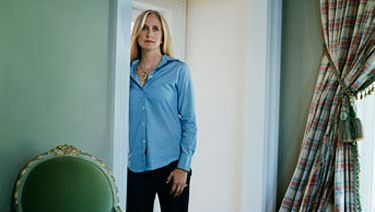 (Image credit: Alessandra Petlin)
Debra Ryan's long, coltish legs are folded beneath her as she lounges in the den of her childhood home in rural Hudson, NY. She's one of those natural stunners who looks far younger than her 45 years, sun-kissed even without makeup. She's wearing thin red cargo shorts and a billowy white T-shirt, her default uniform when she retreats to the modest half-acre spread she inherited from her late mother, still cluttered with the keepsakes of her youth - a record player, tennis and skiing trophies. On occasion, she'll ride the dirt bikes she and her brother once raced as teenagers in the nearby backwoods - though these days, her rides are never as far or as fast. "Now I always think, Don't get in trouble, don't speed," she says, laughing.
Only she's not kidding. Should police pull Ryan over for anything - even failing to signal before a turn - she will have breached the rigid terms of a $75,000 bail and face immediate arrest, a threat that has haunted her since June. That's when the U.S. Attorney's office charged her with helping her boyfriend, the financier-turned-fugitive Samuel Israel III, vanish the morning he was slated to enter a federal prison for a 20-year fraud sentence. Her role in his desperate, half-baked escape has left her $500,000 in debt and battling an aiding-and-abetting charge that could put her behind bars for a decade. "I'd have to say that for the most part I've lived my life in honesty and never got in trouble," Ryan carefully explains - her only other brush with the law was a speeding ticket at age 17. "But the situation that I was in is one you'd never, ever expect to be in."
Just three years ago, Deb Ryan was consumed by her career as one of the most in-demand decorators in the tony enclaves of Greenwich, CT, and Westchester, NY, home to bulge-bracket financiers with exquisitely rich tastes. The one-time window-display designer for Neiman Marcus and Macy's parlayed an offer to decorate a wealthy neighbor's home for Christmas into a monster seasonal business. According to a New York Times profile of her, wealthy clients ponied up as much as $15,000 for her baroque holiday decor. But dipping into these gilded society circles was something new for Ryan, the daughter of a Woolworth's manager and a substitute teacher. "We lived two hours away from New York City, and we never went. We hung out in the woods and did everything outdoors," she says, stroking her dogs, Bismark, a German shepherd, and Boris, a basset hound.
In 2003, Sam Israel, scion of affluent New Orleans commodities traders and the Midas behind Bayou Management, a booming hedge fund, retained Ryan's services for his new home, a 13-bedroom Georgian estate in Bedford, NY, that once belonged to ketchup magnate H.J. Heinz. Israel, a father of two in the midst of a divorce, was renting it from Donald Trump for $22,000 a month.
Due to crippling back pain and chronic heart problems, Israel confined himself to bed most days. He popped painkillers around the clock, recalls Ryan, who often watched as an unshaven, burly Israel - whom she nicknamed "Elvis" - worked from his massive bedroom, fielding incessant calls from the half-dozen phones flanking his bed. Statuesque and athletic, Ryan, who hadn't dated anyone seriously in nearly seven years, wasn't initially attracted to the schlubby, homebound baron, and resisted his nurse's attempts to set them up. But having hit 40, she'd grown anxious about time running out. "As much as I wanted to pursue business and be an entrepreneur, I had a maternal instinct that a lot of women struggle with," she says. One afternoon, as the pair were watching TV, Israel took her hand. "I could not believe the soft energy from that touch," she says. Soon, despite his painful back condition, they were enjoying a blazing sex life. "It was great. It was the best ever," Ryan gushes. "He had the sensitivity of a holy lamb."
By the end of 2003, Ryan had all but moved in to Israel's sprawling home, where they created a whimsical cocoon in which he lolled about naked while she fantasized about getting married and having kids. He cooked her Cajun-style eggs, and she tended to his menagerie - four dogs, three snakes, and a handful of geckos and frogs. A joker, Israel liked to sneak up on her, once while wearing sunglasses on his penis. Despite his wealth, the relationship wasn't about navigating the society circuit - Israel's back was so bad, they never even went out to dinner. "He was like a little kid who wants attention from his mom," Ryan says. A nurturer who grows her own vegetables and herbs, Ryan made him the center of her world, accommodating his bizarre schedule and physical frailties. "What I got out of the relationship was the security of having an emotionally strong man around, which I'd never had," she says.
While Israel slept during the day, Ryan fielded testy phone calls from his colleagues. "I was with him three years, and he went into the office once," she says. "Everybody was calling me, asking, 'How do I get ahold of Sam?'" Still, he somehow managed to make regular trips to Europe--always alone. Yet Ryan insists she never sensed that anything was wrong with his business. Israel justified his elusiveness and travel by telling her he was teamed up with the CIA on top-secret money-making ventures. He claimed he was on an "intellectual terrorist list" because of his "knowledge of computers and programming," and that his government contacts were stationed abroad. He even blamed his heart problems on the CIA - they tried to kill him once, he bragged. How could she have swallowed such wild claims? Ryan searches for the words just as Bismark brushes up against her, seeking comfort. She draws him into her lap. "I got to do whatever the hell I wanted. I got to have my own business and live my own life, then have a partner to fool around with," she says. "Was it perfect? No. But no relationship is perfect."
Meanwhile, Bayou was bleeding money. Authorities contend that Israel had been using the fund as his personal piggy bank, staking millions on disastrous stock-market trades, then lying to investors about their performance, all the while collecting rich "incentive fees" that bankrolled his house, his trips, and even his relationship. Though he never paid Ryan's bills, Israel did pick up the tab for a ski trip she took with a friend, and even offered her a daily $500 stipend just to hang out with him, which she refused. All told, Israel burned through much of Bayou's $450 million.
The scheme finally unraveled in the spring of 2005, when Israel shuffled Bayou funds to bank accounts in Hamburg, London, Hong Kong, and finally Arizona, where a suspicious deposit caught the eye of bank regulators, who seized the money. Ryan says the day Israel's lawyer informed him that money was gone for good, she found him naked, on the toilet, moaning, "My life is over."
Within a few days, as word of the fund's spectacular collapse hit the papers, Israel was besieged by panicked clients and reporters who camped outside his home. Ryan hauled two heavy urns to the driveway to thwart trespassers. Donald Trump sent word that Israel had four days to vacate. A shell-shocked Israel sat cross-legged on the floor of his master bedroom, transfixed by SpongeBob cartoons while Ryan went into emergency mode - frantically scouring the area for a new home before settling on a ramshackle three-bedroom rental in neighboring Armonk. Israel's personal accounts had been frozen, and Ryan was virtually broke, so she enlisted friends to help them move; in exchange, she gave them furnishings and offered to do repair work. "I coordinated everything," Ryan says. "He was helpless and clueless. I literally had to put him in the car when we left Trump's house."
Even as the evidence against Israel mounted - he'd invented a dummy accounting firm to sign off on bogus Bayou audits--Ryan's loyalty rarely wavered. "I would read the stories and ask Sam, 'What about this and what about that?'" she says. But he always had an answer to mollify her - that there were documents hidden in European bank vaults that would exonerate him; that he'd been framed by the CIA. "Could this all be bullshit? Could it be an elaborate scam that he created in his head? Yeah, but man, it would have to be fairly elaborate," Ryan says.
Israel eventually pleaded guilty to criminal fraud charges in September 2005, hoping to score a lighter sentence by cooperating with prosecutors. While awaiting sentencing, he holed up in the basement of the Armonk home, killing time by watching TV. Ryan, though, was hustling jobs to keep up with the mounting bills. But she insists that the stripped-down lifestyle only strengthened their relationship. "Life became so much easier. We didn't have any of the craziness surrounding us. We didn't have all the people wanting to get at him," she says.
Ryan attended Israel's April sentencing at a Manhattan courthouse clad in head-to-toe black. "It was a funeral to me," she recalls. The judge ordered Israel to serve 20 years in a federal prison and pay $300 million in restitution, one of the harshest punishments ever meted out to a white-collar criminal. Ryan, already braced for the worst, was buoyed when the judge unexpectedly allowed Israel six weeks to settle his affairs before surrendering to the Federal Medical Center Devens in Massachusetts to begin his sentence. Afterward, they ducked out of the courthouse separately via a back entrance, then drove to Armonk in a chauffeured town car, paid for by a friend. That night, she says, they had "crazy sex."
Despite his impending incarceration, Ryan remained hopeful. Israel reassured her that he had connections to the Bush family and could secure a presidential pardon. But nothing came of that, and as the weeks wore on, his behavior became markedly erratic. Ryan spotted a fake ID in Israel's room; he'd leave the house for hours without a word. Then, just days before he was to turn himself in, Israel had Ryan meet him at an auto-body shop in a neighboring town, where he asked her to attach a scooter to a motor home he'd purchased, which she did, although not without asking a few questions: What are you doing? What's going on? Finally, he howled, "I can't go to prison!" "I'm shaking my head, going, 'Oh, my God, you gotta be kidding me!'" Ryan recalls. "I said, 'You're an asshole for putting me in this position.'" The rest of the night, Ryan prayed he wouldn't flee.
Israel spent the next morning with his mother and 14-year-old son. That night, Ryan ordered Chinese food, and they both settled in for one last romantic evening, as he was scheduled to report to prison the next day. At around midnight, Israel left the house, ostensibly to buy cigarettes; when he didn't immediately return, Ryan assumed he was visiting a friend and went to bed at 1 a.m. Two hours later, she was awakened by a sweat-soaked Israel standing in the doorway. "I can't go to prison," he cried. Terrified, Ryan soiled herself.
Bad back and all, Israel dragged some boxes filled with clothes to his camper. "At this point, I want to blow my brains out or vanish," Ryan says. Prosecutors allege that Ryan helped him pack the RV, which she disputes. Ryan does, however, admit that she followed Israel in her car as he dropped off the camper at a highway rest stop. They returned home together, where Israel sat down to write a suicide note. "You can't just run!" she pleaded. "They're never going to leave me alone!" Ryan retreated to the bedroom. Israel joined her in bed, caressed her, and again asked her for help. She jumped up, shaking. "I finally had enough courage to say no," she says now, weeping. Without a word, Israel turned around and left.
At noon that day, New York State Police called to tell Ryan that Israel's GMC Envoy was found abandoned near the Bear Mountain Bridge, some 40 miles outside Manhattan, the words "Suicide Is Painless" scrawled in the dust on the hood. Police searched the river, but when Israel's body never surfaced, they suspected that he'd faked his death to escape prison. Investigators questioned Ryan over the next week, but she denied any knowledge of his whereabouts. She even turned over the suicide note Israel had left behind. "I really wanted to tell the truth, but I was so scared, I couldn't think straight," she remembers.
Israel's disappearance sparked an international manhunt. Camera crews swarmed Ryan's home, forcing her to sneak in and out through the woods behind it. Ten days later, Ryan confessed to having helped Israel flee and was arrested. On June 19, wearing pink shorts and a ratty T-shirt, a gaunt Ryan was arraigned. (A wealthy client posted her $75,000 bail.) Then, 11 days later, she received a tearful voice mail: "Hey, baby, it's me, it's Sam. I love you so much. I'm so sorry, baby. I had no idea you had been arrested."
That morning, Israel emerged, scruffy and bleary-eyed, from a Massachusetts campground and turned himself in to local police. Newspapers reported that when he appeared in court the following day to face new charges, he seemed to be looking around for his girlfriend. "And I lost it, just lost it, because he was human again. He was looking for me," Ryan says, wistfully.
Ryan isn't allowed to see Israel--the terms of her bail prohibit her from visiting inmates. But they are still very much a couple, talking for 10 minutes every day. She fills his commissary account regularly, and they have even discussed marriage. Authorities are still weighing whether to prosecute Ryan for aiding Israel's escape - a crime punishable by as many as 10 years in prison. "I guess I have too much empathy and trust in people," Ryan sighs, wiping tears from her face with the backs of her hands. "I should just see it at face value and say he fucked me and walk away. But I can't let go."
Karen Weinreb's debut novel, The Summer Kitchen (St. Martin's Press), about a mother whose life is upended when her husband is imprisoned for white-collar crimes, will be published in June.
Celebrity news, beauty, fashion advice, and fascinating features, delivered straight to your inbox!