Fighting for Mothers
In some parts of the world, getting pregnant is a death sentence. But Marie Claire's new contributing editor Christy Turlington Burns is out to change that. Here, she describes her efforts to gather support in Congress.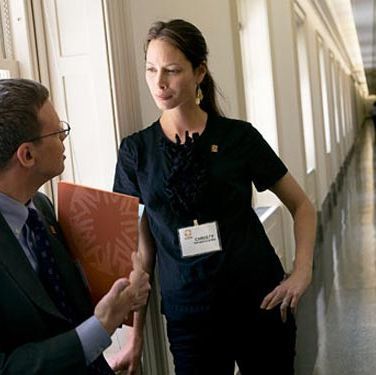 (Image credit: Erin Lubin/CARE)
IT WAS A HOT, HUMID SUMMER back in the '80s when my parents packed up the car for our obligatory family pilgrimage from Miami to Washington, D.C. In the backseat, my preteen sisters and I rolled our eyes, wishing we were anywhere but with Mom and Dad. Once we reached D.C., our main goal was to stay cool, so we all spent most of our time indoors at the Smithsonian Aerospace Museum (my dad was a pilot), finding solace in the air-conditioned rooms. The Schoolhouse Rock tune "I'm Just a Bill [on Capitol Hill]" was our theme song.
I never would have guessed that I'd return to D.C. years later, with much different goals in mind. In 2000, I came back as an antismoking advocate for women, meeting with Vice President Al Gore at the White House — one of the places my sisters and I hadn't bothered to tour — and taking part in a conference for the Surgeon General's Report on Women and Tobacco. Then, a year later, I showed up again, this time to speak at a gala for the Society for Women's Health Research. And this year, I found myself in D.C. yet again — several times, in fact — at age 39 and as a mother of two. It's these most recent trips that are particularly poignant, as I came on behalf of the 500,000 mothers who die each year in developing countries just trying to give birth.
Working with the humanitarian group CARE, I've traveled the world and seen firsthand the state of poor women in countries such as Peru and El Salvador; as a result, I have a deeper understanding of the obstacles that organizations like CARE face as they work toward eliminating global poverty. So in my latest visits to Capitol Hill, I wanted to help CARE lobby for support for the voiceless mothers around the globe, and to lay the groundwork for eventual legislation. Here's my journal of how it all went.
THE TRAIN RIDE ALONE seemed to set a serious tone on my first trip of the year, as we traveled south from New York City through Philadelphia and Delaware to D.C. You got the sense that everyone in the train car had some sort of important purpose, and the energy was palpable.
My main goal on this visit was to have a meet and greet with some of the members of Congress who support safe motherhood. Most are women, and many are Democrats.
CARE started me off with a briefing at a famous eatery called The Monocle, across from Union Station. We then headed to a separate briefing about an initiative called the President's Emergency Plan for AIDS Relief, where CARE's chief executive and president, Dr. Helene Gayle, gave a talk, along with a few other experts. Next we headed over to a House office building called Longworth to make the rounds on behalf of mothers.
When you enter a historic building like Longworth, there's an immediate sense of quietude. The wide halls are lined with flags, and daylight streams in through the windows. Along the corridors are the offices of representatives from across the nation. Each office has an outer room with a secretary, other assistants, and interns working busily on behalf of their bosses. In the representative's inner sanctum, the room is typically filled with personal mementos, awards, and photos. I could get a sense of the person who inhabited the room in just a few minutes.
Over the course of the day, I met with Congresswoman Lois Capps, a Democrat from California who coauthored a House resolution on maternal health — one that outlines the scope of the problem and proposes solutions — along with Congresswoman Cathy McMorris Rodgers, a Republican from Washington. I also met with Congresswoman Nita Lowey, a Democrat from New York, and Congresswoman Betty McCollum, a Democrat from Minnesota.
I could feel momentum building as the day went on. By the end of the afternoon, I had a lot more confidence and a clearer message, and it was hard to contain the adrenaline rushing through my veins as I boarded the train home to New York City. A far cry from my childhood visit!
A MONTH LATER I WAS BACK ON THE TRAIN, this time to attend a D.C. luncheon cosponsored by the Bill & Melinda Gates Foundation and the White Ribbon Alliance, a group that focuses on maternal health. I had been invited to join the panel, moderated by Dr. Gayle, along with Congresswoman Capps to talk about my personal commitment to help prevent women from dying in childbirth.
Improving maternal health is in fact one of the "Millennium Development Goals" established by the United Nations eight years ago as part of a global agenda to measurably reduce poverty, hunger, disease, illiteracy, environmental degradation, and discrimination against women by the year 2015. The U.S. can and does play a vital role in reaching these goals. As an advocate for maternal health, I have a personal mission to press this issue with our government and to aid in the building of political will on behalf of mothers everywhere.
After the event, I attended a reception for Sarah Brown, a patron of the White Ribbon Alliance and the wife of British Prime Minister Gordon Brown. As a mother of two boys, she has taken up this issue on the other side of the Atlantic and speaks eloquently about the loss of her first child as a newborn and her conviction to improve health care for women.
THIS PAST SUMMER, I HOPPED BACK ON THE TRAIN for a press conference in D.C. led by Congresswoman Capps and a few of her colleagues who support the House resolution, which was approved that week. (The next step for the resolution: Senate approval.)
Just a few weeks later, I visited the Capitol once again, to participate in CARE's annual National Conference. Here, nearly 500 volunteers from around the country came to learn how to lobby for causes that CARE supports; some were in their teens, others in their 90s.
At the event, we heard from members of Congress and experts on a range of issues, such as women's access to education and financial services, climate change, the food crisis, and post-conflict reconstruction, in addition to maternal health. Jeffrey Sachs, the renowned economist and adviser to U.N. Secretary General Ki-Moon Ban on the Millennium Development Goals, gave a keynote address about the state of global affairs ahead of the critical election time here. He punctuated his speech with an emphatic, "Give 'em hell!" The next day we all set out for the Hill to lobby, each of us wearing our CARE badges on our chests like shields on a battlefield. My first meeting was with Congresswoman Jean Schmidt, a Republican from Ohio. I was joined by a college student and fellow conference participant named Katie, who was from the congresswoman's district in Ohio. Katie led the discussion, and I chimed in when the topic turned to my cause.
We then met with two staffers who work with Republican House Minority Leader John Boehner of Ohio. I must admit that I was not too disappointed that we weren't able to meet with the congressman himself; his office reeked of cigarettes, and ashtrays topped every table. In addition to smoking, Mr. Boehner is an avid golfer and a worshipper of the sun. To me, his tanned, chiseled face epitomizes the young Republican male set. However, the staffers we met, a young man and woman, listened politely to our talking points, asking a few questions in response.
We also met with Democratic Senator Blanche Lincoln from Arkansas, who spoke to us at length about poverty and the food crisis here at home in the U.S. I thanked her for her support, and we talked about a Senate resolution on maternal health that she was working toward. (Once the resolution is approved by the House and Senate, it serves as an important step in a push for legislation.) As a mother of twins who experienced complications in delivering one of them, Senator Lincoln seemed personally committed to ensuring healthy pregnancies for women.
We wrapped up our time in D.C. in a formal room with all the other advocates, who were excitedly sharing stories of their lobbying efforts. On the train home, I was exhausted but exhilarated from the trip. It felt good to set out to do something, to make a personal impression on these influencers. We as a united group were a powerful force to be reckoned with, and I feel pretty sure that on that day, our voices were heard. I hope they will linger.
The Senate resolution on maternal health was approved in October. To find out more and to see how you can get involved, go to care.org (opens in new tab).