6 Reasons Why Tammy Duckworth Gives Us the Hope We All Need Right Now
Her path to the Senate has been historic and inspiring.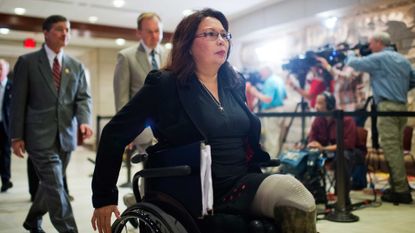 (Image credit: Getty Images)
If you're a Democrat, and especially if you're a Democratic woman, Tuesday night was disheartening. America lost its chance at electing its first woman president, and the winner is a man who has publicly bragged about groping women. But the night wasn't all doom and gloom for feminism—one major glimmer of hope came from Rep. Tammy Duckworth, who just won a seat in the Senate that used to belong to Barack Obama. Here's what you need to know about her.
In 2004, Duckworth was one of the first women in the Army to fly a Black Hawk helicopter during the Iraq War. But that November, her helicopter was hit by an RPG, and Duckworth lost both of her legs and partial use of one of her arms. She spent a year recovering at Walter Reed Army Medical Center, and was awarded a Purple Heart. She served in the Reserve Forces until retiring in 2014.
After she recovered, she made her first bid for Congress in 2006—and lost. But that didn't stop her. Instead, she took at job running the Illinois Department of Veterans' Affairs, and President Obama eventually appointed her Assistant Secretary of Veterans' Affairs on a federal level. In 2012, Duckworth tried again and was successfully elected to Congress, where she has served on the Armed Services Committee, among other responsibilities.
Duckworth initially joined the ROTC while in graduate school. "I was interested in becoming a Foreign Service officer; I figured I should know the difference between a battalion and a platoon if I were going to represent my country overseas someday," she wrote in Politico. That service changed her life, and led her to dedicate her career to fighting for veterans like her. "[The day my helicopter crashed], and so many others when I served, illustrated the two most important lessons the military taught me: Never leave anyone behind—not on the battlefield and not in our country," she wrote. "And never put a service member in harm's way without understanding the cost—the very real and very human cost—of war."
Before Congress, she set up the first 24-hour crisis hotline for veterans, and worked to end homelessness when she worked at the VA. In Congress, she co-authored a suicide prevention bill. And when Donald Trump joked that it was "easy" to win a Purple Heart after a veteran gave him one as a gift, Duckworth was not going to take that. "This is how one usually looks when you are awarded the Purple Heart," she wrote on Twitter, posting a photo from her hospital bed. "Nothing easy about it."
.@realdonaldtrump, this is how one usually looks when you are awarded the Purple Heart. Nothing easy about it. pic.twitter.com/K59HLnzmhKAugust 2, 2016
See more
Duckworth will be the first Thai American in the U.S. Senate when she takes office. According to the New York Times, she was born in Bangkok to an American father (and Vietnam War veteran) and Thai mother of Chinese descent. And not even that—she's only the second woman senator to come from Illinois after Carol Moseley Braun.
I just thanked volunteers in the 39th Ward & made calls reminding people to vote. Find your polling place: https://t.co/mMiK35sXTZ #ILSEN pic.twitter.com/f4AsaPzWV9November 8, 2016
See more
During a debate with incumbent Sen. Mark Kirk, Duckworth said, "My family has served this nation in uniform going back to the Revolution. I am a daughter of the American Revolution. I've bled for this nation." Kirk responded, "I'd forgotten that your parents came all the way from Thailand to serve George Washington." Duckworth's late father indeed had heritage in the United States dating back to the American Revolution. And, she pointed out, the Daughters of the American Revolution literally have built a statue in her honor in Mount Vernon. Kirk ended up apologizing for his statement.
My mom is an immigrant and my dad and his family have served this nation in uniform since the Revolution #ILSEN pic.twitter.com/ehEBHswFMsOctober 28, 2016
See more
Duckworth didn't have any patience for an IRS contractor who won a benefit only reserved for disabled veterans, because he claimed a sports injury he sustained at a military academy. (He ended up playing quarterback despite the dramatic injury.) "My feet hurt too," Duckworth said, describing her phantom pain. "In fact, the balls of my feet burn continuously and I feel like there's a nail being hammered into my right heel right now. [...] So I'm sorry that twisting your ankle in high school has come back to hurt you in such a painful way."
When Duckworth isn't taking over Capitol Hill, she completes marathons. "When I recovered at Walter Reed, my goal wasn't just to get back to normal, but to accomplish more than I'd ever achieved before," she wrote on Instagram. "That's why I learned to ride a hand-cranked bicycle at Walter Reed and in 2008, I signed up for my first marathon." This year, she completed her fourth Chicago Marathon. What have you done in your spare time lately?
Follow Marie Claire on Facebook for the latest celeb news, beauty tips, fascinating reads, livestream video, and more.
Celebrity news, beauty, fashion advice, and fascinating features, delivered straight to your inbox!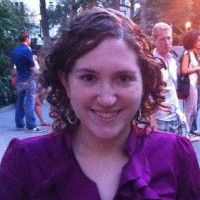 Megan Friedman is the former managing editor of the Newsroom at Hearst. She's worked at NBC and Time, and is a graduate of Northwestern's Medill School of Journalism.