Here Are the Best Reactions to Obama Surprising Biden with the Presidential Medal of Freedom
I want a love like Obama and Biden's.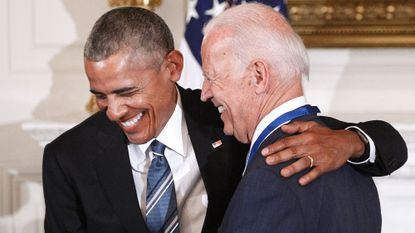 (Image credit: Getty Images)
Obama surprises Joe Biden with special send-off and awards him Presidential Medal of Freedom https://t.co/5icnGfi3Tf https://t.co/vQPI9x2RH4January 12, 2017
See more
On Thursday, the Joebama bromance reached new heights when Obama made a speech in which he called him "the best Vice President America's ever had," and surprised him with the country's highest civilian honor: the Presidential Medal of Freedom.
Emotional VP Joe Biden humbly accepts Presidential Medal of Freedom: "I don't deserve this, but I know it came from the president's heart." pic.twitter.com/SKWovLZGxuJanuary 12, 2017
See more
Joe Biden lost his sh*t. His face was like, "Oh my God, Barack I thought those BFF bracelets were the best gift I'd ever get but this is just too much for an old softie like me." Then he turned around to dab at his tears and the best part is that Joe Biden actually keeps a hanky in his back pocket at all times for emotional moments like these.
Look at that face and tell me it doesn't look like Joan of Arc looking up at the eyes of God.
Then there was this beautiful moment. Look at Obama. He's got his eye on the prize.
Biden then didn't know what to do with all of his happiness:
Joe Biden here looks like a corgi that's derping because he can't contain all of his joy: pic.twitter.com/xLxGg8j5UVJanuary 12, 2017
See more
The Internet totally lost it as well:
I can't anymore....this goodbye is worse than the worse breakup I ever had!January 12, 2017
See more
Joe Biden fights back tears as President Obama surprises him with the Medal of Freedom pic.twitter.com/C33GaHcPa1January 13, 2017
See more
real live footage of me trying not to cry at work right now pic.twitter.com/rJmVK0ckf5January 12, 2017
See more
Especially given what's coming next:
Going from Joe Biden to Mike Pence is like going from an iPhone to two soup cans tied together with a string.January 12, 2017
See more
💔
Follow Marie Claire on Facebook for the latest celeb news, beauty tips, fascinating reads, livestream video, and more.
Celebrity news, beauty, fashion advice, and fascinating features, delivered straight to your inbox!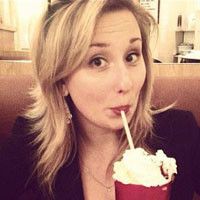 My writing has regularly appeared in The New York Times, The Paris Review, Salon, VICE, Guernica, The New York Observer, BuzzFeed, Cosmopolitan, Seventeen, Esquire, Elle, Harper's Bazaar, and many more publications.

I was previously the Senior News Editor at Best Life Online and the Viral Content Editor in the Newsroom of Hearst Digital Media. My portfolio consists of a vast and diverse body of work that includes personal essays, lifestyle articles, breaking news posts, and viral content. My areas of expertise, however, are Russia, sex and relationships, and mental wellness.