'Bridget Trump's Diary' Is the Best Thing on the Internet Right Now
The parody account America needs.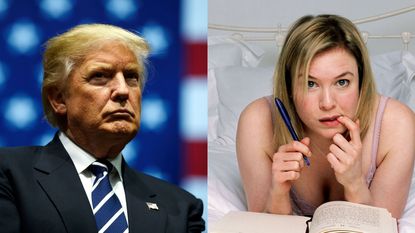 (Image credit: Getty/Everett)
In the final dark days before the inauguration, we need humor more than ever to make us feel like this political satire is worthy of laughter more so than tears. Some of the best things in this category that the Internet has come up with is #TrumpBookReport and, of course, the Biden memes.
Now, London-based comedian Tiff Stevenson has set up a parody account that imagines what Bridget Jones' diary would sound like if it were written by a tangerine megalomaniac president-elect instead of our ever-relatable Bridget, and it's hysterical.
BRIDGET TRUMP January -An exceptionally bad startDrunk tweeted Assange Calories consumed -6,000 but mainly the hopes & dreams of the poorJanuary 8, 2017
See more
Ugh. Accidentally tweeted wrong person this morning. Worried I may get fired from super important new job!Will flirtatiously shrug it offJanuary 17, 2017
See more
BIG work dayMust. Look. Busy & carry lots of folders Can't reveal I spend all day thinking about Vlad Am super important business woman!January 11, 2017
See more
Jan 3rd Must no longer be saddo loser & accept my victory with grace Alcohol units none - VG Pussies grabbed - 4 (post-Christmas)January 8, 2017
See more
Hate dishonest Meryl! Must center myself more. Will ask Pence about appropriate self-help book, possible Eastern-religion-based. Weight-270January 10, 2017
See more
Inauguration Day is purely commercial, cynical enterprise. Matter of supreme indifference to me! That said am v cross at Charlotte ChurchJanuary 10, 2017
See more
Mmmmm. Vladimir Putin, though. Love his wicked dissolute air, while being v. successful & clever Think might wear sexy black suit tomorrowJanuary 15, 2017
See more
Vlad back in office today. I'll be poised, cool, ice queen and remember I'm a president elect & do not need him in order to be completeJanuary 8, 2017
See more
"It's remarkable how little you have to change," Stevenson told Mashable, about how she composes the tweets. "There are so many parallels between Bridget and Donald. They are both utterly consumed with how other people see them and they are constantly chasing after the wrong guy. They share a love of words and exclamation marks too, such as vile!, tremendous!, media!, winning!, stupid!, weak!, smart!, loser!, love!"
One thing they don't have in common, of course, is that we're always rooting for Bridget, even when she has a massive f*ck up, because she's ultimately a caring person that's always striving for self-improvement.
"I think Trump could learn a lot from Bridget because she is likeable and when she makes a mistake she owns it rather than point the finger of blame at others."
Indeed.
Follow Marie Claire on Facebook for the latest celeb news, beauty tips, fascinating reads, livestream video, and more.
Marie Claire email subscribers get intel on fashion and beauty trends, hot-off-the-press celebrity news, and more. Sign up here.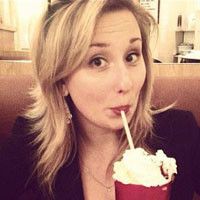 My writing has regularly appeared in The New York Times, The Paris Review, Salon, VICE, Guernica, The New York Observer, BuzzFeed, Cosmopolitan, Seventeen, Esquire, Elle, Harper's Bazaar, and many more publications.

I was previously the Senior News Editor at Best Life Online and the Viral Content Editor in the Newsroom of Hearst Digital Media. My portfolio consists of a vast and diverse body of work that includes personal essays, lifestyle articles, breaking news posts, and viral content. My areas of expertise, however, are Russia, sex and relationships, and mental wellness.