These Hysterical Biden Memes Will Definitely Make You Feel Better
"What if you fought Donald for the White House. One on one. Duke it out like the old days."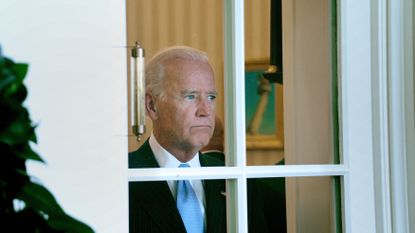 (Image credit: Getty Images)
It's been a long week of grappling with a surprise—and perhaps surprising—presidency, but luckily the internet is here to help. In what is undoubtedly the best thing we've seen since Tuesday, #BidenMemes are taking over social feeds everywhere, introducing a Vice President who's doggedly, hilariously, over-the-top loyal. Scroll, laugh, retweet, repeat.
Biden: I wanna join the protest.Obama: Joe, we've been over this.Biden: But they're--Obama: How about some ice cream?...Biden: Okay. pic.twitter.com/JTQDkeWfnnNovember 10, 2016
See more
Obama: Wave at the people, Joe.Biden: IMMA POINT AT'EMObama: Please just wave.Biden: pic.twitter.com/5Y6nuvCzcuNovember 29, 2014
See more
Obama: Wave at the people, Joe.Biden: SODA DRINKING CONTESTObama: Please just wave.Biden: pic.twitter.com/ekMr8640IFDecember 16, 2014
See more
Obama: It's too hot for a scarf, Joe.Biden: IMMA DO THE SCARF WHIPObama: Please don't do the scarf whip.Biden: pic.twitter.com/abzA5z29PTJune 24, 2015
See more
OBAMA: As FDR once said, the only thing we have to fear is fear itself.BIDEN: [tugging on Obama's sleeve]OBAMA: Yes Joe, and spiders.April 30, 2016
See more
[Writing the State Of The Union]OBAMA: So I'll say the state of the union is...BIDEN: On fleek. Say it's on fleek. pic.twitter.com/5LLGvuRThaJanuary 21, 2015
See more
The saddest thing about this US election is that we won't get to see Joe and Barack in moments like these anymore. pic.twitter.com/pcOLLFKJGtOctober 13, 2016
See more
Obama: I'd like to sit alone, Joe.Biden: IMMA SIT BY YOUObama: There's plenty of other seats.Biden: pic.twitter.com/zayDEDDdkHFebruary 6, 2015
See more
"barack please don't leave me with them""joe you're leaving when I leave""oh right lmao love u" pic.twitter.com/zfIt3Bv0wlSeptember 27, 2016
See more
I love how these #bidenmemes are making #joebiden, not #Obama, the G. pic.twitter.com/DG789XozOGNovember 14, 2016
See more
Obama:tell the world were brosBiden:*whispers* were brosObama:bro why'd u whisperBiden:ur my world broObama:bro pic.twitter.com/buCUU3nSI2March 28, 2016
See more
PLEASE DON'T LEAVE US.
Follow Marie Claire on Facebook (opens in new tab) for the latest celeb news, beauty tips, fascinating reads, livestream video, and more.
My writing has regularly appeared in The New York Times, The Paris Review, Salon, VICE, Guernica, The New York Observer, BuzzFeed, Cosmopolitan, Seventeen, Esquire, Elle, Harper's Bazaar, and many more publications.

I was previously the Senior News Editor at Best Life Online and the Viral Content Editor in the Newsroom of Hearst Digital Media. My portfolio consists of a vast and diverse body of work that includes personal essays, lifestyle articles, breaking news posts, and viral content. My areas of expertise, however, are Russia, sex and relationships, and mental wellness.