Trump's Proposed Family Leave Policy Now Reportedly for the Whole Family
Bravo, Ivanka.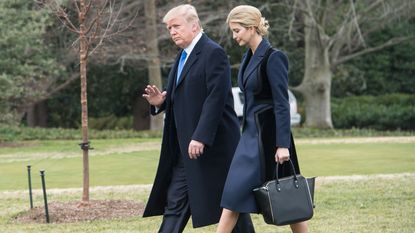 (Image credit: Archives)
Ivanka Trump, who President Donald Trump has credited as the impetus to push forward a childcare and paid parental leave plan, has come to the wise decision that any paid maternity leave plan should also include dads and adoptive parents.
According to the New York Times, Trump administration officials are considering updating a proposal to provide mothers and fathers—adoptive and biological—with a paid time off to bond with a new child. In September, then-candidate Trump proposed a paid leave plan only for biological mothers.
Advocates of paid leave have long argued that paid leave plans must includedads too. Although it sounds counter-intuitive, thebiggest beneficiaries of men taking paternity leave are working women, who are able to invest more in their careers while having a partner share responsibilities at home. Such policies can help promote greater gender equity in both domains.
RELATED STORY
Trump officials are also considering changing the funding source of the paid leave policy. Initially, Trump proposed funding the program through Unemployment Insurance, though policy makers from both sides of the aisle raised questions about stability. Now, Trump administration officials are exploringother financing options, possibly a tax increase or changes to the tax code.
Changes to the tax code are a familiar vehicle for Republicans and parental leave: Senator Marco Rubio (R-Fla.) offered a paidleave plan on the campaign trail in 2015 via a tax credit to employers, modeled after a plan introduced by Sens Deb Fischer (R-Neb.) and Angus King (I-Maine). Fischer, along with Maine Senator Susan Collins were among those to sit at Ivanka's table at the White House for a lunch last week honoring women. If Ivanka is seeking strategic GOP allies sympathetic to working women, Fischer and Collins are ideal choices.
The legislation for paid leave may be in the nascent stage, but including dads and adoptive parents and changing the funding source may be strong signals that Ivanka is finding key players to build consensus. Should Ivanka find consensus in Congress on the issue, she's likely to find a President willing to sign a paid leave plan into law.
Follow Marie Claire on Facebook for the latest celeb news, beauty tips, fascinating reads, livestream video, and more.
Rebecca Gale is an award-winning journalist covering the nexus of politics and people in Washington, D.C. She is currently a writer with the Better Life Lab at New America. Her work has appeared in The Washington Post, Roll Call, Marie Claire, Cosmopolitan, and Health Affairs, among other outlets. Follow her on Twitter @beckgale