Everything Donald Trump Did During His First 100 Days in Office
The president wasted no time making his mark on the White House—and the world. Here, a comprehensive record of his actions and what they mean.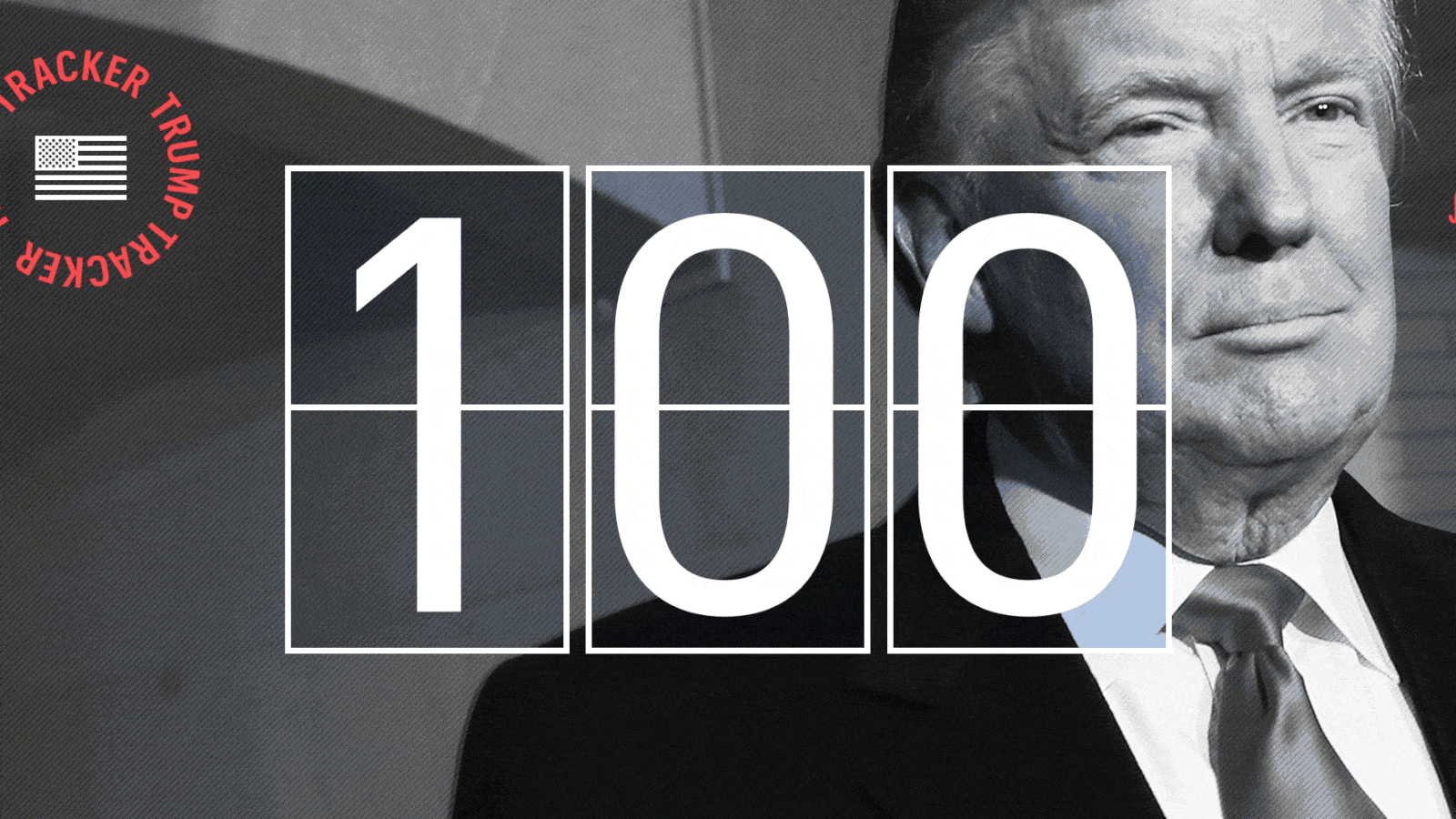 (Image credit: Courtesy)
100 days of Donald
Saturday was Donald Trump's 100th day in office, capping one of the most controversial beginnings of any modern presidency. In his first few months, Trump has seen a few big successes and many high-profile failures. He successfully nominated Supreme Court justice Neil Gorsuch to his seat on the bench, but both iterations of his travel ban are stalled in courts. Trump failed to repeal Obamacare, one of his major priorities when entering office, and he has struggled to convince Democrats to pass a budget that includes funding for his proposed border wall with Mexico.
Trump's first 100 days in office have also been dogged by scandals, with alleged involvement between some of his campaign officials and the Russian government. Nevertheless, Trump seems satisfied with his performance: He bragged on Twitter over the weekend about his " 28 legislative signings, strong borders & great optimism!" And on Saturday, he published an op-ed in the Washington Post saying that "Issue by issue, department by department, we are giving the people their country back."
Key tweet of the day:
Someone released a hypothetical 2020 poll, and it doesn't look great for Trump
It's too early for most people to even be considering the 2020 election, but not for pollsters. A Fox News poll released just before Trump's 100th day marker didn't have great news for the president. According to the poll, 7 percent of Trump voters say they would vote for a different candidate in 2020. While there's absolutely nothing to suggest that a poll this early would be successful down the line (a 2013 poll had Chris Christie winning in 2016), it remains bad news for a president when so early into his first term.
Key tweet of the day:
Key tweet of the day:
Key tweet of the day:
The White House would like you to know it has accomplished things
Donald Trump's team sent out an email blast this morning to the press titled "President Trump's 100 Days of Historic Accomplishments." The list, which includes headings such as "getting the government out of the way," contains comparisons to what former presidents had completed at this point in their terms. The list also highlights that Trump has signed 30 executive orders since taking office in January, compared to former President Barack Obama's 19.
WH blasting out new email this morning listing first 100 days accomplishments pic.twitter.com/uuekIEGt0JApril 25, 2017
See more
Trump's email blast comes despite criticism from the president about the concept of using the first 100 days to judge effectiveness. In the last week, Trump has called the benchmark "not very meaningful" and suggested it's overrated as a tool of evaluating a presidency.
Key tweet of the day:
The public weighs in
A new poll has some bad news for the president. Donald Trump's approval rating is at 42 percent with just days left until he reaches his 100-day mark, according to an ABC News/Washington Post poll released Sunday. That's the lowest for any president at this point in their term since pollsters began tracking it in the 1940s. For comparison, former President Barack Obama had a 69-percent approval rating at this juncture of his first term.
Key tweet of the day:
Key tweet of the day:
Trump unhappy with '100 days' benchmark
The president has a bone to pick with the "first 100 days" benchmark used to evaluate how a presidency is going. Donald Trump criticized the standard in a tweet Friday, calling it "ridiculous" and insinuating the media would not give him credit for his successes. Trump's main victory since entering office, which he highlighted in his post, has been the confirmation of Supreme Court justice Neil Gorsuch. Many of his other notable moves, such as his travel ban or healthcare replacement, have failed to be instituted.
Key tweet of the day:
Key tweet of the day:
Patriots visit the White House
With just 10 days left of Trump's first 100 days in office, the White House played host to the New England Patriots today. The visit is in honor of their victory earlier this year at Super Bowl LI. The president met with the team's players and gave remarks where he singled out around seven team members for their performance. But one player not in attendance was quarterback Tom Brady, who cited personal family matters as his reason for staying home. Donald Trump has long touted his friendship with Brady, but Brady wasn't the only player to skip. Several team members opted out of the visit due to political disagreements with the president.
Key tweet of the day:
New executive order says 'Buy American'
On Tuesday, Donald Trump signed a new executive order essentially stating "Buy American; Hire American." The order is meant to reduce the number of low-wage foreign workers in the country and improve the amount of job opportunities for American employees. The initiative is in line with his "America First" theme for his first 100 days in office, but defies his campaign rhetoric, where he suggested it would be unfair to crack down on H1-B visa holders.
Key tweet of the day:
Next target: Jon Ossoff
The president stepped into campaign mode once again when he got involved in the Georgia special election. The election is being held to fill Tom Price's congressional seat, following his confirmation as secretary of the Department of Health and Human Services. Trump began tweeting about the main Democratic candidate, Jon Ossoff, after polls made it clear that Ossoff was the leading character in the race. The district in question isn't exactly a Republican stronghold; Trump won by less than 2 percent back in November. Nevertheless, it was expected that Ossoff would fall short of the 50 percent marker he needs to avoid a runoff election later this year.
Key tweet of the day:
Key tweet of the day:
Trump's White House visitor logs will be private
The White House has announced that most of the visitor logs for those stopping by the Oval Office will remain private. Citing "grave national security risks and privacy concerns," the Trump administration will not willingly disclose the names of the president's vistors. Unless the White House amends this policy, it could take years for that information to be revealed.
Key tweet of the day:
Trump signs off on defunding Planned Parenthood
The president signed off today on a resolution that will allow states to defund family planning centers such as Planned Parenthood if they provide abortion services. The resolution overturns a late Obama-era policy that prevented the government from defunding these providers for any reason other than lack of "ability to deliver services to program beneficiaries in an effective manner."
Though Republicans have long held a stance against taxpayer money being used to pay for abortion services, it's a solution without a problem. The Hyde Amendment has prevented tax dollars from being used for abortion services for decades.
Key tweet of the day:
Key tweet of the day:
The president is disturbed by the United Airlines video
The White House said Tuesday that Donald Trump has seen the viral video of United Airlines passenger Dr. David Dao being forcibly deplaned and that Trump is "disturbed" by the video. White House press secretary Sean Spicer told reporters during his daily briefing that he believes anyone would be bothered by how Dao was treated. "I don't think anyone looks at that video and isn't a little disturbed that another human being is treated that way," Spicer said.
No troops in Syria... for now
In an interview set to air Wednesday morning on Fox Business, the president said that the U.S. is not putting ground troops in war-torn Syria. Literally. "We're not going into Syria," Trump told Fox's Maria Bartiromo. Trump's interview comes amid questions about the White House's next move, after he ordered missile strikes last week against a Syrian airbase. The strikes were a response to Syrian leader Bashar Assad, who is suspected of using chemical weapons against his people last week in an attack that killed dozens.
"Look, what I did should have been done by the Obama administration a long time before I did it," Trump said. "And you would have had a much better — I think Syria would be a lot better off right now than it has been."
Key tweet of the day:
Trump makes his mark on SCOTUS
Trump's Supreme Court pick Neil Gorsuch was sworn onto the highest bench in the country Monday. His swearing in marks the president's first landmark success with Congress since taking office. Gorsuch will serve as the late Justice Antonin Scalia's replacement, more than a year after Scalia passed away. Gorsuch is considered very similar to Scalia in how he will decide cases, being a constitutional originalist.
Key tweet(s) of the day:
Key tweet of the day:
Key tweet of the day:
U.S. conducts airstrike on Syria
The president ordered airstrikes on the Al-Shayrat airbase in Homs, Syria on Thursday, in retaliation for a chemical weapon attack that killed more than 100 people. The attack is suspected to be the work of Bashar Assad's government, and these airstrikes are the first targeted U.S. action against Assad since the Syrian civil war began six years ago.
The administration says the site of the strikes was chosen because U.S. officials tracked the planes that carried the chemical weapons using radar. In remarks shortly after the strikes, Trump said they were "in this vital national security interest of the United States to prevent and deter the spread and use of deadly chemical weapons."
Eleven weeks in, Trump says he's had the one of the most successful 13 weeks...?
Donald Trump said Thursday that he thinks his administration has had "one of the most successful 13 weeks in the history of the presidency." There are just two problems: First, he's had one of the most controversial terms in history to date, with multiple Cabinet picks stepping down, ongoing investigations into his campaign's ties with Russia, a failed healthcare bill, and low poll numbers.
Second, he's only been in office for 11 weeks.
Bannon removed from the National Security Council
White House senior adviser Steve Bannon has been removed from the National Security Council, according to reports. On Tuesday, President Trump signed an executive order reorganizing the NSC. In it, he restored the director of national intelligence, CIA director, and chairman of the Joint Chiefs of Staff to full participation and removed Bannon from the panel. The White House did not announce the move publicly, so it wasn't reported on until Wednesday. A White House source said Bannon can still attend any meeting where his expertise is needed, CNN reported.
As a reminder, Bannon has zero national security experience; rather he previously served as the publisher of alt-right white nationalist new org, Breitbart. His appointment did not require senate approval. We do not yet know why Bannon was removed, but we're chalking it up to common sense.
Key tweet of the day:
Trump is *still* tweeting about Hillary Clinton
Donald Trump is not done tweeting about Hillary Clinton. On Monday morning, the president tweeted about his former Democratic rival and her campaign manager, saying "Was the brother of John Podesta paid big money to get the sanctions on Russia lifted? Did Hillary know?" Shortly after, he followed up with a sarcastic question about whether or not Clinton apologized for an instance where she was provided questions in advance of an interview. The tweets appear to be an attempt to deflect growing criticism of his administration's ties with Russia. Clinton has largely remained out of the spotlight since losing the election in November.
Key tweet of the day:
Key tweet of the day:
Key tweet of the day:
White House financial disclosures show that everyone is rich.
The White House released its employees' financial disclosures Friday night; and to no one's surprise, they showed enormous wealth. According to the documents, senior adviser Steve Bannon has more than $1 million in his bank account and has made significant income from his rental properties. Bannon values his consulting business at somewhere between $5 and $25 million, the disclosures show.
Donald Trump's daughter Ivanka and her husband, Jared Kushner, both list far higher numbers. Because Ivanka Trump was only just given an official title, her personal disclosure hasn't been completed yet, but her assets appear on her husband's forms. The two could be worth as much as $740 million, reports show. Much of their fortune comes from Kushner's real estate holdings and Trump's business.
The president's former campaign manager, Kellyanne Conway, is also a financial success. The disclosures show that she was worth as much as $40 million before she was named a White House staffer.
Key tweet of the day:
Donald Trump's new enemy is... the far-right?
The president revived his fight against the Freedom Caucus on Thursday morning, tweeting that the ultra-conservative congressional group would damage Republicans in 2018. Trump has been highly critical of the Caucus since they aligned against his replacement healthcare plan, despite the fact that many moderate Republicans were also opposed to the bill.
Key tweet of the day:
Key tweet of the day:
Who needs the environment, anyway?
If climate change was a hoax, it won't be for long. On Tuesday, President Donald Trump signed an executive order undoing many of former President Obama's climate change regulation