10 Must-Follow Twitter Accounts Covering Trump's Every Move
Keep up with all the drama on POTUS's favorite platform.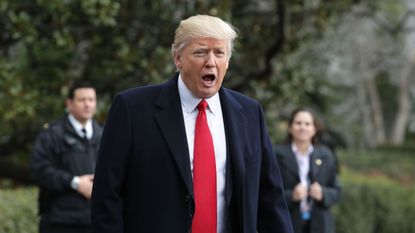 (Image credit: Getty Images)
The Trump administration has made fast and furious moves since the president took office, and frankly, it's damn near impossible to keep track of it all. Here, in no particular order, we rounded up a few of our favorite feeds offering up-to-the-second POTUS updates. Worth pointing out: They're all women. 👊
1 Maggie Haberman (White House correspondent, New York Times)
Haberman's dogged reporting and behind-the-scenes intel translate into an incredibly comprehensive news feed. Haberman, whose byline drew an "eye-popping" 141 million page views in 2016, shares her insights on Trump-related stories of all shapes and sizes. Her feed is addictive, and consistently fascinating.
The biggest consequences within West Wing over ACA replacement is on Priebus, who others think has divided loyalties https://t.co/qeeYyTGJx8March 10, 2017
See more
2 Jennifer Rubin (Conservative blogger, Washington Post)
Wondering what happened to principled conservatives? Look no further. Rubin writes the Washington Post's "Right Turn" blog and posts multiple times a day—but still finds plenty of time for incisive tweets.
3 Hend Amry (artist and writer)
Dubbed the "Queen of Muslim Twitter," Hend Amry mixes sardonic wit with a social justice bent. Amry, who grew up in the United States and is the child of Libyan immigrants, is currently an expat living in Qatar. "At the end of the day," she told MuslimGirl.com last year, "I'm just one of many people who have moved into the online space to follow the news and share their views on all of the crazy events unfolding at what feels like breakneck speed."
It will come as a surprise to many that Muslim women are perfectly capable of speaking for themselves.March 7, 2017
See more
4 Sarah Kendzior (columnist, Globe and Mail)
Unmatched in both clarity and urgency, Kendzior, a St. Louis based columnist for Canada's Globe and Mail, is also an anthropologist who specializes in authoritarianism. Her feed, and her writings, are cold-eyed shots of realism served with little snark or sugarcoating.
Laws are only as good as the people who uphold them. In autocratic regimes, laws are often rewritten to solidify the autocrat's power. https://t.co/WjsgF9UhhdMarch 6, 2017
See more
5 Joy Ann Reid (anchor, MSNBC)
Equal parts fire and fun, Reid, who hosts MSNBC's hard-hitting weekend morning show AM Joy, is a master of the conversational quote atop a retweet—and she's not afraid to call out the powerful.
Bookmark for up to four years: the 33 questions (so far) that need answering about Trump, his associates and Russia. https://t.co/8WYNRo0z1rFebruary 21, 2017
See more
6 Louise Mensch (journalist and former British Member of Parliament)
For those watching the Trump Administration drama unfold like the latest season of The Americans, this is the feed to follow. The former British politician and current (slightly controversial) journalist is sleuthing the potential links between Trump and Russia—and a crew of unnamed sources in the intelligence community have gone to Mensch with some major leaks. Hanging with Mensch can feel a bit like entering a limited-run series at episode eight, but it's a show you can't take your eyes off. (Bonus fact: Her husband manages Metallica.)
I'm honestly surprised this is news.It was never news to me. #FISA https://t.co/6fx3TcmHBOMarch 23, 2017
See more
7 Mindy Finn (former vice presidential candidate)
Who better to oppose Trump than someone who ran against him? Finn, a former advisor to George W. Bush and Mitt Romney, ran as Vice President on Evan McMullin's independent ticket in the 2016 U.S. presidential election. She and McMullin co-founded @StandUpRepublic to lead "Americans in the promotion of liberty, equality and truth." Her tweets appeal to the same high-mindedness.
Our President promised to make us safe. He should focus on defending America from foreign adversary Russia rather than covering for them.March 6, 2017
See more
8 Maxine Waters (U.S. Representative for California's 43rd Congressional District)
Maxine Waters is not here for President Donald Trump, and she is not mincing words about it. The 78-year-old has served in the House since 1991, and she's described her distaste of the new POTUS with a fiery candor that's refreshing—and sometimes shocking—from a long-serving politician.
Ignore his sideshow meltdown. Trump is a LIAR who'll say & do anything to distract from questions about his #kremlinklan ties to Russia.March 7, 2017
See more
9 Rebecca Traister (writer at large, New York magazine)
The author of All the Single Ladies, the bestselling "investigation into the sexual, economic, and emotional lives of women," tackles the Trump Administration's efforts (or lack thereof) with women's rights and social issues.
Opens twitter: uh oh what did Ben Carson say?Finds out what Ben Carson said: I was so much happier before I opened Twitter.March 6, 2017
See more
Lydia Polgreen (editor-in-chief, Huffington Post)
Polgreen's feed could double as a newswire. It's article-rich and a great way to stay on top of the latest news about President Trump. She also offers helpful stand-alone takes about what certain White House behaviors may mean.
Follow Marie Claire on Facebook for the latest news, beauty tips, fascinating reads, livestream video, and more.