Why This Photo from Russia's Anti-Government Protest Is Now a Symbol for the Youth Movement
"I would have gone willingly, if I had just been told why I was being detained. But I didn't even have a chance to ask."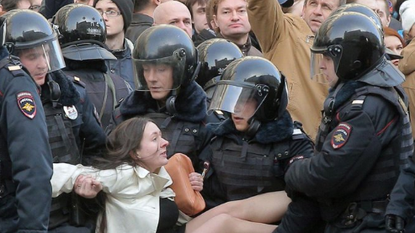 (Image credit: Getty Images)
Marie Claire Newsletter
Celebrity news, beauty, fashion advice, and fascinating features, delivered straight to your inbox!
Thank you for signing up to Marie Claire. You will receive a verification email shortly.
There was a problem. Please refresh the page and try again.
Demonstrators poured onto the streets of several Russian cities on Sunday as part of an anti-government rally that drew throngs of young people.
The rally was a protest against corruption, but it was focused on Prime Minister Dmitry Medvedev, who was accused of taking bribes to purchase luxurious personal assets that include (but are not limited to): vineyards, yachts, and several secret country estates both in Russia and abroad, including one that has a house in the middle of a lake specifically for ducks.
The claims of bribery were made by Alexei Navalny, one of Russia's most famous opposition leaders, who also organized the rally. Some painted their faces green in support of Navalny, a reference to an incident last week when a stranger doused him with a harmless green liquid.
Protesters also brought rubber ducks, a nod to Medvedev's alleged house for ducks.
And they brought sneakers, because Medvedev's bright yellow Nikes are what sparked Navalny's most recent investigation into the Prime Minister's spending habits.
As with the anti-Trump rallies, many people carried creative signs to express their disdain for the government and its leaders.
The exact number of people at the rallies is unclear. Navalny's side said as many as 150,000 showed up at the rallies nationwide, with 30,000 of them at the Moscow protest. Russian authorities pegged the number much lower, at just 8,000 in Moscow.
A Kremlin spokesman claimed the organizers of the event were misleading the country's young people. "We cannot treat with respect those who knowingly misled minors, in fact children, urging them and promising them some kind of rewards for taking part in an uncoordinated action in an uncoordinated place," said Dmitry Peskov, the Kremlin spokesperson, "thereby exposing their safety and even the lives of these children and minors."
On Monday, Navalny was sentenced to 15 days in jail and fined 20,000 rubles for organizing the protest and refusing to cooperate with the police.
Всем привет из Тверского суда. Настанет время, когда и мы будем их судить (только уже честно) pic.twitter.com/zs6ueJMM8oMarch 27, 2017
See more
Many others were arrested by the OMON (the special police), who appeared to be particularly forceful in the way that they handled protesters at this rally, which was not authorized by the government.
One photo quickly gained attention and became iconic for the movement. It showed a young woman in Moscow staring ahead with a look of peaceful shock as men in uniform drag her through the air by her arms and legs.
Unprecedented number of young Russians who've known no president but Putin came to protest him today. This looks like being the iconic shot pic.twitter.com/noRLeNNxDuMarch 26, 2017
See more
The picture, taken by photographer Maksim Shipenko, features a young woman named Olga Lozina, who told the Russian media outlet Meduza that she was with her mother and sister—on their way home—when they came across the rally. They were told that the police were informing people to walk in the other direction. She described to Meduza what happened next:
"Suddenly, OMON started just grabbing people off the street. There was a flower bed there, and I stood on it, just to see where the crowd ends. OMON demanded that I get off the flower bed immediately. Everyone quickly got off; but the last person to get off, a young guy, was taken to the police van with his hands tied up. My mother happened to be nearby and asked them why they were grabbing him. So then they grabbed her as well. Then my sister. They took them away, and I followed them, without even realizing that I was also being detained.
"At some point, it got crowded, so I walked up the police again. That was when I got carried away. I wouldn't say they were rough with me—they carried me rather carefully. I would have gone willingly, if I had just been told why I was being detained. But I didn't even have a chance to ask. Then they threw us into the police van, where it was very stuffy—32 people in one van. And even when we arrived at the station, they wouldn't let us out of it for nearly an hour. Now we're still here—no one is telling us anything, and we don't know when we'll get out."
Follow Marie Claire on Facebook for the latest celeb news, beauty tips, fascinating reads, livestream video, and more.
Celebrity news, beauty, fashion advice, and fascinating features, delivered straight to your inbox!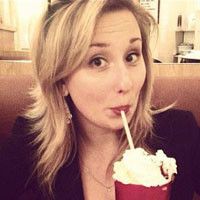 My writing has regularly appeared in The New York Times, The Paris Review, Salon, VICE, Guernica, The New York Observer, BuzzFeed, Cosmopolitan, Seventeen, Esquire, Elle, Harper's Bazaar, and many more publications.

I was previously the Senior News Editor at Best Life Online and the Viral Content Editor in the Newsroom of Hearst Digital Media. My portfolio consists of a vast and diverse body of work that includes personal essays, lifestyle articles, breaking news posts, and viral content. My areas of expertise, however, are Russia, sex and relationships, and mental wellness.