Twitter Is No Longer Suing Trump Because Trump Backed Down
A victory for free speech!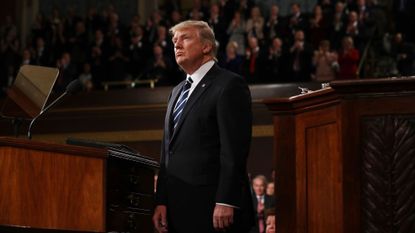 (Image credit: Archives)
Update, 4/7: Twitter has voluntarily withdrawn its lawsuit against the U.S. government regarding recent pressure to unmask the identity of one of the site's users, specifically an account critical of the president, Reuters reports (opens in new tab). According to court documents, the DOJ contacted Twitter this morning saying that the government had withdrawn its summons demanding the name(s) of the account holder(s).
So keep tweeting out your grievances against the government people. That's democracy!
Original Post, 4/6: For all its talk about former national security adviser Susan Rice, the Trump administration has tried to do some unmasking of its own.
Apparently government agents have been attempting to reveal the identity of the person or people behind @ALT_uscis (opens in new tab), an account critical of Donald Trump's immigration policies. And now Twitter is suing the government (opens in new tab) in order to protect the account-owners' identities.
Last week : Unmasking is outrageous when it comes to Russian collusion.Today: Unmask @alt_uscis because customs import code.April 6, 2017
See more
The account is just one of the many "alternative" Twitter accounts that surfaced after Trump took office and began silencing certain agencies' social media pages. (The National Park Service may come to mind (opens in new tab).)
In their lawsuit, Twitter claims that the government sent them a summons in March demanding they reveal the identity of the Alt Immigration account's owners. They argue that compliance would violate the First Amendment.
It further argues that if the government is successful on this summons, it could threaten other users' ability to be critical of the Trump administration anonymously.
While the lawsuit is a massive step, it's not Twitter's first against the government. In 2014, Twitter sued the Obama administration over restrictions they imposed on posts about surveillance requests. Twitter also has a long history of protecting user data. As Mashable reports (opens in new tab), Twitter was not one of the companies shown to be feeding the National Security Administration information about their users in whistleblower Edward Snowden's leaks.
As for the new lawsuit? They're not alone. The ACLU announced on Thursday that they would also be joining in the suit to protect internet users' right to free speech.
We're glad Twitter is pushing back. We'll be going to court to defend this user's right to anonymous speech. https://t.co/tqj5XrNvgnApril 6, 2017
See more
Follow Marie Claire on F (opens in new tab)acebook (opens in new tab) for the latest celeb news, beauty tips, fascinating reads, livestream video, and more.