Mika Brzezinski Says It's "Unbelievable" That Kellyanne Conway Still Has a Job
The shade.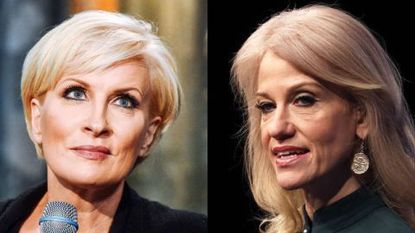 (Image credit: Archives)
Morning Joe co-host Mika Brzezinski called out (opens in new tab) White House senior adviser Kellyanne Conway Friday morning, attacking the counselor to the president for some of her outrageous claims. "It's unbelievable that she works in the White House," Brzezinski said.
One of the host's biggest points of contention with Conway was her claim that the federal government was spying on citizens through their microwaves (opens in new tab). Brzezinski called the assertion "ridiculously stupid," and said Conway's continued employment was "really kooky—and that's being kind."
RELATED STORIES
Brzezinski isn't the first person to call attention to the fact the Conway hasn't been fired by the Trump administration, despite her habit of making ridiculous off-the-cuff comments. Conway was sidelined (opens in new tab) from television appearances in late February after she said former National Security Adviser Michael Flynn had the president's "full confidence," just hours before Flynn's resignation.
On the other hand, she faced little to no censure for her references to a fictional terrorist attack in Bowling Green, Kentucky—a statement that she was widely ridiculed for. Late last month, the Office of Government Ethics recommended (opens in new tab) that the White House investigate Conway for ethics violations after she promoted Donald Trump's daughter Ivanka's clothing brand during a television interview in her official capacity.
It remains to be seen whether or not the Trump administration will discipline Conway, considering the president himself has also tweeted about his daughter's brand.
We're nominated for a Webby Award—but we need your vote to win! Vote for the Women and Guns project here. (opens in new tab)