The 16 Funniest Tweets About This Year's White House Easter Egg Roll
"The Donnie Darko sequel has taken an unexpected turn."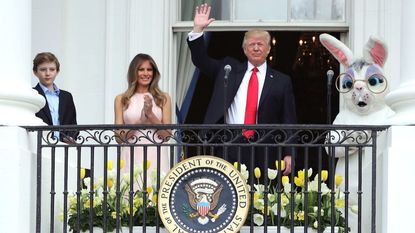 (Image credit: Archives)
On Monday, President Donald Trump and family continued one of America's most time honored traditions by hosting their very first Easter Egg roll at the White House.
Even before the 139th annual White House Easter Egg Roll kicked off, there was concern about it being a disaster after the vendor that traditionally supplies the commemorative wooden eggs as party favors tweeted to say the deadline was fast approaching (opens in new tab), making it appear that efforts to prepare for the event were harried.
Ultimately, however, Melania, for whom the stakes were the highest as the event is one of the greatest reflections of her role as the First Lady, managed to pull off (opens in new tab) an event that included "traditional" elements like an egg roll with wooden spoons, an egg dying station, a cookie decorating station, an art wall, a military band, and a thank-you card station where children could write notes to members of the armed forces. There was even a miniature press secretary podium where kids could try out Sean Spicer's job (insert obvious joke here).
Melania also made a stop at the reading nook, where she read some of Kathie Lee Gifford's children's book, Party Animals, which she said she chose (opens in new tab) "because it shows that we are all different, but we are all the same." Spicer also read from a book called How to Catch the Easter Bunny (more on that later), and was in close proximity to his favorite costume ever (opens in new tab).
The day didn't go off without a hitch, however, as Melania had to nudge Trump (opens in new tab) to remind him to place his hand on his heart during the National Anthem as he addressed the 21,000 people who attended the roll from the White House balcony. Obviously, this moment has been immortalized as a viral tweet.
He also signed the hat of a kid who asked for his autograph...only to then throw the hat into the crowd.
But, really, the entire day was meme-worthy:
To be fair, the Obama's final White House Easter Egg Roll had more than 35,000 attendees, including Beyoncé, Jay-Z, and Blue Ivy, so it was always going to be hard to beat.
We're nominated for a Webby Award—but we need your vote to win! Vote for the Women and Guns project here. (opens in new tab)
My writing has regularly appeared in The New York Times, The Paris Review, Salon, VICE, Guernica, The New York Observer, BuzzFeed, Cosmopolitan, Seventeen, Esquire, Elle, Harper's Bazaar, and many more publications.

I was previously the Senior News Editor at Best Life Online and the Viral Content Editor in the Newsroom of Hearst Digital Media. My portfolio consists of a vast and diverse body of work that includes personal essays, lifestyle articles, breaking news posts, and viral content. My areas of expertise, however, are Russia, sex and relationships, and mental wellness.