Fox News Just Sent Readers the Weirdest Push Alert—And It Gets Worse from There
"Is this a news alert or a cry for help?"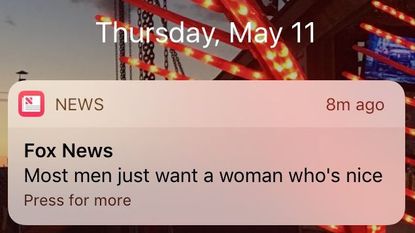 (Image credit: Twitter)
On Thursday morning, Fox News sent out a push alert to its Apple News subscribers that read, "Most men just want a woman who's nice."
Stop the presses, Y'all! @FoxNews just sent me this alert. pic.twitter.com/xEjzylXR7WMay 11, 2017
See more
Obviously, people were a little confused.
And angry because whichever way you spin it it's belittling to both men and women.
Like, who's hurting you, Fox News?
Is this a message from the past?
Fox News alerts, like if 1950s could text you pic.twitter.com/cWHEJdsP2vMay 11, 2017
See more
Did Bill O' Reilly hack the Fox News Twitter account?
Fox News has yet to comment on the push alert, but it refers to an eponymous story published today by Suzanne Venker. The article, which sounds like a lecture that your grandmother would give you on Thanksgiving to explain why you're still single, argues that while women say they want a nice guy but really want a bad boy, men actually just want a nice girl!
In case you're confused about what it means to be "a nice girl," the author elaborates in her opening paragraph:
At the end of the day, most men just want a woman who's nice. "Nice," to a man, means being soft, gentle and kind. It means asking your husband how his day was and really listening. It means doing something nice for him with no expectation of getting something in return—you know, the way you did when you were dating. But wait a minute, you say. Don't women want the same thing? A man who's nice? Not exactly. Most women do want a man who's kind, but that's not the same as nice. Ask any guy you know, and he'll likely give you example after example of women they know who said they wanted a nice guy but in reality wanted a bad boy. That's because just as most men are attracted to femininity, or softness, most women are attracted to masculinity. And masculinity is hard. Gruff. Take charge.
I'm sorry but, um...
Thank you, Fox News. Thank you for this hard-hitting piece of journalism, and for this invaluable advice that I will curl up with in my lonely, single nights.
Oh, and also:
Just being nice.
Follow Marie Claire on Facebook for the latest celeb news, beauty tips, fascinating reads, livestream video, and more.
My writing has regularly appeared in The New York Times, The Paris Review, Salon, VICE, Guernica, The New York Observer, BuzzFeed, Cosmopolitan, Seventeen, Esquire, Elle, Harper's Bazaar, and many more publications.

I was previously the Senior News Editor at Best Life Online and the Viral Content Editor in the Newsroom of Hearst Digital Media. My portfolio consists of a vast and diverse body of work that includes personal essays, lifestyle articles, breaking news posts, and viral content. My areas of expertise, however, are Russia, sex and relationships, and mental wellness.