The Politician Who Viciously Attacked a Reporter Won a State-Wide Election the Next Day
This is good and fine.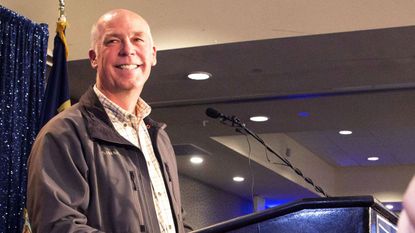 (Image credit: Archives)
Montana Republican congressional candidate Greg Gianforte was elected to the House of Representatives yesterday, and this is monumental for at least two reasons. His win represents a temperature-taking of America's heartland regarding the Republican party—it suggests they still stand behind President Donald Trump—as well as a ringing endorsement of violence against the press.
Gianforte was charged with misdemeanor assault on Wednesday, the night before the election, after he brutalized a journalist at a campaign event in front of several witnesses. Ben Jacobs, a reporter for the Guardian, asked the Republican candidate a question about the polarizing healthcare bill traveling through the Senate right now; Gianforte responded by "bodyslamming" Jacobs and screaming that he was sick and tired of questions. He was cited for misdemeanor assault.
RELATED STORY
Despite the chilling recording of Gianforte's attack, and his statement blaming Jacobs for the violence against him, the candidate won the seat yesterday by about six points. Early voting was certainly a factor in the win: by Wednesday night, more than half of voters had already cast their ballots in the race due to the state's mail-in voting law. It was difficult to determine on election night to what extent voters who cast a ballot Thursday were influenced by the altercation.
In his victory speech, Gianforte gave a more thorough apology to Jacobs. "When you make a mistake, you have to own up to it. That's the Montana way," he said. "Last night, I made a mistake. I took an action I can't take back and I am not proud of what happened."
Gianforte must appear in court by June 7 on the misdemeanor charge, which carries a maximum penalty of six months in jail and a $500 fine.
The Associated Press contributed to this report.
Follow Marie Claire on Facebook for the latest celeb news, beauty tips, fascinating reads, livestream video, and more.