The Woman Who Saved Amanda Knox
Giulia Bongiorno is one of the most hated people in Italy. As the lawyer for Raffaele Sollecito, then boyfriend of American exchange student Amanda Knox, Bongiorno was instrumental in the defense that, last October, helped overturn the pair's convict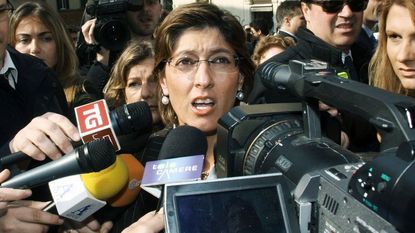 (Image credit: Archives)
Giulia Bongiorno is one of the most hated people in Italy. That's saying a lot in a nation where former Prime Minister Silvio Berlusconi recently resigned after years of scandal (including allegations of orgies and underage prostitutes). But as the lawyer for Raffaele Sollecito, then boyfriend of American exchange student Amanda Knox, Bongiorno was instrumental in the defense that, last October, helped overturn the pair's convictions for the grisly 2007 slaying of Knox's roommate, Meredith Kercher — a turn of events that outraged many Italians. "The prosecution portrayed Amanda as ruthless and manipulative," Bongiorno says. "That picture is false."
At 45, Bongiorno has handled many high-profile court cases. At 28, she hit the big time defending another former head of state, Giulio Andreotti, who was accused of conspiring with the Mafia in a murder case. Bongiorno became a loathed figure after Andreotti was let off and she was filmed celebrating. As a senior member of Parliament, Bongiorno is a powerful political figure in her own right. A thorn in the side of Berlusconi, she headed a no-confidence vote against him and protested against his regime.
During the Knox appeal, Bongiorno cultivated a reputation for colorful rhetorical flourishes. In her closing arguments, she declared, "Amanda Knox isn't bad, she's just drawn that way" — an allusion to the temptress cartoon babe Jessica Rabbit. It was an implicit criticism of the press for its caricature of "Foxy Knoxy."
At the height of the appeal — apt timing, given her nose for drama — Bongiorno gave birth to her first child, Ian, needing a wheelchair during some court appearances. She felt immense relief when a Perugian judge finally announced that Knox, 24, and Sollecito, 27, were to be set free. "When Raffaele hugged me after the verdict," she says, "it was extremely emotional. I could feel him trembling."
Since Sollecito's release, Bongiorno talks to him frequently and guards his privacy, saying only that he is doing well. She has received hundreds of letters about the trial, many of them angry. But she is unfazed. "In a trial like this, there was bound to be a visceral reaction." The prosecution plans to appeal the verdict. Would she represent Sollecito again? Never one to turn down a big case, there could be only one answer: "Of course." —Clare Longrigg
Celebrity news, beauty, fashion advice, and fascinating features, delivered straight to your inbox!