Alyssa Mastromonaco: The White House Gatekeeper
Of the many players working behind the scenes for the president, few wield as much quiet power as Alyssa Mastromonaco, 37, the White House deputy chief of staff for operations — and the woman who sits some 15 feet away from him.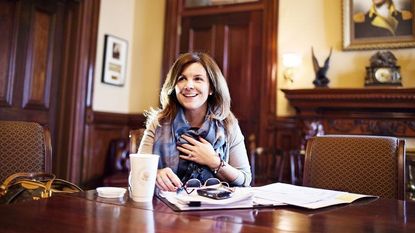 (Image credit: Melissa Golden)
Marie Claire Newsletter
Celebrity news, beauty, fashion advice, and fascinating features, delivered straight to your inbox!
Thank you for signing up to Marie Claire. You will receive a verification email shortly.
There was a problem. Please refresh the page and try again.
MARIE CLAIRE: Your first real job in politics was, at age 24, working as an assistant for then Massachusetts Senator John Kerry. What were you doing for him?
ALYSSA MASTROMONACO: I answered the phones. I did the press clips back when clips were real clips—I had to cut them out, tape them to a piece of paper, and then fax them to all the state offices.
MC: You were director of scheduling for Kerry's failed presidential bid in 2004. What's it like to lose a presidential race?
AM: It's incredibly sad. You invest so much, and then have to deal with the disappointment when you're just completely exhausted. It takes a while to bounce back from it. In that case, I had to stay on to do the wind-down—putting binders in boxes and whatnot.
MC: How did you come to work for President Barack Obama?
AM: I was in the Kerry offices right after the campaign ended, and my instant messenger window popped up. It was [future White House press secretary] Robert Gibbs. He said, "You should come meet this guy Barack Obama, who I'm working for now." And so I went in a week later and met with [Obama's chief of staff in the Senate] Pete Rouse, followed by POTUS [an Illinois senator at the time]. I've worked for him since January 2005.
MC: As deputy chief of staff for operations, what do you do exactly?
AM: I oversee the actual planning and setup of presidential events. I also oversee presidential personnel—the hiring process for all political appointments in the executive branch—as well as screen nominees for Cabinet positions. I handle Oval Office operations and anything having to do with the White House campus itself. It's my job to coordinate among the Secret Service, first family, and the White House Military Office, which includes Air Force One and Marine One, to make sure everything runs smoothly.
MC: What are your hours like?
AM: We get in every morning between 7 and 7:30, and I'm usually here until about 8 p.m. But it ebbs and flows. Last night at midnight we got a phone call about seismic activity in North Korea. You're always sort of on 24/7.
MC: What's the president like as a boss?
AM: One of the hardest transitions was calling him Mr. President. He's just not one for titles. When I started in his Senate office, I always called him Senator Obama. And one day he asked, "Are you angry with me? Why do you keep calling me Senator Obama? I'm Barack. In front of other people, you can call me Senator, but around here, please just call me Barack." But I've never called him anything but Mr. President since he was sworn in.
MC: I imagine that overseeing White House personnel means that people are constantly hitting you up for jobs.
AM: It's why you'll almost never see me out. It can be exhausting. But at the same time, around here, there's always an open-door policy. I've done more career counseling than you could possibly imagine. It's important to do—you'd be surprised by the very bad career decisions people are inclined to make for an extra $7,000 in salary.
MC: What have you learned coming up through the staffer ranks?
AM: Always, always be nice. People remember. When I was in college at the University of Vermont, I answered phones in Congressman Bernie Sanders' office. I ended up having a conversation with a man who called from Wisconsin. I tried to be very polite. That fall, after I transferred to the University of Wisconsin, that man gave me a job as an assistant at his nonprofit. He said it was because I was so nice on the phone.
MC: What's been your biggest screwup?
AM: It was 2006, and President Obama, then a senator, was doing about 50 stops to stump for candidates in the midterm elections. He was in Denver, en route to San Francisco, when our finance director called me and said, "The plane's not here." I had reserved a $30,000 private plane for the wrong day.
MC: How did you handle that?
AM: I broke into tears. Rouse heard that I was crying and called Obama to tell him that I was having a meltdown. Then my phone rang—back then he had a cell phone number that came up "Barack Obama"—and I was like, Shit! So I picked up the phone, and I'm like [tearfully], "Hello?" And he said, "I hear that there are some tears at the office—I don't know why because I'm in a first-class seat on a United flight to San Francisco, and we're going to be there in no time." But I can tell you, I took it as a onetime reprieve. I try to never fuck up like that again.
MC: What do you make of criticism leveled at the White House about the lack of women in powerful staff positions?
AM: People on the outside tend to view only those who go on television as influential or important. [White House Counsel] Kathy Ruemmler does not do television. But there are few people in the building more powerful than her.
MC: You're engaged to David Krone, Senate Majority Leader Harry Reid's chief of staff. Where do you find the time to plan a wedding?
AM: We got engaged on a Thursday night, and by the next afternoon I left for Hawaii for work [for the president's annual vacation], but David had to stay back here to work on the fiscal cliff negotiations. I was like, "I can't do this, I can't do this." Everyone thinks I'm a good planner, but there's a decent chance I may not have a wedding. I'll just go to the courthouse or something. It's too much pressure.
MC: Really?
AM: Or it could be a D.C. circus—three rings, no tent, with everyone and their brother invited.
Celebrity news, beauty, fashion advice, and fascinating features, delivered straight to your inbox!