Lara Logan: Background Check
Lara Logan, 60 Minutes correspondent, on her favorite interview, crazy schedule, and what her assistant really thinks of her.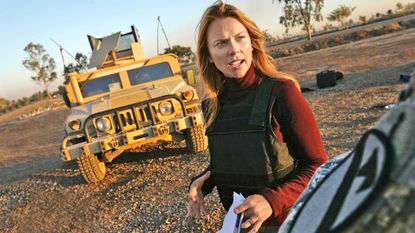 (Image credit: Chris Hondros/Getty Images)
FIRST JOB: I was 14, but lied and said I was 16 so I could spend my weekends scooping ice cream by the beach [in Durban, South Africa].
BEST CAREER ADVICE EVER: You can't worry about the competition. It's not their standard that matters. It's the standard you hold yourself to.
BLACKBERRY OR IPHONE: Both. How can you multitask otherwise?
READING MATERIAL: Mark Bowden's Black Hawk Down.
MORNING ROUTINE: I'm a night owl. Mornings are a violation of my human rights.
AFTERNOON PICK-ME-UP: Caramelized popcorn called 479° out of San Francisco.
MOST FASCINATING INTERVIEW: It's currently Marine Isaac Blunt. At 22, he has no legs, is blind in one eye, lost most of one hand and most of his groin. But he's about to climb a mountain in Australia. I love him.
FITNESS REGIMEN: My only exercise is running for a plane or after my three children. I need to work on that.
MY ASSISTANT WOULD DESCRIBE ME AS: A pain in the ass.
CAREER HIGHLIGHTS: I am most proud of my stories from the battlefield, with soldiers like Staff Sergeant Salvatore Giunta, the first living recipient of the Medal of Honor since Vietnam.
WHEN I PUNCH OUT: I very often do not come home from work. I travel so much. It's a constant battle for time with my children—and the most painful of the choices I have made.
GO-TO INTERVIEW ENSEMBLE: Depends on how fat I am feeling that day, the weather, and what I can get away with.
GREATEST WEAKNESS: Absolutely no self-discipline. The rest flows from there...
Marie Claire email subscribers get intel on fashion and beauty trends, hot-off-the-press celebrity news, and more. Sign up here.