Obama Administration Responds to Catholic Group's Birth Control Case
Following a temporary injunction, the Obama administration seeks action.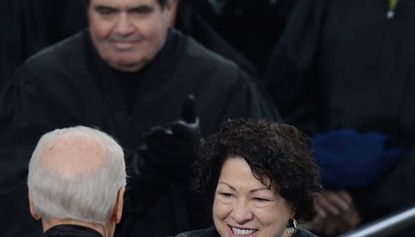 (Image credit: Getty)
Following a temporary injunction issued by Justice Sonia Sotomayor on New Year's Eve, the Obama administration argued on Friday that asking Catholic institutions to sign a form exempting them from the Affordable Care Act's birth control mandate is not a "substantial burden" on religious freedom.
The mandate requires employers to offer plans that provide a range of free preventive-care services, including contraception. The Obama administration created an accommodation for religious organizations that oppose birth control, requiring those employers to fill out an exemption form.
The Little Sisters of the Poor Home for the Aged, an organization of Catholic nuns in Denver, asked the Supreme Court to issue a temporary injunction, which Sotomayor granted hours before the Jan. 1 deadline. The group claimed that the form violated their religious beliefs as signing the document would make them "authorize others" to provide contraception.
The Justice Department argued that wouldn't be the case, due to the accommodation granted to religious non-profit groups. The signing of the form would not result in the distribution of any birth control.
"A signed certification will discharge all employer-applicants' responsibilities under the contraceptive-coverage provision, and their employees will not receive such coverage from the third-party administrator. Given these circumstances, applicants' concern that they are 'authorizing others' to provide coverage lacks any foundation in the facts or the law," Solicitor General Donald Verrilli wrote.
Justice Sotomayor will now have to decide if she wants to rule on the injunction herself or have the entire court hear the case.
Celebrity news, beauty, fashion advice, and fascinating features, delivered straight to your inbox!