2013 Was a Rough Year for Abortion Rights
More abortion laws were enacted in the past 3 years than in the entire previous decade.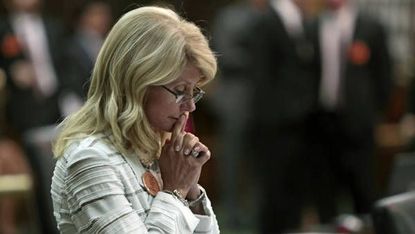 (Image credit: Getty)
Marie Claire Newsletter
Celebrity news, beauty, fashion advice, and fascinating features, delivered straight to your inbox!
Thank you for signing up to Marie Claire. You will receive a verification email shortly.
There was a problem. Please refresh the page and try again.
According to a new report by the Guttmacher Institute, 2013 was a tough year for abortion rights. More abortion restrictions were enacted between 2011 and 2013 than in the entire previous decade. From 2001-2010, a total of 189 restrictions were enacted in the United States. From 2011-2013, a total of 205 restrictions were enacted. Seventy of those restrictions occurred in 2013 alone.
The institute classifies restrictions into four categories: those that impact abortion providers, those that limit insurance coverage of abortions, those that ban abortions at 20 weeks, and those that limit medication abortions.
The Huffington Post's Laura Bassett wrote, "The number of states considered 'hostile' to abortion rights, defined by the Guttmacher Institute as having at least four kinds of major abortion restrictions on the books, has also more than doubled since the year 2000, from 13 states to 27." The Huffington Post's infographic below shows the dramatic shift.
Infographic by The Huffington Post's Alissa Scheller
The report pointed to four states in particular for the 2013 surge: Arkansas, North Carolina, North Dakota, and Texas. The latter two states together passed 13 restrictions. The bill that Texas gubernatorial candidate Wendy Davis filibustered, but that eventually passed, comes to mind. The legislation criminalized abortions after 20 weeks and imposed harsh regulations on abortion providers, like admitting privileges from local hospitals. According to Al Jazeera America, one-third of the abortion clinics in the state shut their doors when the law was enacted in November 2013.
Abortion activists responded to the Guttmacher Institute's report with concern. Cecile Richards, President of Planned Parenthood Action Fund, called for new leadership.
"After a record outpouring of opposition to these measures from the Deep South to the heart of the Midwest, it is crystal clear that women and men in states across the country need new leaders who value women's health," she said in a statement."This year, Planned Parenthood Action Fund and Planned Parenthood Votes will be working to change the face of leadership in key states in order to ensure that a woman's access to health care doesn't depend on her zip code."
Celebrity news, beauty, fashion advice, and fascinating features, delivered straight to your inbox!