France's First Lady Valerie Trierweiler Hospitalized After Report of President's Affair
There was a moped involved, apparently.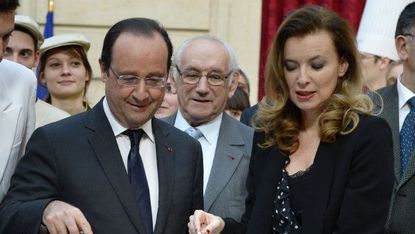 (Image credit: Courtesy of Getty)
Affairs are getting a little Scandal(ous) in France following reports that French President Francois Hollande was having an affair with actress Julie Gayet and then left the scene on his moped (a scooter, really?). After a French tabloid published photos of the president leaving his alleged mistress' apartment, the First Lady Valerie Trierweiler entered the hospital on Friday "for rest and some tests" according to her team via BBC. In addition to the affair, Hollande is one of the most unpopular leaders of the nation with only 25 percent of the French people trusting him, according to BBC. Although Trierweiler is considered the First Lady and lives with Hollande in the Elysée Palace (France's White House), the couple is not married.
Related:
The Six Toughest Single Women in Film

The History of Lingerie

Make Short Hair Grow Longer

The History of Piercing