ICYMI: Another Fraternity Email Degrades Women in Disgusting Letter
Appalling.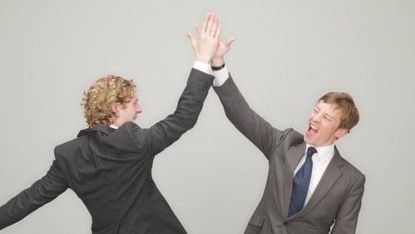 (Image credit: Marie Claire)
Marie Claire Newsletter
Celebrity news, beauty, fashion advice, and fascinating features, delivered straight to your inbox!
Thank you for signing up to Marie Claire. You will receive a verification email shortly.
There was a problem. Please refresh the page and try again.
There's at least one person associated with the Sigma Chi chapter at the College of William and Mary who thinks that women are of the "lesser sex" and " sluts," according to an outrageously offensive email sent through the house's listserv. In the anonymous, leaked email obtained by Total Sorority Move, the letter's author claims that "sluts are everywhere" and encourages Sigma Chi members to think of women as "boxes." Poetic.
Once the email was leaked and whipped its way across the Internet, the chapter issued a formal apology and said it was moving to suspend the individual responsible for the letter:
"We deeply regret the message that was sent through our listserv encouraging actions that are inconsistent with our values as Sigma Chis. The message was disrespectful toward women, and that is not who we are as a chapter. We have moved to suspend the individual who was responsible for the message and International Fraternity leaders are taking action to ensure proper disciplinary measures are taken. Rest assured that we are also voluntarily taking an internal review of our membership, to be sure that our chapter is comprised only of men of the highest character. Until then, we have voluntarily and proactively ceased normal chapter operations."
The email also prompted a response from the president of the College of William and Mary. "We put a lot of emphasis on building community at William & Mary, and a crucial element of community is respect for one another," Taylor Reveley's statement read. " This email makes clear we have more work to do. This serious lapse in community will serve as a teachable moment to that end."
This isn't the first time that misogynistic fraternity emails have circulated. In October, a fraternity brother at Georgia Tech sent one to his brothers a note with the subject line "How to Lure Your Rapebait."
Perhaps most troublesome, however, are emails like the two aforementioned cases that go un-leaked but still exist on college campuses, where one in five women will be the victim of an attempted or completed sexual assault during her four years of school. Just last week, President Obama created a task force to combat sexual assault, particularly on college campuses, after a new report from the White House Council on Women and Girls found that no one in America is more at risk of being raped or assaulted than college women.
To read the Sigma Chi letter in full, head to The Huffington Post.
More from Marie Claire:

How Does The Texas Abortion Debate Affect Women In Texas? We Asked an Expert

Woman Wins Historical Tennis Match, Gets Asked Sexist Interview Question

Time Magazine's Yawwwn-Worthy Yet Questionable Magazine Cover

Help Up Use Social Media to Redefine Beauty
Celebrity news, beauty, fashion advice, and fascinating features, delivered straight to your inbox!