320 Women Embark on a Crazy Journey Across the Sahara
Equipped with just a compass, a map, and a duffel bag, driving everything from Range Rovers to polaris scrambler 850 ATVS, 320 women from 25 countries gathered in the Moroccan Sahara for a navigational competition called the gazelles rally, or what many call the ride of their lives.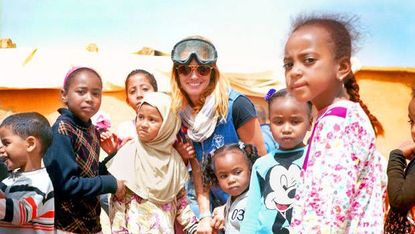 (Image credit: Liz Johnson-Artur)
It's 8 P.M. and we're racing against the sunset, bouncing up and down as our Mitsubishi Pajero SUV thumps through the Moroccan Sahara. We're searching for a 12-foot-tall pink flag, strategically hidden somewhere amid the countless dunes that surround us in this claustrophobic sand labyrinth, and our available tools—a compass; a copy of a 60-year-old hand-drawn map, with squiggles and dots marking the dunes and vegetation; and a plotter to read the degrees between the map's points—aren't much help. As we skirt uncomfortably close to the notoriously unfriendly Algerian border, the tension mounts among us: Emily Miller, 47, an experienced race car driver from Encinitas, California; two photographers; and me. The stakes are too high to revel in the magnificent smattering of stars popping above us now. If we don't find the flag before dark, there is a good chance we might be stranded for the night. Or worse, we could accidentally cross the unmarked border, where other drivers have been detained in years past. A frustrated Miller swears under her breath, amping up our anxiety. Then, without any warning, a blinding sandstorm whips around us.
This nighttime treasure hunt, in one of the most isolated and rugged landscapes on earth, is part of the Gazelles Rally, the world's largest all-female motor-sport event. With 160 teams from 25 countries (mostly in Europe, Africa, the Middle East, and North America), the competition—a grueling nine-day trek through the Sahara to navigate to 57 flags, or checkpoints, across southern Morocco—attracts Olympic gold medalists, European rock stars, and African royalty, as well as accountants, waitresses, and engineers. Little known in the U.S. but popular in France, the rally, now in its 24th year, is a fierce test of endurance and mental strength. Pairs of women ranging from 19 to 64 years old, in 4x4s, ATVs, and motorbikes that they rent or ship overseas, voyage across the rocky Atlas Mountains, steep sand dunes, and vast stretches of uninhabited, cratered terrain that's as close as they will likely get to driving on the moon. (The entry fee, mostly financed through sponsorships, is a hefty $18,580 per team.) At seven villages on the course, the event also offers a traveling medical caravan called the Heart of Gazelles, which provides much-needed services to local Moroccan villagers.
In March, along with Miller and the four U.S. teams competing this year, I traveled from L.A. to get to the starting line, deep in the heart of the desert. "The rally is about persevering through exhaustion and extreme discomfort, and having the mental clarity to figure things out and go on," Miller said when she invited me along. I'd never pitched a tent, and getting a sleeping bag back into its case has been my bête noire since my first grade-school sleepover, but maybe the rally would be my baptism by fire.
Now, on our seventh day, with less than an hour of sleep the night before, I know what Miller meant by "persevering through exhaustion." The ferocious winds suddenly let up. "Everyone get out of the car and look for lights," Miller shouts. We're surrounded by deep black, save for the twinkling stars, but if we can spot a glimmer of headlights, there is a possibility that the other competitors, and the elusive flag we seek, are nearby. It seems impossible to find a dim glow in the sky and make our way toward it, but then Miller calls out, "I see one! Let's go!" Sure enough, when we wind our way into the distance, we come upon a dozen trucks and a tiny camp: We made it. Another day completed. As we unroll our sleeping bags and pass around a celebratory bottle of pastis, I look around at the women and triumphantly think, We're such badasses, we don't even need tents. This is how we live now.
The Gazelles Rally, offically known as the Rallye Aïcha des Gazelles, isn't exactly a race. Instead of reaching the finish line first, the objective is to travel the shortest distance between checkpoints scattered seemingly haphazardly across hundreds of miles, anywhere from 750 for this year's winners to more than 3,000 for those who get lost, backlit by majestic mountains and endless cerulean skies. (The most seasoned drivers, like 2014's first-place team, the U.K.'s Jeanette James and France's Anne-Marie Borg, even move boulders out of the way so they don't have to drive around them, keeping as close as possible to a straight line.)
Every night, when teams return to the constantly moving central camp, where they eat dinner, fill their gas tanks, and visit on-site mechanics, the rally's staff gives the latitude and longitude coordinates of the next day's first checkpoint. Daily wake-up call is at 4 a.m., with breakfast and a briefing on the day's terrain at 5. An hour later, dawn signals the start time, affording competitors the maximum amount of daylight. Wending our way between checkpoints—without the aid of forbidden cell phones or GPS—and praying not to blow out a tire or get stuck cresting a dune, we run on adrenaline, gobble down French army rations for most of our meals, and fight against disorienting sandstorms.
There was no easing into the rally. That first day had thrown us into the intensity of the competition: Our second-to-last flag was hidden down an intimidatingly narrow collapsed mountain pass that even Miller was reluctant to attempt, for fear of getting trapped. After backing out slowly and taking the long way around the mountain, we spotted Jo Hannah Hoehn, 27, and her 26-year-old sister, Susanah, first-time competitors from Del Mar, California, descending the pass in their Range Rover Sport, making their way across the rocky plain to reach the flag. "I can't believe they did that!" Miller whispered reverently.
The next morning, in 90-degree heat, we entered the dunes to find at least six competitors pushing a stuck Isuzu D-Max pickup truck, driven by another U.S. team, Rachelle Croft, 30, and Rhonda Cahill, 34, two stay-at-home moms from Bozeman, Montana. "Allez! Allez!" the French Gazelles in the group shouted ("Go! Go!") as the truck gained momentum and Croft popped the clutch. Competitors are encouraged to help each other when they're in trouble, as almost all will be. If no one is around, you have to make do: At one point, France's Florence Pham and Senegal's Syndiely Wade spent hours strategically placing rocks in front of their vehicle to build a makeshift road to climb a steep, rocky mountain.
On our seventh morning, after having watched Miller and the other Gazelles deftly handle their vehicles, navigate, and find their way out of crisis after crisis, I'm no longer content standing on the sidelines. It would be easy to stay in the passenger's seat, but what's the fun in that? I haven't given myself the chance to step up and do something. So I tell Miller that I'm ready to take my first crack at navigating—and spend the next few hours mistakenly directing the Pajero across the same dry riverbed, back and forth, in search of a checkpoint. Dehydration, an inevitable fact of rally life even though we're traveling with water, plays tricks on my eyes: Trees look like humans; rocks look like cars. We grow desperate as I repeatedly hop out to measure with my compass and try to match indistinguishable dunes and mountains to the lines on the map. The land beneath us appears simultaneously rocky and flat, an optical illusion that leads me not to warn Miller of a sharp drop, causing our photographers to hit their heads, hard, on the SUV's roof. "Everything's easy to confuse when you're tired," Miller says. "Do you think it's over there?" she asks, pointing to a mass of dunes to our left. "No," I say. "Let's just see," Miller replies, guiding us to the left—and to the flag. I'm annoyed with myself, but proud that I didn't shy away from the challenge. To fail fast is to learn fast, and I won't do either without trying.
The next day, after our harrowing search along the Algerian border for the campsite, I wake up under an orange sun low in the sky and make up my mind to try again. Too often, I realize, I've waited for the perfect moment or for more preparation and research before jumping in. But the rally doesn't work like that. Most of these women are amateur drivers, figuring out the rules alongside their teammates, and I desperately want to be a Gazelle, too. Since we have to deflate our tires to help us drive in the sand, I announce that I'll take care of them as we pack up the Pajero at daybreak, much to Miller's surprise. After a quick lesson, I spend all day jumping from the car with the tire gauge and pump, inflating and deflating the tires depending on the terrain—less pressure for sand, more for rockier ground. Catching my reflection, unrecognizable from a week earlier, in the side-view mirror, I like the new, self-sufficient me.
"The rally has a way of doling out life lessons," Miller says. Nine challenging days in the desert magnifies your weaknesses, phobias, and anxieties, forcing you to confront them. I started the adventure unsure if I could hang in the outdoors; by the end, I'm an expert tent-pitcher and using a compass like a 15th-century explorer. I know how to read a complicated map, and I take pride in the dirt on my face and sand in my boots. I'm less concerned about what might go wrong, or if I have all the answers; I'm more confident I'll be able to figure things out on the fly. Above all—like many of the inspiring Gazelles around me who often return to the rally again and again—I've learned how to find myself in the middle of nowhere.
Marie Claire email subscribers get intel on fashion and beauty trends, hot-off-the-press celebrity news, and more. Sign up here.