California Audit Finds Universities Are Failing Students Who Are Sexually Assaulted
State auditor report says colleges must do more to prevent, respond to, and resolve incidents of rape and sexual assault on campus.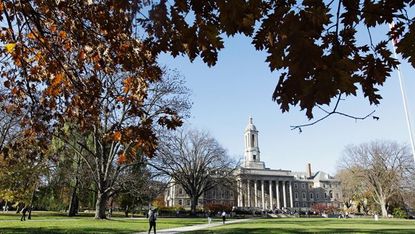 (Image credit: Archives)
Marie Claire Newsletter
Celebrity news, beauty, fashion advice, and fascinating features, delivered straight to your inbox!
Thank you for signing up to Marie Claire. You will receive a verification email shortly.
There was a problem. Please refresh the page and try again.
A report released on Tuesday finds, like many colleges nationwide, California's universities have a long way to go to ensure incidents of sexual violence on campus are handled properly. In its audit of four major public universities—the University of California, Berkeley; University of California, Los Angeles; California State University, Chico; and San Diego State University—the state auditor's office revealed a problematic lack of communication between investigators and victims of sexual assault and inadequate sexual violence education and training for both students and staff, among other concerns.
Many of the findings describe various ways the universities are not following the law known as Title IX, under which college administrators are legally obligated to take steps to end sexual assault on campus. The report says "generally" the universities are not educating incoming students about sexual violence on campus within their first few weeks on campus—a time when they may be the most vulnerable to sexual assault and harassment. Further, certain student groups, such as student athletes, fraternities and sororities, do not always receive additional training and "for the most part, the education is not sufficient." That's an especially important point as the state auditor's office says 25 percent of the 80 cases of sexual harassment and sexual violence they reviewed involved members of fraternities or sororities or occurred at their events.
Employees of the universities are also inadequately educated. The report found none of the universities provides its sexual harassment policy to all employees at the start of each academic year, nor do they post policies in highly visible places like residence halls or athletic facilities. And further, while staff in key roles of the incident-reporting process receive adequate training on responding to and reporting student incidents of sexual harassment and sexual violence, other employees such as resident advisors and athletic coaches who may be the first point of contact do not.
The state audit also found failings in the way complaints are handled. "While all four universities established a process to investigate and resolve complaints, we identified many concerns regarding informing students of what to expect from the process, providing status updates to the complainants and respondents, notifying them of case outcomes, and investigating complaints timely," the auditors wrote in the report. "More than half of the cases we reviewed did not demonstrate that complainants were informed of the outcome of an investigation." This finding reflects a common complaint from victims of sexual assault who say they often receive very little information on how and why the outcome of their cases are determined.
After eight months of silence, Sofie Karasek, a rising senior at the University of California at Berkeley, who reported being sexually assaulted by a fellow student to administrators in April 2012, received a brief email from the university saying her case had been resolved. (Karasek says even though the student was found to have violated the university's code of conduct, he was allowed to graduate in December 2012.) "It's strange because I'm learning more about my case in this state audit than from the Berkeley administrators who handled my case," Karasek said upon reading information about her case on page 57 of the report.
But that doesn't mean she's satisfied with the outcome. "They said that they decided to reach an agreement with him because of this 'credible remorse,' which I think is outrageous, given he given that he'd expressed remorse after assaulting me but then assaulted another woman less than a month after that," Karasek says. "His 'remorse' doesn't have credibility, and it's ridiculous that they decided not to punish him because of it." (Karasek is one of 30 current and former Berkeley students who filed a complaint with the Department of Education in February of this year, alleging the university had mishandled their cases; the Obama Administration is currently investigating their complaint, as well as 54 other colleges nationwide.)
Finally, the audit found universities do not track and summarize all reported student incidents of sexual harassment and sexual violence—information that would help them identify trends and shape outreach and protection efforts.
To combat these inadequacies, the state audit listed a number of recommendations. First, they asked the California Legislature to amend state law to mandate the training of all university employees annually on responding to and reporting sexual harassment and sexual violence and the education of incoming students as close as possible to when they arrive on campus. The auditors also asked the legislature to legally require schools to post their policies on sexual harassment and sexual violence in prominent places where students frequent.
As for the universities, the auditors recommend they review and modify their educational programs to provide more training and education to both university employees and incoming students, properly distribute and post their policies on sexual harassment, regularly update students who file complaints on the status of the investigations and notify them of the outcomes, and analyze information about reported incidents so they can better serve students.
For students, the audit validated both their experiences and their calls for change. "I'm glad that Berkeley has apologized for messing up my case and admitted they didn't handle it well," Karasek says, referring to the portion of the report where Berkeley's Title IX officer acknowledged that her office did not maintain routine communication with the complainants throughout the process. "But ultimately, what's important is not that they apologize to me for mishandling it, but that they stop mishandling cases going forward. And there isn't much evidence yet to suggest that they're changing their way of doing business."
Related:
Sexual Assault Survivors Speak Out Against Campus Rape
College Professors Say They're Being Punished for Speaking Out Against Rape on Campus
The Fight Against Sexual Violence on College Campuses: One Student
The Most Ridiculous Sexist Laws Across the Globe
Photo Credit: Getty Images
Celebrity news, beauty, fashion advice, and fascinating features, delivered straight to your inbox!
Kayla Webley Adler is the Deputy Editor of ELLE magazine. She edits cover stories, profiles, and narrative features on politics, culture, crime, and social trends. Previously, she worked as the Features Director at Marie Claire magazine and as a Staff Writer at TIME magazine.