10 Women You Need To Watch This Election Day
Marie Claires top picks for women to watch this election day.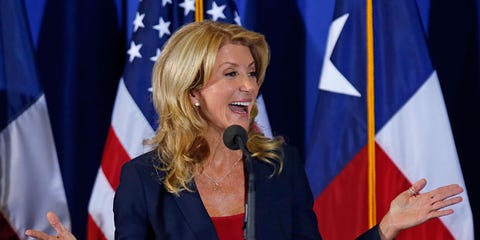 While the nation isn't in the midst of an every-four-years uproar to decide our next commander in chief, that doesn't mean that the midterm elections aren't worth paying attention to. Especially this year, where it's become increasingly clear that the desire (and need) to win female votes stretches across party lines. While the issues these women support vary, just like their political affiliation and their past experiences in public office, one thing remains constant: they're just the sort of strong female candidates America has been waiting for. Some have had unconventional pre-political paths. Others are fighting to keep their seats. A few are challenging incumbents who have voted against pro-female legislation in the past. A couple even have the potential to challenge the norms in their respective offices. Whatever their back story, they are candidates you'll want to pay attention to. Below, Marie Claire's picks for women to watch this election day.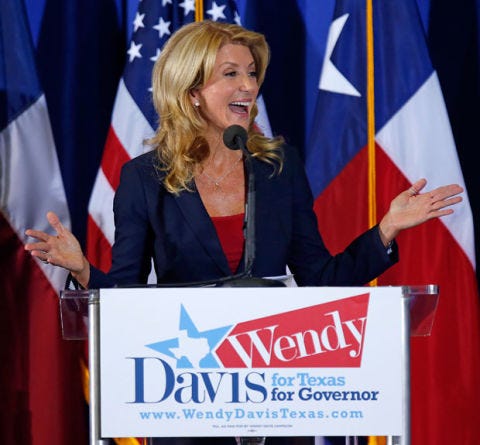 Wendy Davis, Texas, Governor
Wendy Davis may be a state legislator, but she's long garnered nationwide fame for her staunch support of women's reproductive rights. So it's no surprise, then, that her campaign for Governor of Texas has received similar scrutiny. She's served in the Texas State Senate since 2008, and throughout her career, has been a vocal advocate for abortion rights. She's also been a supporter of equal pay through her work on the Texas Equal Pay Act, which was ultimately vetoed by current Texan Governor Rick Perry. With Wendy Davis in the top spot, it's certain that women would be a priority in Texas—a state where women's rights (particularly when it comes to health care) notoriously lag.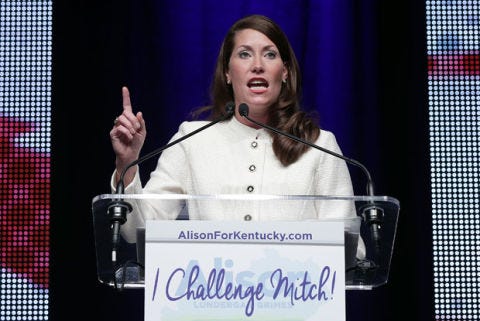 Alison Lundergan Grimes, Kentucky, Senate
Alison Lundergan Grimes has already captured the title of youngest woman currently serving as Secretary of State. Grimes, the Democratic nominee for the up-for-grabs Senate seat in the bluegrass state, has some hefty competition: Mitch McConnell, a Republican and the current senate minority leader. Despite McConnell's influential position, his reelection isn't a guarantee. A recent poll from Western Kentucky University shows that in fact, McConnell's unpopularity may be the key to her win. The significant number of McConnell opponents shouldn't come as too much of a surprise, especially for women: He's previously voted against enforcing equal pay and the Violence Against Women act.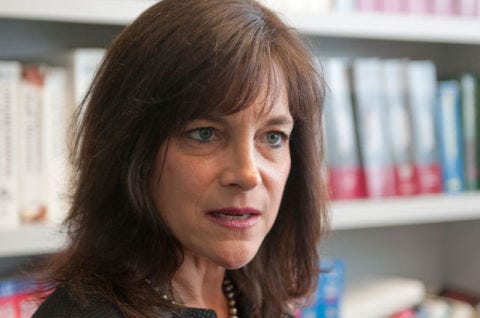 Monica Wehby, Oregon, Senate
Most often, we see political candidates with backgrounds in law or public service. In a more unusual case, Monica Wehby, the Republican candidate for the Senate in Oregon, has a medical history. For 17 years, she's worked as a pediatric neurosurgeon. If her professional past should tell voters anything, it's that Wehby is not just brilliant, but can handle a high-pressure position. For those who question the latter, her response is simple: 'Are you kidding?' It's also worth noting that unlike many GOP candidates, Wehby supports abortion rights as well as gay marriage.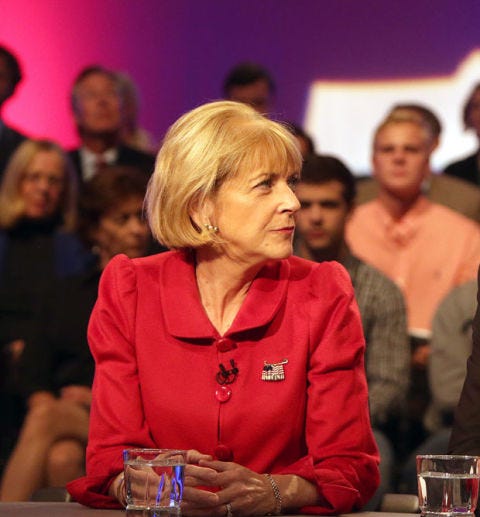 Martha Coakley, Massachusetts, Governor
Martha Coakley was the first woman to serve as Attorney General in the state of Massachusetts, but after 8 years, she's got her sights set on a bigger prize: the Governor's mansion. Beyond her experience in the Massachusetts government thus far, what sets Coakley (a Democrat) apart is her dedication to the rights of women. She served as president of the Women's Bar Association to defend women against violence and she launched a Women's Leadership Council to improve the lives of Masschusetts females. It's no shock, of course, that's she's gained the endorsements of Emily's List and Planned Parenthood. Women aren't the only group that Coakley has impacted during her tenure as attorney general. She was also the only state attorney general to challenge the now-struck-down Defense of Marriage Act.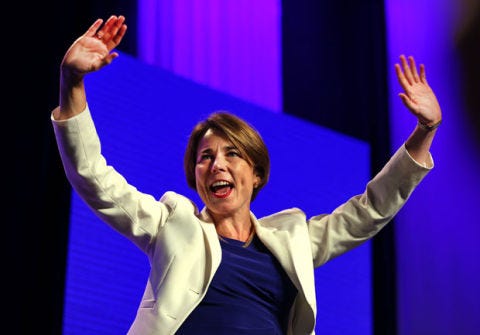 Maura Healey, Attorney General, Massachusetts
If you're looking for a candidate with an unexpected background, you'll find it in Maura Healey, a Democrat who is looking to occupy the seat of Attorney General of Massachusetts. She's a former professional basketball player, and as different as politics and sports may seem, Healey told MSNBC: "I think the drive you learn in sports has really helped me as a candidate." In the interim of her time on the court and her campaign, Healey worked as a civil rights attorney and criminal prosecutor.
Cheri Bustos, Illinois, House of Representatives
Incumbent Cheri Bustos represents Illinois' 17th District. If the Democrat's sounds familiar, there's a reason: She's one of the original co-sponsors of the Paycheck Fairness Act. If this history of supporting the end of the gender wage gap isn't enough, draw your attention to her self-proclaimed number one priority: the creation of jobs for the citizens of her region.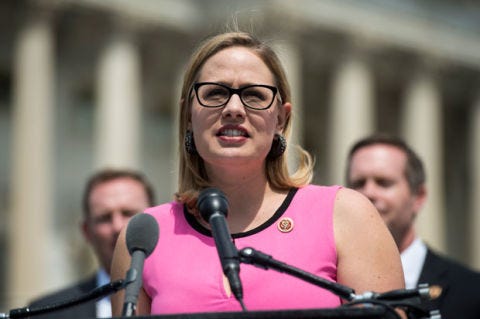 Kyrsten Sinema, Arizona, House of Representatives
Democrat Kyrsten Sinema is a staunch supporter of both same-sex marriage and women's rights (she's a sponsor of the Paycheck Fairness Act.) These stances align with Sinema's personal life: She's the first openly bisexual man or woman to be elected to Congress. Besides these issues, she's a been a longtime supporter of the nation's veterans, as well as women, families, and seniors.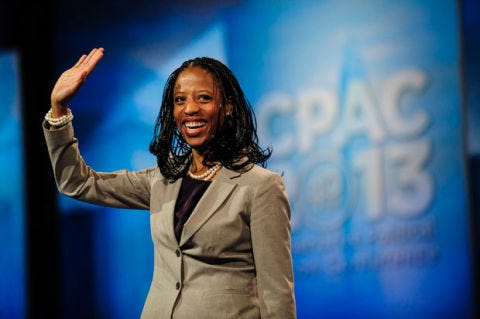 Mia Love, Utah, House of Representatives
Mia Love has the potential for a lot of "firsts." She'd be the first African-American female Republican elected to Congress. To boot, in her home state of Utah, she'd be the first black man or woman to be elected to federal office. However, the past isn't in her favor: this is her second attempt at winning the seat for the state's 4th District.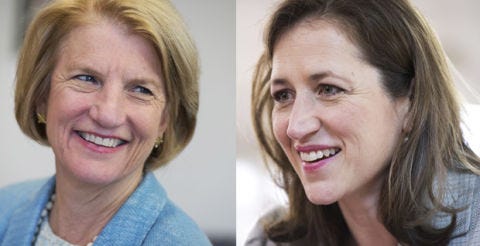 Natalie Tennant and Shelley Moore Capito, West Virginia, Senate
It's not a matter of getting a woman elected to West Virginia's next senate seat, but which woman. In a a rare race, Democrat Natalie Tennant (featured in Marie Claire's October issue!) is running against Republican Shelley Moore Capito for the role. But the double girl power isn't the only thing that makes this race captivating: They're fighting for the title of West Virginia's first ever female senator.
This content is created and maintained by a third party, and imported onto this page to help users provide their email addresses. You may be able to find more information about this and similar content at piano.io