Who Will Define America's Future?
Red, hot & blue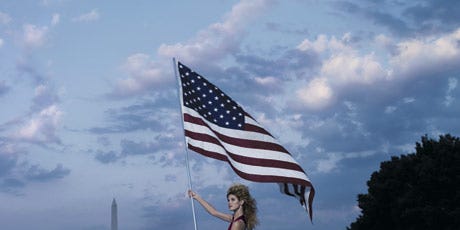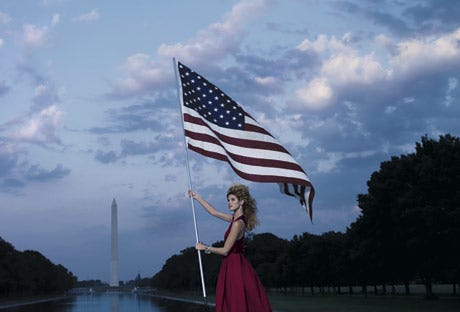 Washington Fashion
RED, HOT & BLUE: A brand-new season, a brand-new reason to salute American style: The rebel spirit, the bold idealism, and the optimism that survives even in the most politically charged period. Gown, $4500, Donna Karan Collection.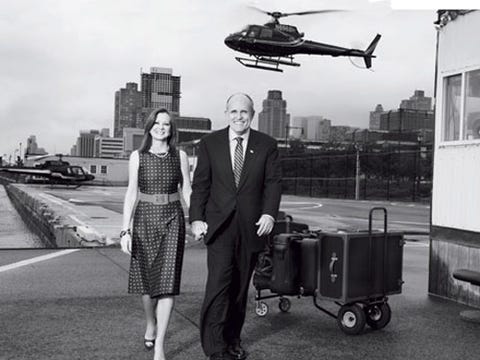 Washington Fashion
CIAO, MANHATTAN: "AMERICAN STYLE IS A RICH AND TEXTURED BLEND OF WORLD CULTURES." -JUDITH AND RUDOLPH GIULIANI MR. GIULIANI GOES TO WASHINGTON? PHOTOGRAPHED AT A MANHATTAN HELIPORT, "AMERICA'S FAVORITE MAYOR" RUDY GIULIANI AND WIFE JUDITH MUST HAVE A HELLUVA TIME NOT HAVING WHITE HOUSE FANTASIES. Dress, $1030, belt, $150, CH Carolina Herrera. Suit, Giuliani's own; tie, Paul Stuart; shirt, Hickey Freeman. PHOTOGRAPHED BY TROY WORD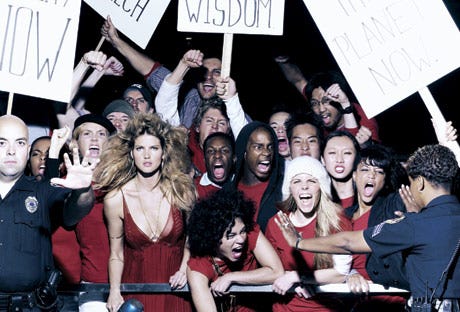 Washington Fashion
A RIOT OF REDS: WHETHER MADE-TO-ORDER CHIFFON OR MALL-BOUGHT T-SHIRTS, RED GETS YOUR MESSAGE ACROSS LOUD AND CLEAR. Gown, price upon request, Calvin Klein Collection.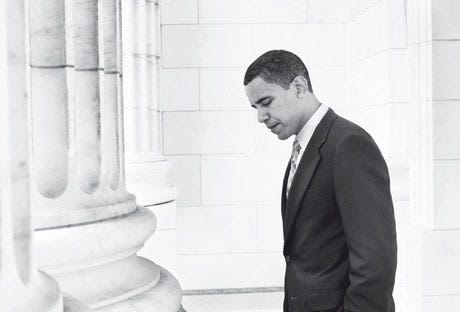 Washington Fashion
BARACK TO THE FUTURE... "AMERICAN STYLE IS JACKIE ROBINSON RUNNING THE BASE PATHS- A BOLD TAKE ON WELL-WORN TRADITION." -SENATOR BARACK OBAMA CLASSIC IN THE MAKING: CHARISMATIC YOUNG DEMOCRATIC SENATOR FROM ILLINOIS BARACK OBAMA STANDS TALL ON THE KENNEDY BALCONY IN THE RUSSELL SENATE BUILDING. HIS NEW BOOK, THE AUDACITY OF HOPE, WILL BE PUBLISHED NEXT MONTH. Suit, Obama's own; tie, Joseph Abboud. PHOTOGRAPHED BY TROY WORD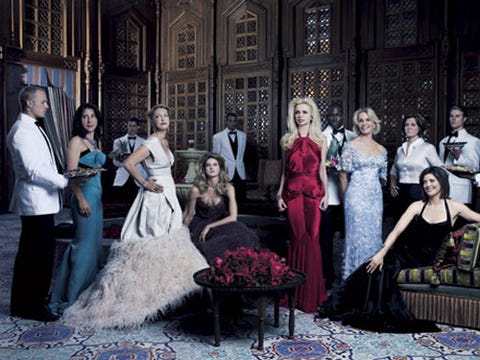 Washington Fashion
COME UP & EMBASSY ME SOMETIME: "WHEN I THINK OF AMERICAN FASHION, I THINK SIMPLICITY, PURITY OF LINE, AND TIMELESS DESIGN." -SHEIKHA RIMA AL-SABAH, WIFE OF THE AMBASSADOR OF THE STATE OF KUWAIT "NO PRETENTIOUSNESS, NO GUILE . . . THAT SUMS UP AMERICAN STYLE." -AUTHOR AND JOURNALIST SALLY QUINN A SUMMIT OF GREAT AMERICAN STYLE GATHERS AT THE KUWAITI EMBASSY. FROM LEFT: IRENE DANILOVICH, WIFE OF THE FORMER U.S. AMBASSADOR TO BRAZIL; ACTRESS (AND MRS. GEORGE STEPHANOPOULOS) ALI WENTWORTH; MODEL; SHEIKHA RIMA AL-SABAH; DC DOYENNE SALLY QUINN; POLITICAL STRATEGIST AND FORMER COUNSELOR TO VICE PRESIDENT CHENEY MARY MATALIN; MSNBC'S CHIEF WASHINGTON CORRESPONDENT NORAH O'DONNELL. From left: Blue gown, $4900, Carolina Herrera. Feather gown, price upon request, Zac Posen. Plum gown, price upon request, Oscar de la Renta. Al-Sabah's own, Vera Wang. Quinn's own, Badgley Mischka. Black & white gown, price upon request, Halston. Black gown, $4998, Ralph Lauren Collection.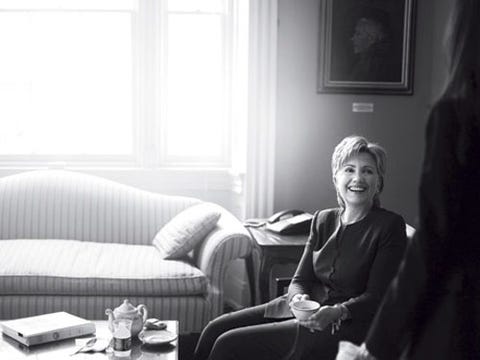 Washington Fashion
COMMANDER-IN-CHIC: DOING FOR THE PANTSUIT WHAT JACKIE DID FOR THE PILLBOX, NEW YORK SENATOR (AND-GET ON WITH IT!-UNDECLARED PREZ HOPEFUL) HILLARY CLINTON RELAXES IN A FAVE OSCAR DE LA RENTA. WE CAPTURED HER AT THE SEWALL-BELMONT HOUSE, THE ONLY MUSEUM IN THE NATION'S CAPITAL DEDICATED TO SHOWCASING THE HISTORY OF THE AMERICAN WOMAN'S RIGHT TO VOTE.
Washington Fashion
CENTRAL INTELLIGENTSIA: A COUNTRY IS ONLY AS WEALTHY AS ITS BRAIN TRUST. WORDS OF POLITICAL WISDOM FLOW REGULARLY FROM THE LIKES OF FAREED ZAKARIA, EDITOR OF NEWSWEEK INTERNATIONAL AND HOST OF FOREIGN EXCHANGE ON PBS; JAMES BENNET, RECENTLY APPOINTED EDITOR OF THE ATLANTIC MONTHLY; SUSAN E. RICE, SENIOR FELLOW IN FOREIGN POLICY STUDIES AT THE BROOKINGS INSTITUTION; AND MICHAEL TOMASKY, EDITOR OF AMERICAN PROSPECT MAGAZINE. On Zakaria: Suit and shirt, Alan Flusser. On model, seated: Dress, $2650, Tuleh. On Bennet: Shirt and pants, Polo Ralph Lauren. On Rice: Jacket, $2400, Luca Luca; skirt, $168, Kenneth Cole New York. On model, in tree: Dress, $298, Kenneth Cole New York. On Tomasky: Blazer and shirt, Polo Ralph Lauren; pants, Joseph Abboud. On model, behind tree: Blouse, $323, Anna Sui.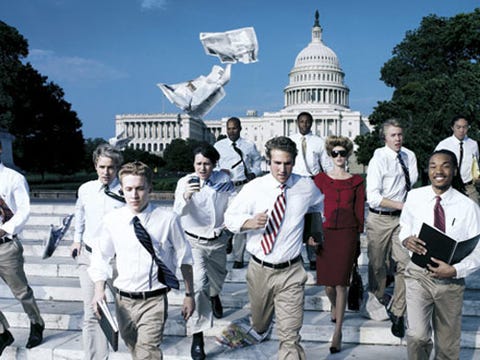 Washington Fashion
GOTTA RUN!: I SPY WITH MY LITTLE EYE: A MYSTERY WOMAN IN RED WITH TOO-HOT-TO-HANDLE DOCUMENTS IN HER BRIEFCASE. HER ALL-MALE INTERNS RUN INTERFERENCE. Jacket, $2590, skirt, $890, Carolina Herrera.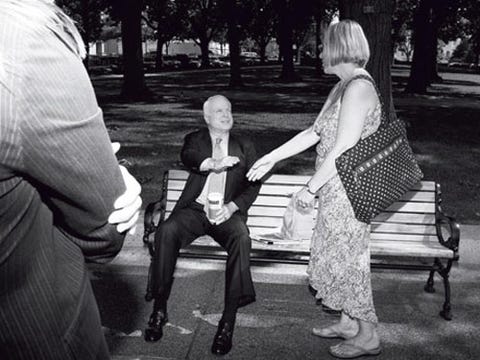 Washington Fashion
MOVER & SHAKER: YOU'D THINK A SENATOR FROM ARIZONA WOULD PREFER ICED TEA, BUT JOHN MCCAIN IS STRICTLY A CAPPUCCINO MAN (SEVERAL A DAY). HERE, OUTSIDE THE RUSSELL SENATE OFFICE BUILDING, THE MAVERICK REPUBLICAN COMFORTS A WOMAN WHOSE SON JUST LEFT FOR HIS THIRD DEPLOYMENT IN THE IRAQ WAR. McCain's own suit; tie, Brooks Brothers.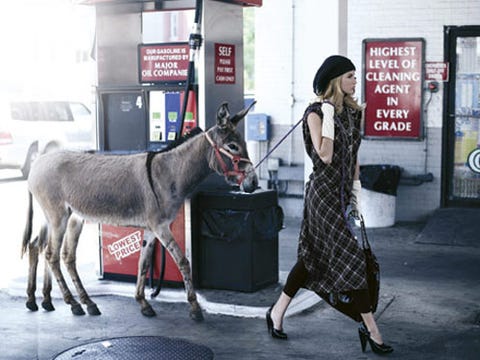 Washington Fashion
KICK-ASS CLASSICS: BLUE-STATE BOUND, BUT GAS TOO PRICEY? SHE'LL WALK INSTEAD IN LUXE-GRUNGE BLACK WOOL PLAID. Dress, $1800, Marc Jacobs.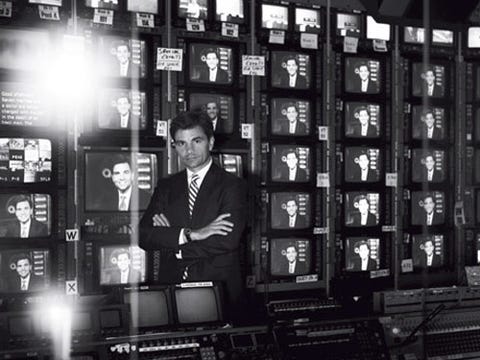 Washington Fashion
BY GEORGE: A SMALL-SCREEN STAR THINKS BIG STYLE: ABC NEWS'S CHIEF WASHINGTON CORRESPONDENT AND ANCHOR OF THIS WEEK WITH GEORGE STEPHANOPOULOS. THE FORMER ADVISER TO BILL CLINTON LIKES THE "BOLD PALETTE" OF AMERICAN STYLE. DOES THAT INCLUDE "PRIMARY COLORS"? Suit, Stephanopoulos's own, Seize sur Vingt; tie, Polo Ralph Lauren. Shot on location on the set of This Week With George Stephanopoulos, www.abcnews.go.com/thisweek/.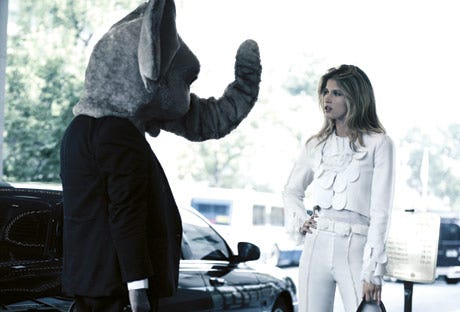 Washington Fashion
TRUNK SHOW: A GRAND OLD PARTY GIRL HITS THE ROAD WITH A FAVE REPUBLICAN PET. Jacket, price upon request, blouse, $1840, pants, $2300, Rodarte.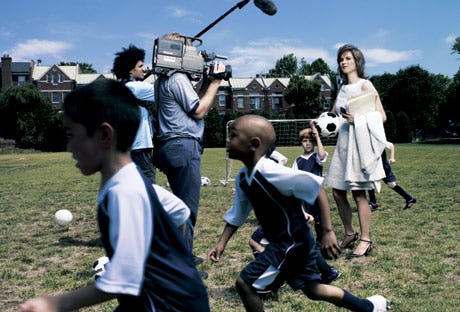 Washington Fashion
SHE GOT GAME: FORMER WHITE HOUSE CORRESPONDENT CLAIRE SHIPMAN, NOW WITH GOOD MORNING AMERICA, "REPORTING LIVE" FROM HER 4-1/2-YEAR-OLD'S SOCCER FIELD, SAYS SHE DEPENDS ON THE CAMERA-READY EASE OF AMERICAN FASHION: "WE DON'T SIT STILL FOR LONG AND DON'T LIKE TO FUSS WITH WARDROBES." Coat, $495, dress, $395, Tory Burch.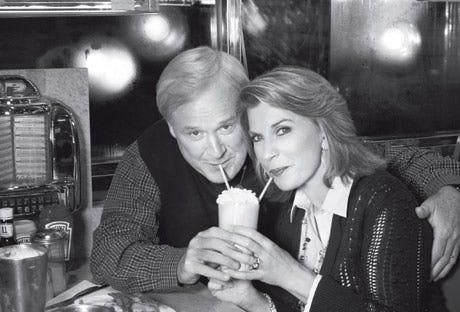 Washington Fashion
SOUND-BITE CITY: MSNBC PUNDIT AND HARDBALL HOST CHRIS MATTHEWS AND WIFE KATHLEEN, AN ABC NEWS ANCHOR IN DC, DISHIN' AT A FAVORITE LOCAL DINER. SAYS MRS. M: "ELEGANT AS A BILLOWING SAIL, COMFORTABLE AS FLIP-FLOPS-THAT'S AMERICAN FASHION." On Chris: Sweater and shirt, Polo Ralph Lauren. On Kathleen: Sweater, $69, shirt, $79, Tommy Hilfiger. Shot on location at American City Diner, www.americancitydiner.com. PHOTOGRAPHED BY TROY WORD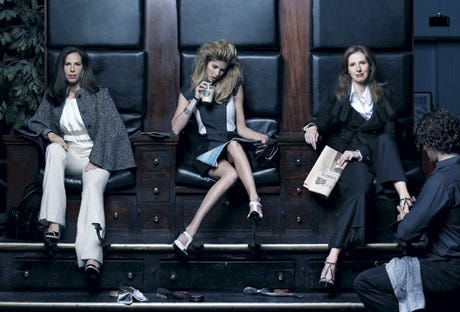 Washington Fashion
FIRST LADIES O' THE LOBBY: THERE'D BE CONSIDERABLY LESS SHINE TO BOTH PARTIES WITHOUT WHIZ-BANG LOBBYISTS LIKE DEMOCRATIC FUND-RAISER NANCY JACOBSON (FAR LEFT) AND FORMER DICK CHENEY SPOKESWOMAN AND WASHINGTON MOSTEST-HOSTESS JULEANNA GLOVER WEISS (FAR RIGHT) PHOTOGRAPHED TOGETHER-FOR THE VERY FIRST TIME!-AT DC'S UNION STATION. JACOBSON THINKS AMERICAN STYLE IS EXERCISING THE RIGHT TO "CLOAK YOURSELF NOT IN CONFORMITY BUT IN CREATIVE INDIVIDUALISM." GLOVER WEISS RELIES ON HER CLOTHES TO EMBODY ONE OF HER MOTTOS: "UNDERPROMISE AND OVERPERFORM." On Jacobson: Cape, $1290, Derek Lam; blouse, $195, pants, $250, Tory Burch. On model: Dress, $2380, Narciso Rodriguez. On Glover Weiss: Jacket, $1695, shirt, $395, pants, $595, PHI. Shot on location at Union Station in Washington, DC.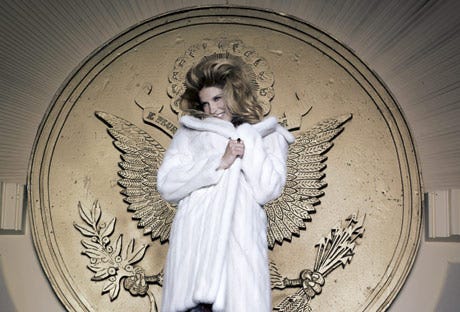 Washington Fashion
CHIEF EXECUTIVE SWEET: A WHITE HOUSE INAUGURAL-GALA MUST: A SHORT WHITE MINK COAT. Coat, price upon request, dress, $2035, Peter Som.
This content is created and maintained by a third party, and imported onto this page to help users provide their email addresses. You may be able to find more information about this and similar content at piano.io