Everything You Need to Know About Anal Foreplay
From the lube to the toys.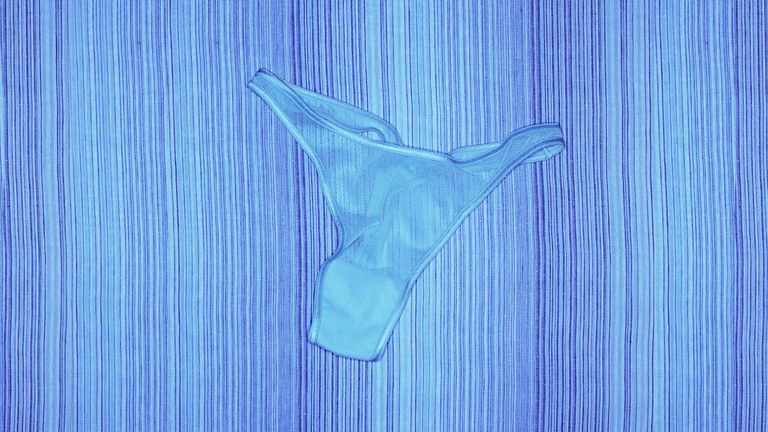 (Image credit: Getty Images)
When it comes to anything butt-related, we tend to get a little bit peevish on the by and large. Sure, 2014 was proclaimed "The Year of The Booty," but some of us are more into anal in theory rather than in practice.
There are a few pervasive reasons why this might be: No one wants to be in pain from putting something up their butts, women are widely (and incorrectly) told they won't enjoy anal penetration, and—of course—the poop thing.
RELATED STORIES
Which is all the more reason to focus on the importance of anal foreplay—it can make or break the butt stuff experience. Anal sex is not like regular P in the V penetration. The vagina naturally lubricates (though you should still use additional lubricant), while the anus does not. The butt is full of taut muscles that aren't primed for being entered on a whim.
You've got to work up to it. Tina Horn, host and producer of the podcast Why Are People Into That, tells MarieClaire.com that anal play is a way for people to expand their sexual menu, but you have to consider pacing. "You can never go too slow or use too much lube," Horn tells us.
Here, we break down the many factors to consider when engaging in anal play, from the longest-lasting lubes to the best ways to ease into sex.
1. Remember to use lube.
We've said it before, but lube is an absolute must when it comes to all things ass-related, from foreplay to full-on anal sex. "Anal foreplay is important for the same reason any foreplay is important: Getting worked up, aroused, and ready for penetration (physically, mentally, and emotionally) creates more possibility for pleasure and can help prevent pain or tearing," Horn says.
Lube is the barrier that prevents this pain or tearing. You can *never* have too much lube. Load it on there and keep applying if things dry up.
Silicone lubes are easiest for anal, as they stay on longer than water-based types. The problem is that silicone lube can damage your silicone butt toys. Major bummer (pun intended).
Stick with silicone/water hybrid like Babeland Silk or Sliquid Silk.
2. Start with smaller sex toys.
Working the butt up to a penis or dildo takes some diligence. You guessed it! Butt plugs. If it's your first time easing into butt-play, a ginormous butt-plug is not going to be a comfortable start. You won't be able to just shove a dildo or plug up your anus willy-nilly.
For beginners, the smaller the better. After you've gotten used to petite plugs, you can move up to more aggressive sizes. Start with the Doc Johnson X Kink.com Ace plug or the Tantus Perfect Butt Plug. You can even buy plugs in packs of three sizes like this one.
Horn also reminds us to only use toys that are meant for anal play. Why? Toys for anal play have either a flared or ringed base, preventing it from disappearing up the rectum. Trust us, that's the last thing you want.
3. Watch anal porn.
Porn is a fantasy that doesn't always depict accurate representations of anal sex, but it can serve as general inspiration. Horn says that porn can give you some ideas for different anal sex positions that you may not have considered before.
It acts as a part of your foreplay: A way to turn you on and gear you up for the IRL anal play to come.
4. Slow everything down.
You want to work up to anal sex cautiously. Everyone should feel comfortable. "Treat it like a slow-building symphony, not a three-minute punk song," says Horn.
To loosen up your muscles, making them more receptive to penetration, use your toy or fingers to gently massage the anus. Advance slowly. Gauge your partner's reaction to everything you're doing and listen to each other's cues.
"Some easy techniques involve circling the anus both clockwise and counterclockwise, and stroking the anus both upwards and downwards with however many fingers feel best," Alicia Sinclair, the CEO of butt-plug company b-Vibe, tells MarieClaire.com.
When done correctly butt-play isn't painful. If it hurts, back up and try something less intense like rimming or anal fingering. "Like anal massage, fingering can help your partner relax and loosen up, while often providing additional incredible sensations," Sinclair adds.
5. Communicate and keep an open mind.
A common misunderstanding about butt-play is that the top (i.e. the person doing the penetrating) is in control. This is not the case. The bottom should be the one directing the level and intensity of penetration.
"When you're topping, whether it's with your fingers, a toy, a strap-on dildo, or a penis, be prepared to enjoy a whole lot of teasing and never rush your bottom," Horn says.
Even if you're traditionally a top, you should be open to being penetrated as well. "Forget any notion you have about what 'kind of person' enjoys being penetrated or what it 'means' to penetrate," she says.
"It's not like anal sex is a video game where you level up until you're an anal master: You can enjoy a little teasing on the butt-hole, a rim job, a butt plug, anal beads, a small dildo, an attached cock, the feeling of fullness, or the friction of intercourse. It all has the potential to feel incredible!"
Gigi Engle is a writer, certified sexologist, sex coach, and sex educator. Her work regularly appears in many publications including Brides, Marie Claire, Elle Magazine, Teen Vogue, Glamour and Women's Health.